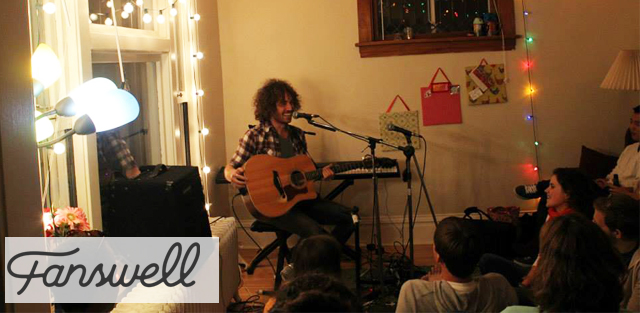 Graham Colton has had a very successful singer/songwriter career to date. He's toured with John Mayer, DMB, Kelly Clarkson, Maroon 5, Counting Crows, Colbie Caillat and John Mellencamp. He has charted in the top 10 on Billboard and has performed on The Tonight Show, Letterman, The Today Show and Ellen.
But two years ago, after Colton had played a few very impactful shows in alternative venues in very intimate spaces, he decided to build a platform that facilitated the thriving house concert scene. After testing it informally for two years, running it in Beta for the past 6 months, Colton, along with Jon Cooper (his uncle and co-founder), Eric Hargett, Matt Rosenzweig and Dustin Warren, officially launched Fanswell last week.
Fanswell allows artists to post dates in any region they'd like to fill with house concerts and fans can request to host a show.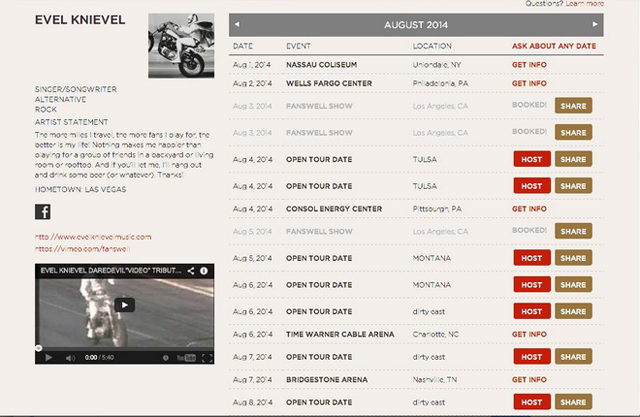 "I resisted the house concert scene," Colton mentioned to me from his Oklahoma City recording studio via Skype.
"A lot of us musicians have big egos and we've all been brought up with this mantra that it's about more tickets and more people in the room and more albums sold. Quantity." – Graham Colton, Co-Founder, Fanswell
"I got to a point where I was having these magical experiences that were super out of the ordinary," Colton remembers. He was playing a few nontraditional venues for private parties that included an art gallery and a whiskey distillery. He walked away selling more merch at these shows than many of his other big club dates. "I connected with a lesser quantity of people, but it was more of a connection," Colton admitted.
House concerts are not a new thing. There is a long tradition in the folk scene. Over the past few years, though, there seems to have been a resurgence of singer/songwriters trading in club touring for house concerts.
Personally, I've played about 30 house concerts over the past few years and these shows have been some of my favorite (and most profitable) shows of my career. I've played sold out arenas, theaters, clubs and colleges, but nothing beats the connection of a room full of supporters sitting merely feet from you, soaking up every note, every word, and every beat. If you haven't performed (or attended) a living room concert, you're missing one of the most memorable concert experiences you'll ever have.
Fanswell allows artists to select one of three fee options to offer potential hosts:
1) "Offer what you can and I'll do my best to make it work"
2) "My performance fee range is typically ____ to _____."
3) "A good rule of thumb is about $___ per guest. "
Once a host requests a date, fills out the description of their concert location (along with photos – not required though) they have the option to select one of three funding options:
1) Ticket funded – where the host pays the artist's fee and then keeps all ticket sales after the guarantee
2) Host Funded – the host just pays the artist a fee and doesn't charge the guests
3) Crowd Funded – this feature is in Beta. It allows hosts to set a minimum crowd funded contribution and encourages guests to contribute. If they don't reach the minimum amount, the show does not happen.
Hosts can also offer amenities such as coffee, alcohol, laundry, a couch to crash on, merch selling help and a tour around their city. The internal messaging feature allows artists and fans to communicate in real time. This helps maintain the artist's privacy (doesn't have to give up personal email) and allows Fanswell to view how these interactions go. Artists have the option to accept or refuse any host submitted proposal.
Now, when I've run house concerts on my own I've always set a guarantee, asked the hosts to charge their guests an agreed upon ticket price (typically around $15) and then we split all ticket money after the guarantee, 85% me /15% host. Most hosts, in my experience, aren't in this to make money. They just want to host an awesome evening for one of their favorite artists. I give 15% over the guarantee to my hosts to cover simple costs of food/drinks for the guests and cleaning supplies.
However, Fanswell gives hosts an opportunity to fill the role of actual promoters and make money. Potentially lots of money. I feel this very much detracts from the sentiments of the house concert experience and the deep connection the fan has with the artist. If the host is in it for the money, their experience will be tainted. Similarly if a host convinces an artist to accept a low bid of say $300, but then ends up bringing in $1,000, it doesn't feel right that the host walks with $700 and the artist is shorted because she didn't want to negotiate stronger up front.
I strongly recommend Fanswell move to a percentage split of tickets after the guarantee so everyone feels comfortable with the transactions and the money.
Fanswell takes a 7.5% fee from the artist's cut and adds a 5.5% surcharge to the host's offer amount. When tickets are sold, Fanswell adds a $.99 surcharge to each ticket. So if hosts charge $15 per ticket, guests pay $15.99, Fanswell takes an additional 5.5% of the guarantee, and the artist receives the guarantee minus the 7.5% fee.
Yeah, this confused the hell out of me too.
You can read their fee description on their FAQ, but I promise you it will just confuse you more! It would be much cleaner if Fanswell just took a straight cut off the top. Hurt my musician brain trying to figure out all of the weird calculations.
There is an excellent cancellation stipulation that Fanswell includes that still gets the artist 50% of the guarantee if the host cancels. I'm not even going to attempt to explain how those fees break down though.
All payments are made in advance (no "let me give you $20 at the door") and transactional fees are included in Fanswell's cut.
When approaching the house concert market, the guarantee is only a small part of the equation, though. The merch potential is HUGE.
And Fanswell doesn't take a cut of merch (duh). The "cost per head" as the folks in the biz call it, is 4-5x what it is at a club show. I average about $14 per attendee at these house shows in merch. This is because the artist can have an unadulterated emotional connection with each and every attendee. After the show, there's a palatable energy buzzing through the room. And when fans buzz, they buy merch.
+Double Your (Merch) Income… No Really (Ari's Take)
The Fanswell design is very sleek and modern. And for the features they currently offer, it's very easy to navigate as an artist or a host (I tested it).
Having just officially launched a week ago, they have an excellent start, however they still have a few kinks to work out. It is only available in the US and Canada right now.  Currently there is no search option for potential hosts to search for artists seeking shows in their cities. That would be a nice feature to see. This could not only help new bands book and route a tour to cities they've never visited, it would build the band's fan base, exposing them to a completely new crowd.
For the time being, every artist that wants to signup for Fanswell must be approved. Colton wants to meet every artist who joins the service (for now at least). And he wants to maintain the integrity of the brand.
Colton mentioned that Fanswell exists (currently) for existing fans of artists to host them when they pass through town. However, as the site grows, I see the potential of an entirely new community of enthusiastic hosts looking to discover new talent along with down-to-earth artists looking to build a healthy touring career.
"As long as the artist understands and is willing to take these shows for what they are – there's only an upside. You're walking into the spaces of people that care about you the most. " – Graham Colton, Co-Founder, Fanswell.