Back in 2009, Edward Aten founded Swift.fm, a social music network used by The Roots, A Tribe Called Quest, and others.
Aten eventually sold Swift.fm, has worked with Pono and Red Bull, and currently works with Drip. He's just launched his new company, Merchbar, which just went live with an iPhone app.
Merchbar is essentially one giant music merchandise store, and Aten says it's "the only company to sign exclusive partnerships with every major music merch company".
Aten's co-founder John Hecker brought music merch to Sears and Kmart, selling $30 million in t-shirts. Merchbar's head of tech, Aston Motes, was an early engineer at OkCupid and was Dropbox's first employee.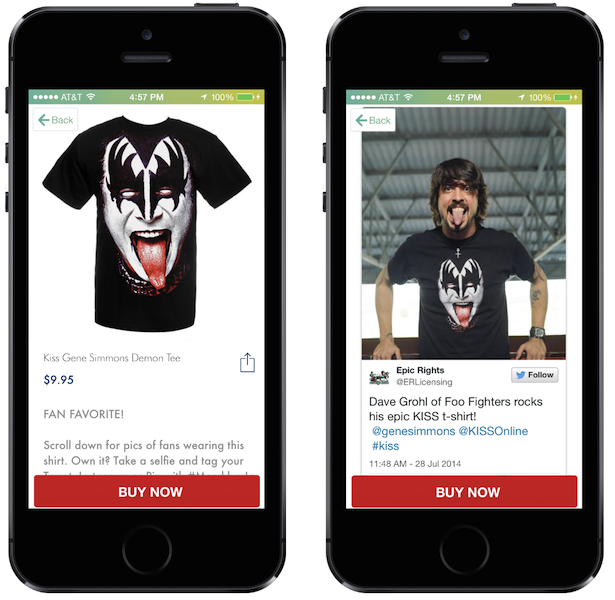 Merchbar sells every item that their partners have made available.  This adds up to about 100,000 official merch items from over 3,000 bands.  The Merchbar team also curates collections, such as "Staff Picks" and "Halloween Costumes".  The team guarantees that their prices match or beat prices in artists' official merch stores.
The app features a chart of top-selling merch, and has a "For Me" section that recommends merch based on Facebook likes and iTunes libraries.  Product descriptions includes tweets and photos from fans who have the item.
Merchbar's "For Me" section isn't always right.  I've liked Lady Gaga and Britney Spears on Facebook, but that doesn't mean I am interested in seeing all their merch.  Edward Aten says that recommendations will be a constant work in progress as they track more data, and the company is open to the idea of letting users give feedback on their recommendations.