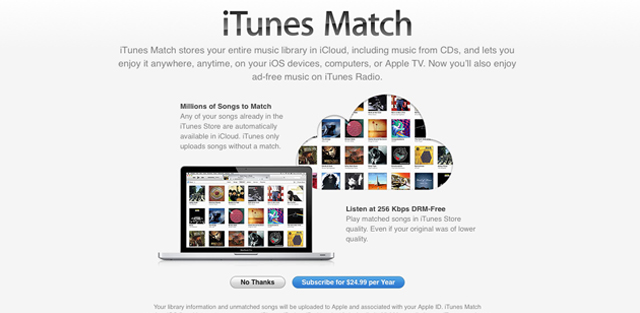 I was tipped off on Tuesday by a royalty collections company (working on behalf of publishers) that they hadn't been receiving iTunes Match mechanical royalties from distribution companies. Immediately, I shot back, "isn't that the responsibility of iTunes though?" Not exactly.
Congress has decided that "Locker" cloud services are a different mechanical royalty category than streaming or downloads.
Let's step back. Mechanical royalties are royalties specifically for songwriters (usually collected by publishers). These come from sales or streams. Everyone knows that the statutory rate for mechanical royalties for sales is 9.1 cents per download or physical replication (like from a CD or a vinyl). And (in the US, Canada and Mexico) the rights owner (label or artist) is required to pay the publisher this mechanical royalty.
When it comes to streaming mechanicals, it gets a bit more complicated. The calculation deals with a percentage of the streaming service's gross revenue. However, Congress tried to make the ratio about the same. $.99 per download sale to 9.1 cents for the mechanical.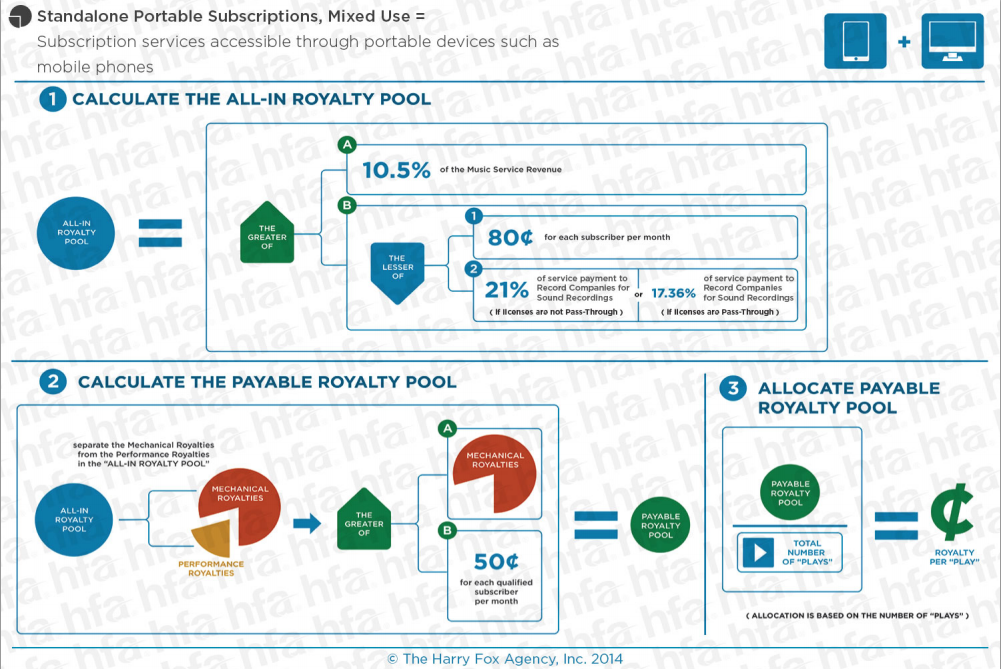 All interactive streaming services are required to pay streaming mechanical royalties directly to publishers.
When it comes to "Locker" services (or Cloud/Match whatever you want to call it), it gets even trickier. In the US, there are only 3 companies that currently offer some kind of cloud scan and match, Locker service: Amazon, Google and iTunes.
In US Copyright law there is also a specific breakdown for what Locker mechanical royalties are. Like streaming mechanicals, it's similarly complicated to calculate this.
Amazon and Google opted for the compulsory license and will pay the publishers the statutory rate directly.
However, iTunes's Match actually came out BEFORE the clause was added to US Copyright Act. It is so new that everyone is playing catchup.
iTunes didn't want to wait until Congress created Locker mechanical rates, so they decided to place the burden on the distribution companies and labels. In the iTunes contract (read the entire contract here), in Exhibit J "Cloud Features," Section 6 (a) (ii) it states:
"COMPANY hereby agrees to administer, on ITUNES' behalf and on at least a quarterly basis, the
payments for Incremental Publishing Rights related to Eligible Content to the appropriate music publishers or other applicable rights holders or administrators ("Publishers"). To that end, ITUNES will provide to COMPANY, at the same time and in the same manner as the payments under Paragraph 5 above, an amount equal to the Publishing Payments, which monies COMPANY will hold in trust until paid by COMPANY to the appropriate Publishers."
This means, that COMPANY (the distributor) will receive all iTunes Match mechanical royalties (and accounting reports) and the distributor is required to pay the publisher directly.
By law, the rights owner (label or artist) is required to pay the proper party (publisher or songwriter) the appropriate download/sale mechanical royalties. By law, the streaming services AND Locker services are required to pay these to the publishers. HOWEVER, because iTunes Match predates this new law, iTunes put in their contract that the distributor is required to pay this directly TO the publisher. And NOT pass these royalties along to the label or artist to deal with.
However, it hasn't been happening.
Audiam is a digital rights management company hired by thousands of songwriters, publishers and labels, including The Red Hot Chili Peppers, Jason Mraz, Dolly Parton, Metallica, Jackson Browne, James Taylor, Graham Nash, and the list goes on. They started as a company that collected ad revenue from YouTube and have now evolved into a for-hire "go get our royalties, cowboy" service.
+Jeff Price And Audiam Look To Fix YouTube's Royalty System
Apparently even big publishing companies don't understand how these royalties work or how to get them. So they hired Audiam.
Audiam (more specifically, Jeff Price) has been out seeking these iTunes Match mechanical royalties from distribution companies and labels and has not been able to get them.
"All I can say is we have never received any iTunes scan and match money from anyone.  We represent some large and important catalogs.  We are a pretty public company and easy to locate.  " – Jeff Price, CEO, Audiam
Because this type of royalty is so new to distribution companies (who've never traditionally had to deal with distributing mechanicals), they don't have the accounting setup to calculate or distribute these kinds of royalties.
Audiam has setup an accounting system in place specifically to calculate these royalties. Audiam has been trying to convince distribution companies to pay for this service so they can calculate what they owe Audiam. And then of course pay Audiam that amount. You can see why many distribution companies haven't taken too kindly to this.
Some have used Audiam's system for their accounting, but most have contracted Harry Fox Agency's Slingshot services for this accounting, reporting and payments – but only AFTER Audiam came a-knocking for these royalties. I spoke with many distribution companies to understand their take on why they haven't been paying these royalties, and most of them thought I was working directly with Jeff Price (yes I consulted him as well).
Apparently, no other publisher even REALIZED that they were owed these iTunes Match mechanicals. And have never asked for them.
Price continues, "iTunes Match has been live for almost three years and there is three years worth of revenue. As I understand it, there are over 3,000 entities in a master deal with Apple in North America. Almost all of them received the money owed to someone else and agreed via a contract to pay it to them. They have not. I suspect that even if it is a little money from all 3,000 entities, when you add it all together it's a lot."
I contacted many independent distribution companies to see if they pay out these iTunes Match mechanicals.
My email read:
"It has been brought to my attention that (YOUR COMPANY) is not paying publishers the mechanical royalties owed to them from iTunes Match. As written in the iTunes contract under Exhibit J (Cloud Features), Section 6(a), COMPANY (YOUR COMPANY) is responsible for paying these mechanical royalties directly to the publisher from the cloud service iTunes Match.

As you know, Amazon and Google have opted for the compulsory license and are required to pay publishers directly these (Locker) mechanicals, but iTunes chose to negotiate this directly with each distributor. So the responsibility has been on the distributor to pay these mechanicals. By US Copyright law, Locker mechanical royalties are different than streaming (or download) royalties.

Can you explain why you haven't been paying these mechanicals to the appropriate publishers? Or if you have been, can you put me in touch with a few publishers you've paid to confirm this?"
No distributor could list a single publisher they have paid. But many have indicated that they have enlisted Harry Fox Agency (HFA) to account these numbers and pay out the publishers.
I spoke with John Raso at HFA to get an understanding of what is actually going on. He explained that HFA's rights management and accounting service Slingshot helps labels, distributors, streaming services and virtually anyone else that is required to pay mechanical royalties. Many distributors have JUST started using Slingshot to account, report and pay these owed iTunes Match mechanical royalties.
"We're essentially their administrative back room." John Raso, Harry Fox Agency
Here's what a few of the indie digital distribution companies had to say:
INgrooves:
While we do not publicly disclose the details of our heavily negotiated, confidential deals with our retail partners, we can assure you that, in our 12 year history of representing independent artists and labels, INgrooves Music Group has always made timely and accurate payment of royalties our number one priority.
Believe Digital:
– We do not manage publishing/mechanicals for the vast majority of our UK and US clients (they have not granted Believe the right to do so and manage publishing themselves); as such we have no responsibility to obtain those licences, our clients have;

For clients that have granted those rights to Believe, we have a mix of solutions to pay publishers directly or indirectly (most of European publishers have granted rights to their local collective societies, including for the US and we have direct deals in place with those societies). We are currently looking at an additional solution to accelerate the payment to US based publishers – a very small portion of our catalogue -;

I have to admit that the structure of these rights for us is fairly cumbersome for a very small stake at company level (less than 30 K$ of money owed to publishers since the launch of those services). Taking into account what is being paid out to collective societies, we are talking about an issue that represents less than10 K$ per year for us. I hope that collective societies or companies like Audiam and others build solutions to provide one-stop solutions for issues like these.
Tunecore chose to offer no comment on this matter
CD Baby:
CD Baby has contracted with a third party to both administer these iTunes Match royalties and audit past iTunes Match reports to ensure that appropriate payments are being made to publishers. Our 3rd party provider has a large database of both affiliated and non-affiliated publishers to match against the data from iTunes.  This provides matching for the vast majority of non-controlled compositions but for those that remain unmatched, additional manual research is done using lead information provided by the artist when they set up their tracks for distribution. When a match is found, the publisher would get their share paid out via our 3rd party provider.
DistroKid:
DistroKid does not distribute covers and has a check box that every artist/label must check that confirms all music (and publishing) is owned 100% by the artist distributing it (therefore ensuing the money flows back to the songwriter).
Loudr:
Due to the confidentiality clause, we can't share the specifics of our contract with iTunes and who pays what. But, as you know, Loudr is focused on helping artists legally monetize cover songs, so I can tell you that paying mechanicals to music publishers (and holding them in escrow when publishers cannot be located) is an important part of our business.
Venzo Digital:
iTunes Match royalties are something we are currently paying to our Venzo users and will begin to transition into our Streammer brand next year. It's very crucial artists are able to maximize their earnings potential on the iTunes Store.
The Orchard didn't respond in time with a comment.
Now, I don't think any distributor has been withholding this money maliciously. I think they just didn't realize they had to pay this. And don't have the proper accounting and reporting systems in place for this very new payment structure. And that's why many have enlisted a 3rd party (like HFA or Audiam) to handle this.
And honestly, these mechanicals don't add up to much.
Most people don't even know what iTunes Match is, let alone use it. But even if it's just a few bucks here and there, when added up all together could be a lot for a publisher (or royalty collection firm), like Audiam. Hence Jeff Price's crusade to gather up these royalties.
But, the fact of the matter is, these royalties are owed to publishers (and songwriters) and regardless of how much they are, they should be paid.