This week, Apple CEO Tim Cook 'came out,' though it really wasn't that.  Cook wasn't hiding anything or trapped in any closets, but he did write an essay in Businessweek making his sexuality known.  The result is that Cook is now one of the highest-ranking executives, and the first Fortune 500 CEO, to publicly state that he (or she) is gay.
So what's right about this?  The fact that Cook didn't have to 'come out' in some headline-breaking disclosure shows just how far this country has travelled.  There isn't a Board that's panicking, there aren't consumers who will stop buying Apple products.  In fact, it's more likely that people will buy more Apple stuff, because of what Apple seems to represent along the lines of equality, open employment, and acceptance of different lifestyle choices.Steve Jobs cared about making perfect products and himself.  But Cook seems to care about so much more.  "The company I am so fortunate to lead has long advocated for human rights and equality for all," Cook wrote.  "We've taken a strong stand in support of a workplace equality bill before Congress, just as we stood for marriage equality in our home state of California. And we spoke up in Arizona when that state's legislature passed a discriminatory bill targeting the gay community."
"We'll continue to fight for our values, and I believe that any CEO of this incredible company, regardless of race, gender, or sexual orientation, would do the same. And I will personally continue to advocate for equality for all people until my toes point up."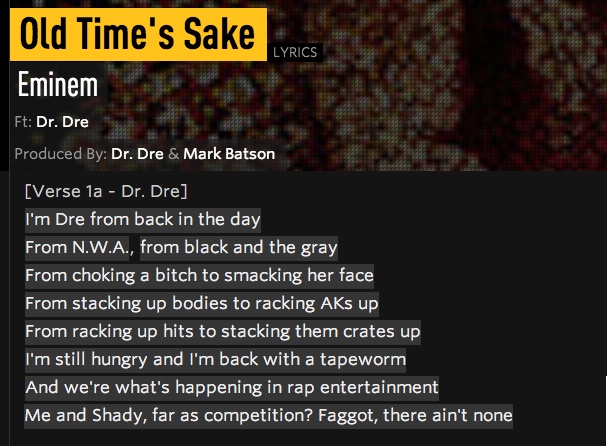 But is that what Apple is really about?  It's a worthwhile question given that Apple now gainfully employs Dr. Dre, one of the most homophobic, misogynistic, and racist public figures.  Apple is paying Dr. Dre a large salary and praising him lavishly; they've even boosted his net worth to about $800 million.  "We think these guys are a rare talent," Cook gushed to the media about Dre and executive Jimmy Iovine immediately after the $3 billion buyout of Beats, of which Dre is a co-founder.
Apple has subsequently incorporated Dre into the Apple culture, paling around with the rapper during an Ice Bucket Challenge and other employee pep rallies.  In the process, Cook is condoning a man that has used his tremendous impact on culture to breed hatred against not just gays, but women, Jews, and other marginalized groups.
When asked about his feeling on gays, Dr. Dre famously told MTV's Kurt Loder, "I don't really care about those kind of people."
But this goes way beyond gangster rap imagery and 'faggot' one-liners.  Dre has a disgusting history when it comes to women, most notoriously beating up Dee Barnes within an inch of her life after the MTV host publicly criticized N.W.A.  Here's the description from Rolling Stone's Alan Light, written shortly after the incident occurred in the early 90s.
"According to a statement issued by Barnes, Dre picked her up and 'began slamming her face and the right side of her body repeatedly against a wall near the stairway' as his bodyguard held off the crowd. After Dre tried to throw her down the stairs and failed, he began kicking her in the ribs and hands. She escaped and ran into the women's restroom. Dre followed her and 'grabbed her from behind by the hair and proceeded to punch her in the back of the head.' Finally, Dre and his bodyguard ran from the building."
That was part of a lawsuit that Dre eventually settled.  But he refused to apologize.  Instead, he dismissed the incident and boasted about it.
And Dre himself says: "People talk all this shit, but you know, somebody fucks with me, I'm gonna fuck with them. I just did it, you know. Ain't nothing you can do now by talking about it. Besides, it ain't no big thing – I just threw her through a door."
All of which stands in stark contrast to the idealism Tim Cook expressed in his Businessweek essay.  And until Dre is fired from Apple, these sorts of statements by Cook will stand as mere platitudes:
"When I arrive in my office each morning, I'm greeted by framed photos of Dr. King and Robert F. Kennedy. I don't pretend that writing this puts me in their league. All it does is allow me to look at those pictures and know that I'm doing my part, however small, to help others. We pave the sunlit path toward justice together, brick by brick. This is my brick."