Taylor Swift's latest album, 1989, is about to sell 1.3 million units in its first week, according to the latest US-based projections.  That's the best-selling first-week for any album since 2002, and potentially the largest-selling first week for any female artist.
1989 hasn't been available on Spotify, which is proof enough for Swift and her management agency that Spotify is hurting, not helping, sales.
As of this morning, Swift has pulled all of her albums from Spotify.  The only track still available is 'Safe & Sound,' licensed separately as part of the Hunger Games Soundtrack.
The pullout follows a long string of 'windowed' withholdings by Swift, in which the artist gave priority, first-release access to better-paying platforms like iTunes and physical outlets like Target.  That has motivated other artists to do the same on newer releases, with most licensing their older recordings for streaming.
The pullout of everything, old and new, is a major shift from that 'windowing' approach.  Swift's decision may have been motivated by mixed feelings on piracy.  "Piracy, file sharing and streaming have shrunk the numbers of paid album sales drastically, and every artist has handled this blow differently," Swift expressed in a recent opinion piece in the Wall Street Journal.
"It's my opinion that music should not be free, and my prediction is that individual artists and their labels will someday decide what an album's price point is. I hope they don't underestimate themselves or undervalue their art."
There's some chatter that this is a negotiating tactic by Swift's management group, Big Machine, to force Spotify to offer more money to the superstar.  Either way, the damage may already be rippling towards other artists, particularly superstars seeking to stem heavy revenue losses from streaming.  Those artists may decide that complete pullouts are also necessary, either to force better payouts from Spotify or to maximize recording revenues from places like iTunes.
In response, Spotify has issued a public plea to keep the artist on the platform.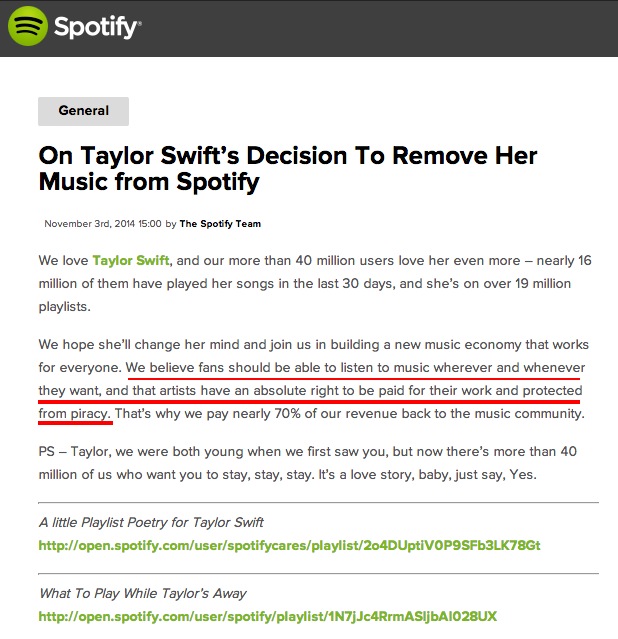 More as it develops.