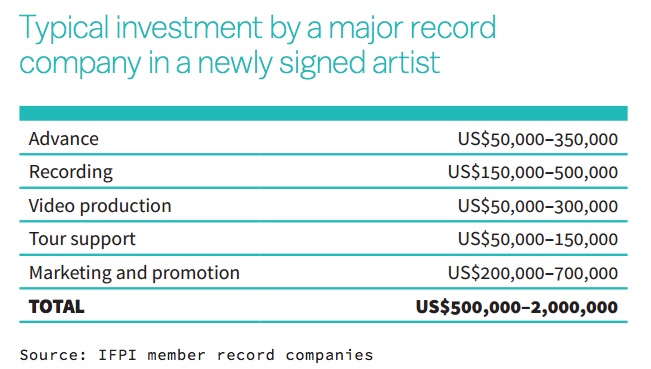 If you don't have half-a-million dollars, then maybe you should go home.  According to a study released this morning by major label organization IFPI, breaking an artist in a major market requires at least $500,000, and sometimes as much as $2 million.
Overall, the IFPI counted $4.3 billion in upfront talent-scouting and marketing costs coming from labels last year alone, with virtually zero upfront investment coming from Spotify, iTunes, Google, or SoundCloud.  "Record companies remain the largest upfront investors in artists' careers," the IFPI noted.  "Common features of contracts signed with emerging artists include the payment of advances, recording costs, tour support, video production and marketing and promotion costs."
It was also noted that signed artists aren't taking much financial risk, either.  "These upfront payments are recoupable against royalties generated from the recorded music created, but in many cases artists do not break even and do not have to repay the money."
"The burden of risk lies with the record company."
The complete report can be found here.