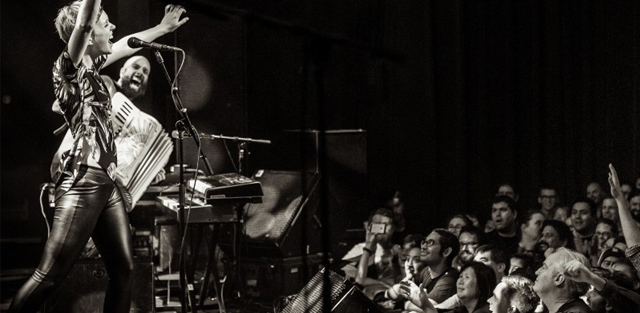 "The tour, as much of a loss as it was financially, it was a success" – Nataly Dawn, Pomplamoose
I just left the webcast that Jack Conte and Nataly Dawn of Pomplamoose put on to answer any remaining questions about their (obscenely scrutinized) tour. Nearly 500 people tuned in, many of them Pomplamoose fans, and many of them indie artists trying to understand how a band as big as Pomplamoose (over 100 million YouTube views) could lose so much money on tour. Or really, SPEND so much money on tour.
If you're just catching up, Jack Conte posted an essay explaining how his band Pomplamoose made over $100,000 in ticket sales, but still netted a loss of $11,819. He listed all income and expense figures. It was quickly picked up by bloggers and industry talking heads. Everyone came out of their dark corners to scrutinize this indie band's every spending decision.
+This Band Just Finished a 28 Day Tour And Made How Much?!
Let me clear up a few things that Conte and Dawn revealed in their webcast. No, they didn't go on tour to lose money. One commenter theorized that they intentionally lost money for tax purposes. Not true. When asked if they committed tax fraud Conte responded, "I don't even know how one would do that."
Commenters lambasted Pomplamoose for paying their band too much. Calling them "self-righteous." One commenter said "salaries should be discussed at the end of the tour after you figure out what expenses need to be paid. It blows my mind that a band would set aside money for the members when they don't even know if they were going to be profitable themselves." Conte responded on the webcast, "we are not going to ask people to come out on the road with us for a month of shows and a week of rehearsals and then say 'and we might pay you if we make money.'
We all remember what happened when Amanda Palmer didn't pay volunteer musicians anything.
+Amanda Palmer Is Now Defending Her Solicitation Of Free Musicians…
Commenters condemned the band for spending so much on "Best Western level hotels." They assailed "why didn't they sleep on floors." Conte explained during the webcast, "Pomplamoose is not a starving artist." They make a good living from their music at home, so they didn't make money on this tour. Oh well!
What most seemed to miss in Conte's original article was the fact that he mentioned this tour was an investment into future tours: "We could have played a duo show instead of hiring six people to tour with us. That would have saved us over $50,000, but it was important at this stage in Pomplamoose's career to put on a wild and crazy rock show. We wanted to be invited back to every venue, and we wanted our fans to bring their friends next time. The loss was an investment in future tours."
I'm confused at how so many missed this. That statement makes perfect sense. It happens all the time in every other industry, so why when an entrepreneur in music (a band) takes this route he gets chastised? Businesses take initial losses by making investments into the future growth of their company. Tech startups typically aren't profitable for years. But one losing tour and they're deemed a failure? Even though the band's annual bottom line stayed in the black?
Closing his essay, Conte explained "At the end of the day, Pomplamoose is just fine: our patrons give us $6,326 per video through our Patreon page. We sell about $5,000 of music per month through iTunes and Loudr. After all of our expenses (yes, making music videos professionally is expensive), Nataly and I each draw a salary of about $2,500 per month from Pomplamoose." Bloggers and commenters called this a marketing stunt for Patreon. Gawker: "failing to disclose in your widely disseminated essay that you're the CEO of the company you're endorsing remains shady as hell." Yes, Conte is the CEO and co-founder of Patreon. Although he didn't mention that explicitly in his initial Medium article, it was mentioned at the start and end of the re-post on DMN and as someone who has followed Patreon's rise since its inception, Conte has been incredibly transparent about being the CEO and an artist. Yes, Patreon raised $15 million this year in VC money. No, Conte does not take a salary from Patreon. He makes 100% of his income from his music. Was this a secretive marketing stunt to drum up more Patreon subscribers? I mean, he's the CEO of Patreon, so nearly everything he does is through that lens. So that was probably part of it. But Conte claims the essay was meant for the fans of Pomplamoose to understand a bit more of their business model. Ironically, the more transparent Conte is about his business decisions, the more scrutiny he receives for lack of transparency.
+Time To Pay Attention: Creators On Patreon Now Receive Over $1,000,000 Per Month From Patrons
Conte mentioned that the initial post was inspired by a conversation he had with a blogger. The blogger told Conte to put it up on Medium and send it to him and he'll repost. He never expected it to go viral.
Whenever someone reveals private business decisions it leaves them open to public scrutiny. But what is absent from the conversation are the voices who appreciate the band's revelations. As an independent artist, I for one, very much appreciate his essay. It's nice to see how other independent bands tour and how they deal with expenses and investment choices.
This tour didn't exist in a vacuum.
They didn't go on tour to make their income for the year like other bands do. Other bands don't sell anything online and make all their money on the road. Pomplamoose is not one of them. They make over $5,000 a month in download sales. So instead of blasting them for their lack of tour income why not praise them as being one of the few bands who are still able to make a living selling their music online – without touring? They get paid (directly by their fans via Patreon) over $6,000 for every video they put up (for free) on YouTube. Why not praise them for figuring this out? YouTube ad revenue is a joke. They went around it.
Pomplamoose's tour numbers do not represent the independent world of touring. They represent Pomplamoose's latest tour. That's it.
They made a decision to take an 8 person crew out on the road playing to 300-500 people a night. I wouldn't have done that. But they weren't wrong for doing that. They made a decision to take lights out. I wouldn't have done that either. They admitted in the webcast that they could have been better at selling their merch. I'm a stickler for merch sales – it's how I double my tour revenue. But who are we to judge? They're doing what's right for them. Not us.
+10 Ways To Sell More Merch At Shows
One of the best Medium responses I read was by Mike Ericco: "Flaming Lips could go out as "Wayne Coyne: Solo," too. Pink Floyd could have saved plenty by not building a friggin' wall on stage. Gwar doesn't need a blood cannon. There are plenty of examples to support your financial choices. "
But what's the real issue here? Why were so many up in arms?
Why did this surprise so many people, aside from the fact that there seemed to be a few expenses that were a bit high? It's that the old guard is losing their power and prominence. They feel tall standing on these indie bands' shoulders, chastising them, explaining how they could have done it better. But the thing is, Pomplamoose, and every other band growing up in the digital era, doesn't need to be told how to 'do it better.' They're figuring out what works for them. And what works for them won't work for anyone else. Every band's situation is personal and specific.
The real problem is, the major label system has a very cookie cutter formula for launching a career. They believe it takes at least $500,000 to break an artist. And when anyone challenges this formula (and actually starts to see some success) the old guard gets scared. However, the major label failure rate is 98%. Sure, the 2% become superstars, but what about the others? Instead of going for the lottery, craft a career that sustains. That makes sense for you.
Pomplamoose doesn't need your approval. They and are making a fine, middle class income. They don't need to be superstars to call themselves a success.
"Even though we came out a slight financial loss the gain was tremendous" – Jack Conte, Pomplamoose