Need some help planning the merch strategy for you tour? atVenu helps artists and teams track and report merch sales while on the road, and now they can help manage merch way before the tour even starts.
atVenu has launched MerchIQ, a tool that assists with merch planning and forecasting. atVenu users can input tour dates, items to be sold, attendance, and $ per head to calculate total projected revenue. The tool will predict nightly settlements, accounting for venue cuts, taxes, credit card fees, and other expenses. The MerchIQ tool can plan for headline shows, support shows, and festivals dates.
Users can select the percentage of each item to sell and MerchIQ will calculate the necessary number of units by size.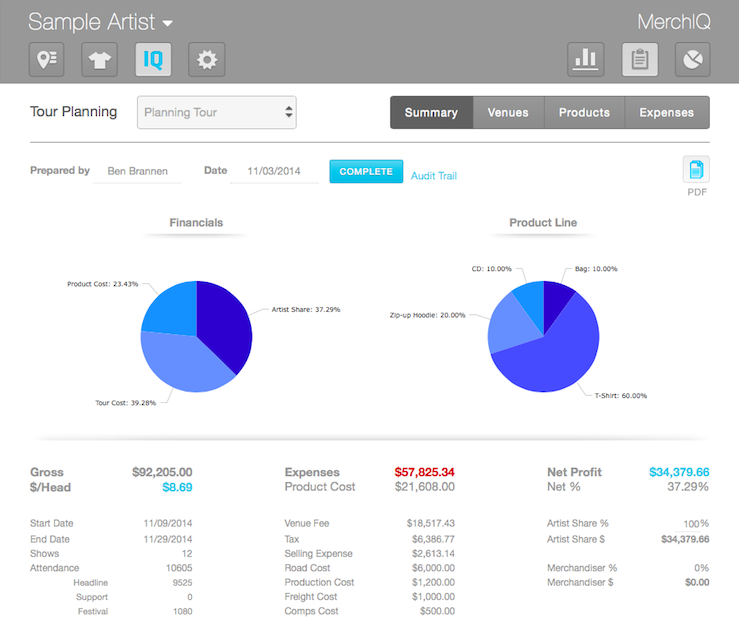 MerchIQ will create an updating forecast report once the tour starts. This report contains graphs that compare actual sales to the predicted numbers. Users can update tour information as it becomes available to make the forecast more accurate.
atVenu says that in the near future MerchIQ customers will have access to aggregated anonymous industry merch data — including average $ per head, sales trends, and top selling items.
+What the Latest Data Is Saying About T-Shirt Sales…
The atVenu MerchIQ plan costs $200 per touring month. The plan is free to use when an artist is not on tour. This plan includes all other atVenu features, including SoundScan reporting and advanced merch management tools.
atVenu has a range of other plans that don't include merch forecasting. These plans cost $10 – $90 per touring month.
Nina Ulloa covers breaking news, tech, and more. Follow her on Twitter: @nine_u