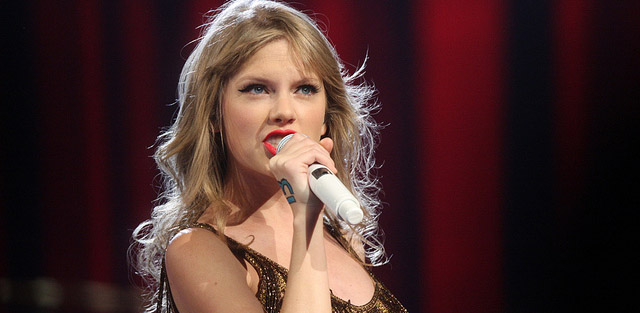 I'm sure by now you've read about how Team Swift has been on a trademarking rampage, filing phrases from her most recent album such as "This Sick Beat" "Could Show You Incredible Things," "Nice To Meet You. Where You Been" and "Party Like It's 1989." Fun fact, a trademark for "This Sick Beat" was filed specifically for "Non-medicated toiletries, skin soap, sun care products, luggage, disposable dinnerware and pot holders." Hmm. Putting aside the obvious questions, can someone trademark a three word phrase that's been, no doubt, uttered literally thousands of times in clubs across the world (answer: yes), and, what are non-medicated toiletries (answer: toilet paper?), Swift's lawyers have started issuing cease and desist letters to Esty store owners and getting their stores shut down by the company.
"This Sick Beat" et al are not technically registered trademarks yet (still in the application process), but really, it doesn't matter that the trademarks haven't been granted. Taylor Swift has filed intent to use trademarks (not sure how she's going to sell "This Sick Beat" disposable forks). And, technically, Swift's camp has an obligation to aggressively defend their trademarks. If they don't, they could lose em.
That being said, team Swift is going to have to prove that they are intending to sell "This Sick Beat" pot holders or will lose that specific mark (not to worry, she has 15 other categories to fall back on for "This Sick Beat").
The uproar is happening in the handmade artist community on Etsy because these individuals (and the company) have been issued cease and desist letters from Camp Swift and in effect their stores have been shut down by Etsy.
A source close to Digital Music News explained that some of these stores were issued cease and desist letters for products that had absolutely nothing to do with Taylor Swift except that they included "Taylor Swift" amongst the store's tags. Others selling "Shake It Off" mugs were shut down by team Swift even though "Shake It Off" is a registered trademark of other organizations – not Swift.


Mug from ManhattanStall on Etsy
It seems that Swift's lawyers told their interns to go on Etsy, type in the words "Taylor Swift" and send out letters to absolutely everyone.
Etsy wouldn't comment explicitly about these claims, but issued this statement:
"Because of privacy and legal concerns, we can't verify specific information about who contacts us. However, I can share more information about our copyright and intellectual property policy:

When a seller opens a shop and lists an item on Etsy, they are agreeing to our terms of use, including trademark guidelines, and copyright and IP policy. We take intellectual property and copyright concerns very seriously, and we comply with the DMCA and remove items when we have proper notice. When we are notified about allegedly infringing material, we act swiftly and in compliance with our policy, which you can find here."
As much as I'd like to Damn The Man… er Woman… Swift's camp has some legal standing, but they took it way too far. Fine, if you're seriously planning to sell "This Sick Beat" sun tan lotion, then issue the cease and desist notices explaining your intent to sell. But be a bit more discerning here. Do you realize who you are targeting? Taylor's biggest fans! It's not like Target is selling t-shirts with Taylor's face on them in all 2,000 stores. These Etsy store owners are mostly moms who have daughters: Taylor's target demo. The ones who have been to multiple T-swift concerts, were among the select few who purchased the 1989 deluxe package from Target, have bought lots of merch themselves and are most likely self-proclaimed "Swifties," evangelizing Ms. Swift on the daily ™ .
It's not just the media who is making a big deal out of this. I've spoken to some of these Etsy store owners and they're pretty upset. An Etsy store owner/Swiftie told BuzzFeed:
"Fans like to see themselves as part of the artist's story, however small. They want to contribute and be creative and have fun. These free, loving, creative minds are being stopped by the very artists who have inspired them.

Obviously an artist has a right to their art and people should respect that. But at the same time most people, like us, are trying to be respectful and contribute to the excitement that the artist brings into our lives.

When that is taken away, it leaves us with a bitter taste in our mouths. It feels as though we don't matter, that our ideas and thoughts and creations never belonged to us in the first place. No matter how hard we worked. And for other fans who make art, I'm afraid that this is going to be the future."
It's a matter of education and forthrightness. The fact of the matter is, everything Swift's lawyers are doing is on behalf of her and is a direct representation of her brand. So even though Taylor, herself, isn't sending the notices and getting these stores removed, it's as if she is. And her fans feel slighted by her.
Swift should have a sit down with her lawyers and explain that these are her fans and that if they want to go after major corporations making money off of her registered trademarks, fine, but leave her entrepreneurial artist fans alone. Especially if they aren't actually infringing on any trademark they own! As for the artistic Swifties out there? I guess this time, ya'll just need to Shake It Off ™ .
Photo is by Eva Renaldi from Flickr and used with the Creative Commons license.