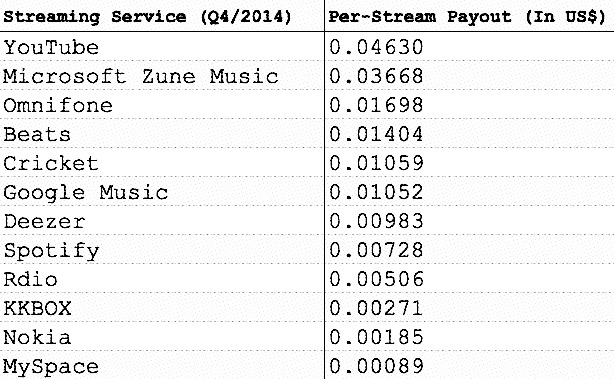 This is from a smaller indie label, based in the United States, with global streaming distribution through a major digital distributor.  This is what they got paid on average, per-stream, from all of their streaming partners between October 1st and December 31st of last year.  These are just the numbers from a spreadsheet for one label for a specific pay period.
We've ranked it from best to worst.  This is before they paid their artists.  Here's what it looks like graphed out.
A few notes.  YouTube appears to include some heavy payouts from YouTube Music Key, the beta-launched premium service.  Beats, Cricket, and MySpace are US-only.  'Microsoft Zune Music' is exactly what appeared in the statement and is North American only (no idea beyond that).  KKbox is Taiwan-only; Deezer is in most countries but not the US.  All others are in multiple countries.