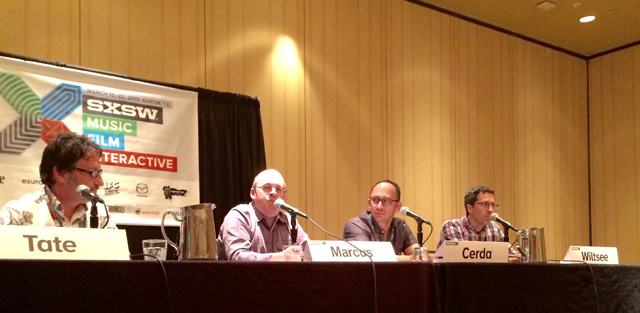 The music portion of South By Southwest conference in Austin, Texas officially kicked off Tuesday. Infiltrating the movie buffs and techie nerds who are in town for the film and interactive portions of the festival, are the skinny jean wearing, bead sporting, aviator donning, shaggy, smelly musicians of the world.  And of course, the leaders of the actual business side of the music industry.  Last night, 6th Street was still relatively tame as the Interactive to Music transition happened.  But, no doubt, tonight will get weird.
The first panel I attended was with the Director of Product Management at Facebook, Michael Cerda, VP of Business Development at BandPage, Chris Wiltsee, Managing Director of Walden Venture Capital, Larry Marcus and the moderator was SF MusicTech veteran, Todd Tate.
The panel seemed to meander somewhat aimlessly for the first half hour around general tech topics until someone from the audience nearly interrupted with "So what ARE the 7 hottest topics in music tech right now" (the name of this panel session) to which the room erupted in applause.  People like lists.  And they like structure.  It would have been nice if the list was displayed on the projector so the room could follow along.  But nonetheless, the 2nd half hour provided a bit more form and direction for the overflowing conference room at the Hilton hotel in downtown Austin.
Here's What The Panel Had To Say About What's Happening in Music Tech Right Now
1) Video
Tate started it off by referencing YouTube's new terms of service for independent artists which Zoe Keating revealed in her blog, about how they are requiring artists to put their music on YouTube at the same time they release it anywhere else.  This prevents windowing releases – putting them on download stores like iTunes and BandCamp prior to releasing it for streaming. To which Michael Cerda of Facebook replied, "There are more places on the Internet to put video."
And as Facebook video inches closer to YouTube's traffic, with 3 billion views A DAY, he's right. However, they don't have the monetization features that YouTube offers such as Content ID or even in video annotations where artists can link to merch, tickets and downloads. And Cerda would not discuss a timeline for these updates, however he did say "we're really just getting started."
"YouTube is more like a library. Facebook is more about discovery. We're building a feature set around that." – Michael Cerda, Facebook
Larry Marcus, whose VC firm works with Pandora, SoundHound, BandPage, Jukely and others said that "you may have 2 million followers on YouTube, but you can't actually reach those followers. It's really important to own your fans."
It's true, building followers on YouTube, Facebook, Twitter, Spotify or any other third party service is of course important, however overnight the service could change how it operates and artists could lose access to those fans – like Facebook did with Page reach a couple years ago.
YouTube just announced yesterday, YouTube For Artists, which provides artists with tips on how to chart on Billboard, get airplay on Sirius/XM and NRJ in France.  YouTube plans to debut an analytical tool that will provide geographical viewer information to help artists route tours, a la Pandora's Amp.
+Pandora Unveils AMP Allowing Artists To See Their Data – And It's Awesome
Wiltsee discussed BandPage's partnership with YouTube which now allows artists to place graphic annotations over their videos which link to merch offerings.
+Why BandPage Is Going To Be The Most Powerful Company In Music.
"One of the biggest headaches in the business right now is there's a ton of engagement happening on Pandora, YouTube, and Spotify are the big 3.  Artists are rightly very frustrated and pushing back.  For the amount of plays we should be seeing a lot more revenue." -Chris Wiltsee, BandPage
2) Crowd-Funding
Much of the panel's time was spent discussing Amanda Palmer and Patreon.  And no, I didn't guide the conversation this way.  So I'm not the only one that thinks this is revolutionizing the industry!  But all agreed that artists need to build the fan base first. Crowdfunding is not about discovering.
+Why The Patreon Acquisition of Subbable Is Important
Wiltsee advised that the traditional album campaign is outdated and doesn't work anymore.  He said that artists need to be releasing content all the time along with bundling in exclusives and special merch so "you can continually come out with new things to engage with that fanbase.  An artist's career is always in cycle.  It's a perpetual cycle."
"Amanda Palmer is a multi-media star, but how many Amanda Palmers are there?  She's figured out how to break through." – Larry Marcus, Walden VC

"Above fan funding, artists need to have more regular conversation with their audience.  Artists shouldn't come out and just say 'come buy my merch or a ticket.  It's about a conversation.  It's about the perpetual cycle.  You're not just merchandising, you're engaging."  Michael Cerda, Facebook.
3) Radio
"Artists should be demanding of Spotify and other services to promote their wares.  That's the spot where you're going to want to reach your fans to consume your products," Marcus said.  Wiltsee agreed "there are fans listening to bands 800 times a month."  But currently, artists have no way to actually connect with these fans.  Not on Pandora.  Not on YouTube.  Definitely not on Sirius/XM and not really on Spotify.
Pandora released its artist analytic tool AMP a few months back.  It was a great step forward, however, it needs to go further.  Fans should be notified (ON THE PLATFORM) when their favorite artists announce new shows.  When they release a new song.  When they launch a crowd-funding campaign.  And fine, these services SHOULD take a commission so they have skin in the game and can work WITH artists on increasing this revenue.  If 100 people in Baltimore created an Ari Herstand radio station, these 100 people should get a special notification when I announce a show in Baltimore.  There are over 600,000 people in the city, there's no way I could find these 100 through general advertising or grass roots promo to get them out to my show.
Internet radio NEEDS to do more for artists to help connect them with their fans.  It's a FEATURE that fans would appreciate.  A simple notification when a concert is announced in their city is not invasive.  Hurry up Pandora! Hurry up Spotify! Hurry up Rdio! Hurry up Deezer! Hurry up Apple!
The conversation was steered towards curated playlists versus algorithm-created playlists and Cerda said that in a blind listening test he bets he could tell you which playlist was hand-picked and which was created by an algorithm.  I'd like to see this test.
"Algorithms do a lot of things, but they don't feel." – Michael Cerda, Facebook.
The panel also has high hopes for what Spotify is going to do with The Echo Nest, "One of the deepest tech companies in music ever," said Marcus.
They touched on Wonder.FM, which used to be WeAreHunted, which lists the top tracks on SoundCloud.  SoundCloud has been enjoying success under the radar and has been the favorite streaming app to integrate into new music apps, startups and existing behemoths (like Twitter), however, now that they are striking deals with the majors and starting to officially monetize, forcing them to update their course, this could all change very soon.
4) Business Models For MusicTech Companies With Copyright Reforms
"The big problem in music tech right now is that the ecosystem has been broken for many years.  If you ever tried to get funding when you're trying to license music and sell it.  It's nearly impossible to do." – Larry Marcus
Marcus is very excited about the live concert subscription service Jukely (which he is an investor of), where for $25 a month you can go and see "all the concerts you want" – of those that are actually signed up to the program of course. He claims it will have a great selection and discovery element to it.  Currently it has launched in NYC, LA, San Francisco and Chicago.  Of course this program will not include the huge arena shows.  But might be a nice way to get more people out to see local and mid-level artists.
Marcus thinks that once the statutory rates for radio are updated there is going to be "the opportunity for people to invest in the space. I think you're going to see a very exciting spreading and merging of radio and on-demand services."
"I hope there is a shifted mindset for people who own the copyrights, the labels, to construct win-win deals.  And that's NOT about upfront cash payments.  It's where if the company succeeds then everyone succeeds."  -Larry Marcus, Walden VC
However with Lucian Grainge of UMG  exclaiming that freemium, ad-supported subscription services "weren't working for anyone except streaming services and music fans," and Doug Morris of Sony Music saying that free music is causing the death of the music industry, don't hold your breath that the labels will join in with Marcus' dream anytime soon.
5) Winners And Losers
Cerda said "Apple is poised to be a big winner" with their (re)launch of their Beats-inspired streaming service. And that "Spotify if poised to be along time winner." But he wonders how long Rdio and Deezer will last. However, Facebook has been in bed with Spotify for years now, so it's no surprise that he believes in Spotify above all else.
Marcus discussed The Edison research firm which lists market share data from the consumer side for all listening services.
Marcus is excited about live music apps like StageIt and Maestro (where you can attend concerts from your couch).
Wiltsee believes the companies that will succeed are those that are embracing artists and helping them connect with their fans and helping them to sell to their fans.  He said "there are billion dollar opportunities" which aren't being realized in music.
Everyone was pretty uncertain about how SoundCloud is going to move forward now that they've fallen under major label rule.
6) Breakout Apps
The big winner at SXSW is the live broadcast from your phone app Meerkat.  It's been wildly adopted here at the festival from Pedicab rides to panels to the exhibit hall.  Anyone can comment on the realtime live stream.  Jimmy Falon, Julia Louise Dryfus and Al Roker have all name-dropped Meerkat.  So it's about to hit mainstream.  I guess if Snapchat is too delayed, we now have Meerkat which literally cannot connect you any quicker to the action.  I'm interested to see how this will take off.
Marcus is excited about Set.FM which is a near identical concept to the failed Live.ly, which enables fans to download the concert they just saw.  Not sure how they're going to succeed with this where Live.ly failed.  But maybe they have better management.
7) What's To Come?
"Algorithms can do a better job at live mixing than most people" – Larry Marcus.
He thinks the "Virtual Sound Guy" app is just around the corner. And with the notoriously shitty house sound guys, I'm interested to see what an algorithm can do.
+How To Fix The Sound Guy Problem 
See Ari at SXSW: 

Speaking
Wed, March 18, 2-3PM | "Band Website Extreme Makeover (part 1)" in Ballroom E
Thurs, March 19, 2-3PM | "Growth Hacking Through Music Tech" in Room 13 A/B
Saturday, March 21, 12:30-1:30 | "Band Website Extreme Makeover (part 2)" in Ballroom E
Showcase:
Friday, March 20th, 4:30 – 5PM | @ Sledgehammer | 503 E. 6th Street.