Brian Felsen is the CEO of AdRev, a YouTube MCN, and formerly president of CD Baby.
I've been going to SXSW for the past 10 years, first as president of CD Baby and now on behalf of AdRev and DashGo. While I always have an amazing time there as a music industry representative, it's been gnawing at me for a while that I've never participated as a musician. So this January, when SXSW posted their list of their showcasing artists, I decided to try to showcase.
My plan was simple: I went to their website and combed through hundreds of bands and pick out my ten favorite lesser-known groups. After narrowing it down, I emailed all ten, asking if they'd like me to join them on trombone. My pitch: I'm not only a strong musician, but I wouldn't need travel, food, accommodations, or a wristband, since I was already going to speaking on panels there. I'd figured that there was an outside chance that one of the groups would say yes.
To my surprise, not one, but five of the bands said yes. Because I loved all of their music, I decided to cram and learn all of the parts and play with them all.
As a result, I had an amazing time at SXSW, but it was also extremely hectic: my days and early evenings were packed solid with appointments in half-hour increments (I took over 40 meetings and only had time to eat protein bars during the day), and my nights had me running all over town, trombone in hand, from gig to gig.
Here's what I learned from participating in SXSW as a performer, and what worked for the five bands I played with at the festival:
1. Manage your expectations.
The best and worst thing about SXSW is that there are so many competing events – which (like streaming services) is something which is a greater benefit for the choice-loving consumer than it is for the content creator. With so much going on, you have to have a little luck in addition to work, talent, and connections to make something happen.
2. Don't leave anything to serendipity.
Decide on which people in the industry you want to target, and go after them in advance, setting meetings if possible. The conference is now so spread-out, and so many locals attend, that you no longer count on just bumping into people who can help you on 6th Street or in the Hilton Lobby. The same thing goes for accommodations – book them well in advance.
3. Take advantage of opportunities for discovery.
When the festival grants you the opportunity to see amazing Uruguayan surf-trash-romantic-Latin-rock band Max Capote, there's no reason to line up for the same buzz bands that everyone else is lining up to see.
4. Support people from your genre or hometown if you can.
It's like a PeeWee hockey pep talk from dad to look out and see your friends ripping it up at your showcase, so do them the same courtesy.
5. Break free from the pack.
Moving groups of people takes forever – split off and go to some shows solo. Everyone is so friendly at SXSW that you will have three new best friends by the end of the first band.
6. Establish a strong visual presence.
The Canadian group The Wet Secrets dressed up in marching band uniforms, with the women wearing huge platform shoes, so the band turned heads everywhere they went.
7. Work the press early.
The Wet Secrets had just garnered a bunch of critical acclaim and had recently won a $100,000 in a contest in Canada. But when the band approached major press at the event, the press already had other commitments and stories pitched to them which they were working, so they couldn't attended the shows.
8. Be flexible.
When I played with the Japanese roots/bluegrass band Pirates Canoe, the setup was different than we expected, and we were short one microphone. You never know what kind of venue you will be playing in, or what the sound environment will be like, and there are only 20 minutes to get your gear on stage – so it's good to be prepared and be flexible.
9. Keep your cool.
It started to rain on the night of one of our Max Capote shows, and they were threatening to cancel it. One of Max's crew was stressed out, but the drunken-party-animal persona of Max kept everyone calm and happy. During the show, I clammed a high note in my solo – but I just told myself that I was stuck out there so I should keep calm and go forward, and I finished well. If there's nothing you can do, there's nothing you can do.
10. Keep a list of helpful conference contacts with you.
Anything can happen.  DMN's Ari Herstand got swamped with people after his panel, forgot his phone there in the commotion, and spent hours hunting down the right people at the conference to help him.  And Pirates Canoe's dobro player sprained his ankle the night before our official showcase, and we ended up running around trying to borrow a wheelchair or crutches, and flagging down taxis.  It would have been better if we had gathered a list of emergency contacts and resources.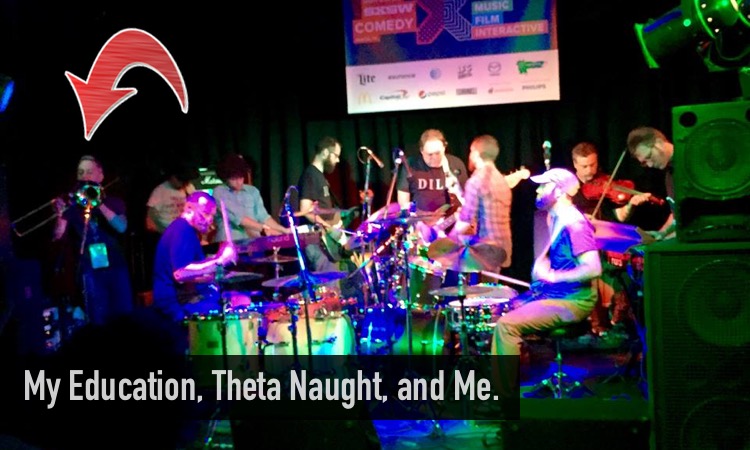 11. SXSW is like an endurance sport.
The conference goes on forever, and if you've set up back-to-back meetings that can change your career, you can't afford to be wasted. I noticed that the writers and leaders of the bands I played with were also the most sober members of the group. The Wet Secrets were once voted "drunkest at SXSW" – which bandleader Lyle now feels is a "dubious, shameful honour." He says: "Pace Yourself! Day party drunk isn't advisable when your showcase is at 1AM. "
12. Corner an under-served niche.
I've always advised musicians and writers and filmmakers to do this, as there are many audiences out there hungry for content outside of the mainstream. I ended up taking my own advice: my first thought when I'd decided to try to play the conference was that it would be fun to play bass in a punk band – but then I realized that most punk bands probably already come with their own bassist. So I hit up bands as a trombonist instead.
13. Saturday shows are a mixed blessing.
You may get more locals coming to the show, and a chance to build up to your audience from earlier shows – but much of the industry has gone home by then.
14. Focus on the audience.
Make sure your musicians and audience has a good time – rather than just showing off a soloist, My Education/Theta Naught retailored their live show in order allow the music to have more of an build and an arc than the record, which thrilled the audience. And Sister Sparrow and the Dirty Birds, who have been playing hundreds of dates a year and have some of the most creative musicians I've ever played with, still loaded their set with their hits, as what's "old-hat" for them is new for the industry folk in the audience.
15. Pics or it didn't happen.
Before each of the first shows, I unlocked my iPhone, found someone in the crowd, addressed them by name, and handed it to them asking them to film and take pictures. Posting them helped get our final shows to be packed.
16. Avoid asking other bands, "So, how many showcases do you have?"
If the other group has more than you, you'll feel bad, and if it's fewer, you'll make them feel bad. There's no good outcome here.
17. Have fun!
One way of looking at SXSW is that you might end up traveling a great distance to play for free in a conference that brings in for itself a great deal of revenue. Another way of looking at it is that it's the rare opportunity to be in a temporary community of creators, fans, and like-minded folk who come together in a great bacchanalia to meet, party, collaborate, and do business. It's infinitely more fun to look at it that way, and to enjoy.