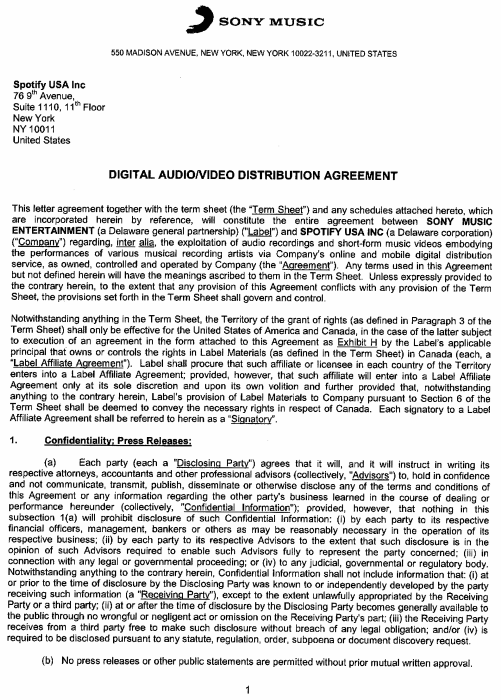 Curious to see what a contract between Spotify and a major label looks like? We're all pretty curious, as these deals have been extremely secretive.
Until now…
The Verge has gotten ahold of Spotify's contract with Sony Music, signed in 2011. The contract was good for two years and included an optional third year.
So what's in this contract? For starters, Sony's agreement included a Most Favored Nation Clause that guaranteed that other labels wouldn't get a better deal. Sony was able to bring an independent auditor in every year to make sure of this. If another label received more money per market share then Spotify would owe Sony the difference.
Spotify also paid Sony up to $42.5 million in advances. Was this money split fairly with artists? Highly unlikely.
Sony also agreed to a minimum of $0.00225 per stream.
Furthermore, Sony was given $9 million in ad space that they could keep or resell for profit. $15 million in discounted ads were also available for Sony to purchase.
The contract says Spotify gets to keep up to 15 percent of ad revenue handled by hired third parties. The Verge says that Spotify has never publicly mentioned this 15 percent in their public revenue explanations.
See the whole contract here.
Nina Ulloa covers breaking news, tech, and more: @nine_u