What does "Indie" mean to you?
Does it mean quirky or artsy?  Or does it just refer to the style of a person?  Or does it just mean that the same giant-assed companies have found a new way to make you feel like an educated consumer who is simply more aware of art than others?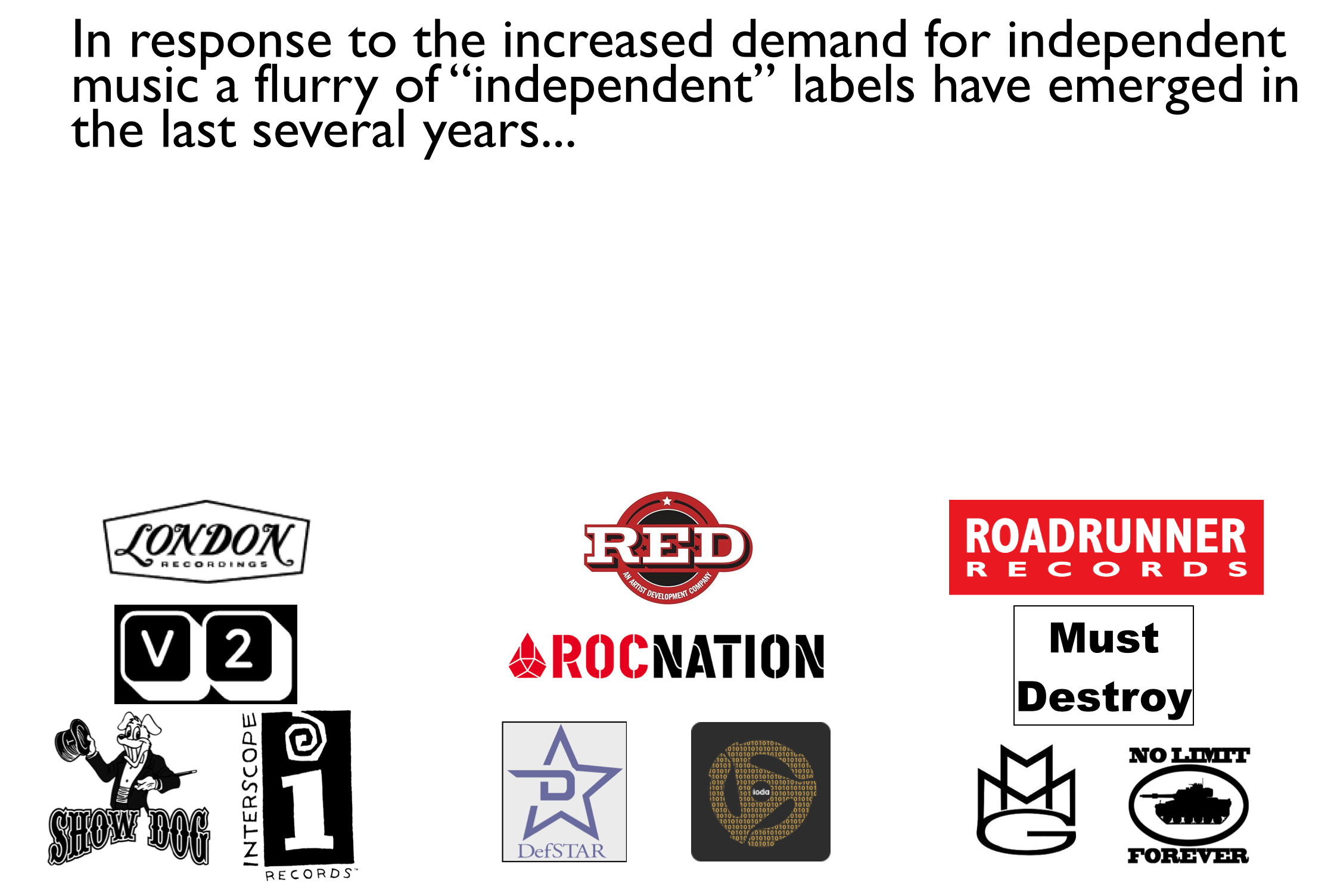 So what is 'Indie' actually, by the current real-world definition?
Nothing but a contrived ploy, created only to pull more money out of your wallets while damaging the public conception of independent art!
Recently, The Orchard (a wholly-owned division of Sony Music Entertainment) sent Digital Music News an infographic in the hopes that we would provide them some positive PR.  Maybe they thought they had some much 'indie cred' that publications would want to write about them…? fail.
Instead, I made some of my own infographics to better portray their market stance.
A bit of background and why I am writing this article: When I first started seeing the trend towards "Indie" it was within the movie business.  Seeing actors and actresses who undoubtedly command huge payouts in movies like Little Miss Sunshine (budget of $8 million), The Grand Budapest Hotel (budget of $30 million), and Eternal Sunshine of the Spotless Mind (budget $20 million) initially tipped me off.  This was a new marketing plan at work and it was working, because more and more movies started popping up with these "quirky" and "artsy" veneers over deadpan humor and semi-abstract plots.
It wasn't long before this marketing philosophy started to pervade the music industry.
This seemingly harmless sales strategy is making it even harder for real musicians to get discovered because the average listener now thinks they already are listening to what's "underground" and may not seek out more obscure music.
Today, we have fabricated legends, people like Macklemore, who really hope you think they are "Indie" because it's "the hip new thang," but in reality he and his cohort Ryan Lewis were signed to a division of Warner Music Group.  It's called ADA, or Alternative Distribution Alliance, and the deal was signed before the hit song, "Thrift Shop".
In other words, this is not an artist living some inspirational fairy tale thanks to the internet.  Instead, they had roughly $200 million pushing their song into the stratosphere.
There are far too many movies and "musicians" to list, but its safe to assume that if your mother knows about it, it's not really not that "Indie".
So don't be played by the entertainment industry, please!  Let them know that you are aware of their bullshit marketing plan by not paying for the music you know is contrived and pre-paid to be in your ears.  I plead to the readers of this article to go and see some LOCAL concerts!  See some self promoted, managed and distributed artists.  You may be shocked at how much better the music is than what the major labels have been spoon-feeding to you with a bald-faced lie and a grin!
The major labels aren't just some old cronies, scratching their heads in some high-rise office somewhere.  Instead, they are actually highly-skilled at fabricating fame and perpetuating the myth that good music is a thing of the past.
It's due to the success of this methodology that real A&R is dying.  It's a lot easier to choose someone who tests well in focus groups than it is to actually scout out and recruit talent that you believe in. Especially because music is just a business to them and has nothing to do with art.
It's true for the mainstream, and 'indie' as well.