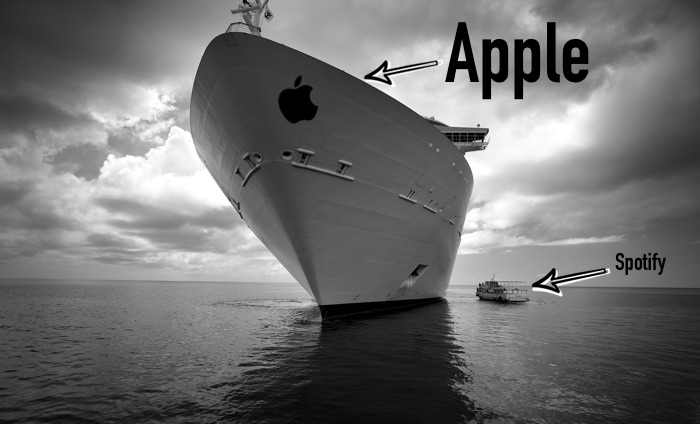 Updated, 2:00 pm PCT: Apple has just announced 'Apple Music' at WWDC in San Francisco about 5 minutes ago.  Most we expected, here are the top-level features:
$9.99 monthly cost.
Catalog on par with Spotify (10s of millions of tracks)
First three months free.
Initially, iOS only: iPad, iPhone, Mac, etc.  Android coming soon but no date specified.
Radio stations will be integral, including the first-run Beats 1 with celebrity and expert curation.
Available initially June 30th
We're preparing our detailed report on the service now, stay tuned for the deep-dive.  
And here's our early morning report, from 6:45 am PCT:
Apple wants to make an utterly crushing impact with its upcoming streaming music launch, slated for unveiling today in San Francisco.  But how utterly crushing?  According to pre-launch tough talk from inside Cupertino, Hooli Apple wants nothing less than 100 million paying subscribers, a number that would eclipse Spotify's current 15 million.
That number would also more than double the entire global music subscription number: according to trade group IFPI, 41 million are currently paying for a streaming music service, though insiders say that number is highly inflated by discounted plans, bundled mobile plans, and other cut-rate non-sense.
"While Apple wouldn't comment last week, a person familiar with its plans said Apple has an ambitious goal to sign up 100 million subscribers for a new streaming service that will cost $10 a month and compete with other on-demand services such as Spotify and Rhapsody."
But wait: might Apple be veering into hyperbole while inhaling its own reality distortion fumes?  Ginormous red flags are waving on this one, including a plan to limit free access to just three months.  Meanwhile, megaliths like YouTube offer completely unlimited, unfettered free access, while Spotify offers the same (at least for now).  Add Pandora's all-free, all-the-time radio selection, and you have a giant stack of freebie competition for one over-confident Apple.
And there's little sign that things will change: just recently, YouTube defiantly underscored its commitment to ad-supported free content, a sentiment echoed by yet another 8,000 pounder in the jungle, Soundcloud.  Separately, Spotify has vehemently denied claims that its free-access tier will be limited to three months.
Other pre-launch details we know:
Apple CEO Tim Cook is slated to announce the service himself at WWDC in San Francisco, likely with high-profile artists.
Beats Music will be retired, and subsumed into the upcoming Apple Music launch.
Price point will be $9.99, or $10, or something around there.
Written while listening to Sepultura and Dio on TIDAL.