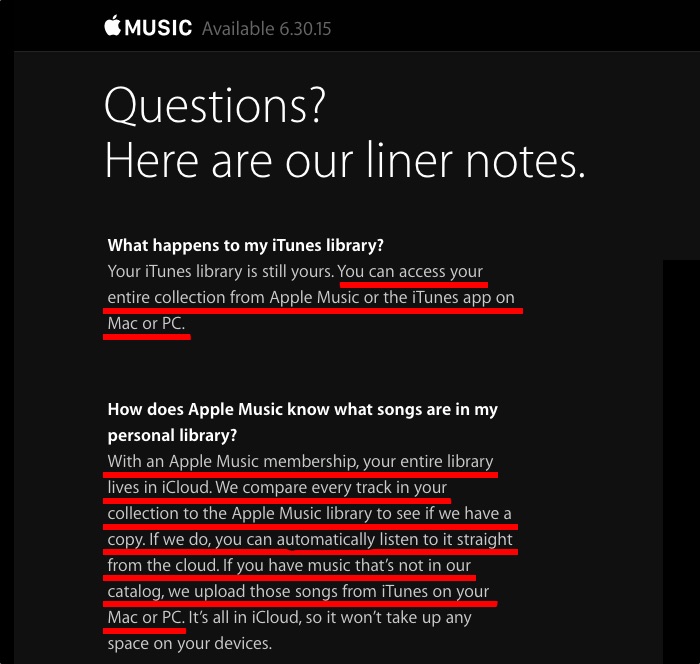 That's funny, I thought you said you wanted to withhold your music from Apple's new streaming service…
According to FAQ details just leaked to Digital Music News (above), Apple will enable Apple Music users to convert any download for streaming across any device — irregardless of whether that download was paid for, stolen, ripped, whatever.
As long as the track exists in the user's iTunes collection, it's fair game for streaming on Apple Music.
The structure effectively means that any attempt by artists to withhold music will have little impact on Apple Music, and a potentially massive impact on the artist.  The FAQ leak comes as artists — especially independent artists — are bracing for a massive decline in recording revenues, thanks to a near-guaranteed plunge in track download sales on iTunes starting June 30th.
The big question is what the powerful independent sector does next.  According to earlier intel from multiple sources, a number of top artists — including Adele, The National, Alabama Shakes, and even Radiohead — have been considering a total withdrawal from Apple Music, largely because Apple will pay zero royalties during its three-month trial window.
Now, it appears that independents have little-to-no power in this situation.  In a scenario involving Radiohead, for example, it is highly likely that a fan will already own the entire Radiohead catalog, paid for or otherwise.  That can now be streamed via Apple Music across any iOS device or Mac starting June 30th, and Android devices in the fall.