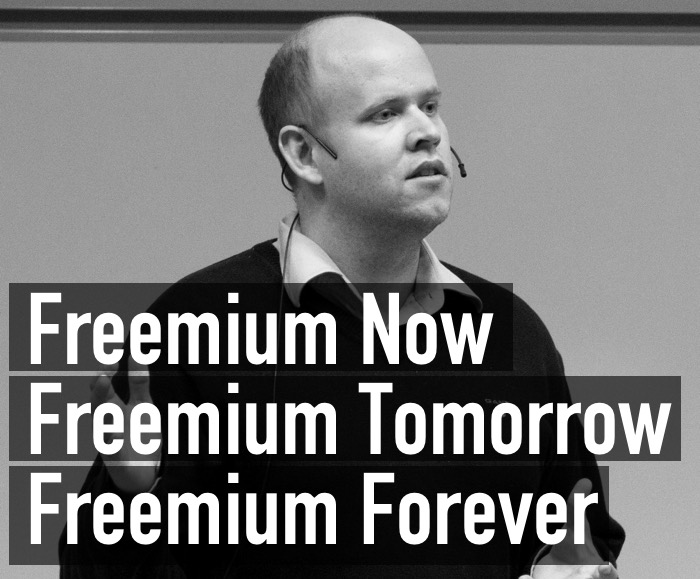 Just how expensive is free?  According to a pair of sources with close knowledge of Spotify's ongoing major label renewal, preserving an unlimited free tier is worth everything to Spotify and its CEO, Daniel Ek.  Yes, all $8 billion of it.
"Daniel Ek is fighting this, they're fighting it really hard. [Ek] would rather fold the company than cut free," one source relayed.
Enter some very tense renegotiations with all three major labels – Warner Music Group, Universal Music Group, and Sony Music Group – all of whom have deals expiring in October, according to both sources to Digital Music News.  That is laying the groundwork for a very stressful summer, especially given the extreme stress now being applied by Sony Music Entertainment CEO Doug Morris and Universal Music Group CEO Lucien Grainge to "fix the free problem" (more on complications surrounding Grainge, Vivendi, and the ghost of fired UMG executive Rob Wells next week…)
This was almost the perfect standoff.  Earlier, sources pointed to heavy pressure from the majors on Spotify to limit free access to just three months, instead of the open-ended, ad-supported 'freemium' currently in place.  That would align Spotify with Apple Music, which launches June 30th, and theoretically place a lot more pressure on music fans to pay.  But according to separate sources, coordinated label pressure on Spotify inadvertently re-stoked governmental investigations from state attorneys general in both New York and Connecticut, effectively kiboshing the squeeze-play.
Spotify flatly denied that any restrictions to three-months were ahead, and it looks like they're right.
Meanwhile, Ek's frustrations over Spotify's role in the free-access debate is intensifying.  "Spotify is paying for free, they're paying for this," one source emphasized.  That includes Taylor Swift, who magically appeared on Apple Music during a demonstration earlier this month*. "Oh ok," Ek tweeted-the-erased.
"SoundCloud isn't paying, YouTube is paying almost nothing, and [Spotify]'s the bad guy?"
All of which brings us to a slightly different version of Spotify, coming this fall.  Looking ahead to October, one source pointed to a conditional, one-year renewal of terms with all three majors, with a once very interesting compromise on the table…
Stay tuned!
*update: Sat., Jun 20th: Nina Ulloa just pointed out that 1989 isn't available on Apple Music.