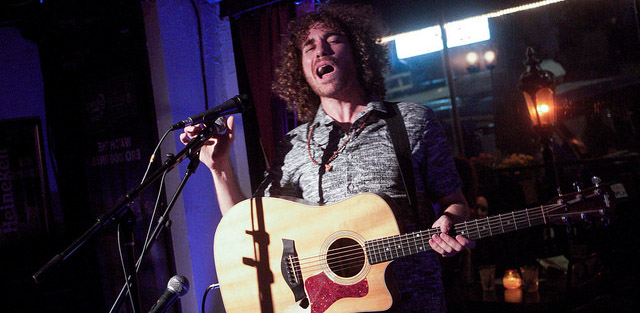 Most singer songwriter shows are completely boring.  Here's why.
I just played a new songwriter series billed as #songwritersundays at The Fox and Hounds in Studio City, CA. They have built up quite a supportive crowd of musicians and music lovers for this Sunday series. Without fail, every Sunday the place is packed with an audience silently listening to the performing artists.
This isn't a glamorous event.  There's no stage.  The artists setup in front of the front window, and for all intents and purposes it's a bar.  But what makes these shows special, is the crowd.
Run and booked by musicians and music lovers, these nights have become somewhat of a hidden gem of the Valley.  Most people in the house are other singer songwriters checking out the talent.  And unlike the pay-to-play clubs on Sunset Strip, the singer songwriters are paid a guarantee for their performance.  And the show is free for attendees.
+ Why The Sunset Strip Clubs Need To Die
Before the show, a woman came up to me and mentioned that she was going to review my show for a publication she writes for. We got to chatting and she asked me a curious question, "why are most singer songwriter shows unmemorable?"  Taken aback (being a singer songwriter) I asked her to expound.  She said that most singer songwriter shows she walks away from she can't remember a single song they played and nothing sticks out to her about the show.
As someone who has probably seen (and played with) hundreds of other singer songwriters, she had a point.
Most singer songwriter shows ARE boring.  But that doesn't mean that the singer songwriter genre is boring.
So, dear singer songwriters, here are 8 reasons why your shows CAN BE boring as hell:
1) Your Banter Is Bland Or Non-existent
Stage banter is a time honored singer songwriter tradition. Most pros have mastered this art and let loose in between songs.
When you're starting off, you aren't going to have great stage banter.  It doesn't come naturally.  Just like your instrument, you have to practice it.  Work at it.  Stand up comics don't come out of the womb funny.  They work at it for years and years.  As do singer songwriters.
Practice stories and jokes at home.  If you freeze up on stage, make notes on your setlist to remind yourself the story or joke you're going to tell.  Make mental notes about what works and what doesn't.  You want to get to a point where you have nothing planned and can play off of the room and make every show unique and special, but this takes time.  This takes a level of confidence that is gained after years of performing and hundreds of shows.  I know my stage banter didn't settle into place until my 200th show or so. It takes time!
"If you're an introvert, you can be an introvert, but be a confident one."
And there's no one way to customize your stage banter.  Be an enhanced version of your best self.  You have to do what makes sense for your personality.  If you have an extremely dry sense of humor don't try to be bubbly, be dry!  But be hilariously dry.  If you're goofy, be goofy.  If you're an introvert, you can be an introvert, but be a confident one.  And if you aren't going to tell hilariously extravagant stories, then the few words you speak softly into the mic should set the crowd at ease.
No matter what your stage persona is, you never want the audience to feel uncomfortable.
Fans come up to me all the time and reminisce about shows they've seen of mine in years past.  They retell me a story I told that night.  Most of the time the story was a spontaneous moment of inspiration I had on stage and I don't remember what they're talking about.  But they do.  People will remember the stories and jokes you told much longer than they'll remember the songs you played that night.
You play the same songs every night in every city and every venue. What makes your show special for those in the house are the things you do differently for them.  Playing off the crowd, the city, the restaurant you ate at this morning, the people talking in the back, the cowboy hat in the front row, the girl on her cell phone.  These are things that the crowd will remember if you point them out from the stage and joke about it.  These are how to make your banter special and funny as hell.
2) The Musicianship Is Weak
There's nothing more annoying to me than a singer songwriter who only plays one instrument and plays it poorly.  You don't have to be Bonnie Raitt or John Mayer on your instrument, but you should at least be capable.  You should master your style of playing.
"Whatever you do with your instrument, do it well!"
Looking down at your fingers on the guitar changing from a G chord to a D chord while slipping in and out of place is completely unacceptable.  You should not be performing in public until you have mastered your instrument in the style you are playing in. Sure, there's always room for improvement and you can always alter your playing style.  If you can't solo, don't take solos. Whatever you do with your instrument, do it well!
The professional singer songwriters who suck at guitar (but just use it as a songwriting instrument) will hire a guitar player for their shows and just sing.  That's fine!  Just don't sit up on stage and suck at your instrument.  That detracts from whatever brilliance you have within your songs.
+ 7 Reasons Why No One's Coming To Your Shows
But word to the wise, you will drastically decrease your costs if you can become capable at your instrument and don't need to hire out every time you play a show.
3) The Songs Just Plain Suck
I'm tired of the singer songwriters who throw in a bunch of "cool chords," but can't write a good song to save their life.  It's the equivalent of a metal shredder non-stop soloing over a mediocre instrumental foundation with no singing.  It's self indulgent!  And boring.
You're a singer SONGWRITER.  It's in your title.  Your songs have to be great.  Spend time writing and rewriting and rewriting.
 + Want to be a Great Songwriter? Here Are 10 Songwriting Tips from the Pros
Most great songwriters write 5 songs for every 1 they actually use.  Not everything any songwriter writes is gold.  Dylan threw out a TON of songs that we never heard.  So why do you think every song you write is good enough for the show?  I'll give you a tip, they're not.
"And never settle."
Make sure your songs have hooks, memorable refrains or choruses and have lyrics that aren't generic.  Pop can get away with cliches and blandness because it has BUMPING production beneath it.  Singer songwriters cannot.  Your songs should be creative, intriguing, enticing, stimulating, thought provoking, and life changing.  If your lyrics don't evoke SOME kind of emotion, rework them until they do.  And never settle.
Don't just surround yourself with friends and family who tell you everything you write is gold (they don't know).  Test out some songs on Audiokite or Fluence to get unbiased opinions from both average listeners and industry experts
+ How To Objectively Pick Your Best Songs (Or Find Out If You Suck)
4) You Look Plain
This is the least cool thing to talk about, but it's important.  And for some reason ladies understand this concept way more than dudes.  You're standing on stage inviting people to look at you for 45 minutes.  Give them something interesting (and memorable) to look at!  You don't have to go all Gene Simmons, but wear something that is patently you.
You're an artist. Be artistic!  Embrace your quirks.  Like your banter, your outfit should showcase the best version of yourself.  Dress UP!  Be different.  If you look plain, people will think your music is plain.  Wear what feels right for you.  Something that sets you apart.
Have a style. Look good for god's sake. Cargo shorts are for dads at a barbecue, not singer songwriters on stage.
5) The Songs Contain No Tattoo Lines
Whenever I write a song I try to make sure it contains at least one "tattoo line."  Anyone who has written with me has heard me explain this concept.  It's a line so brilliant that fans would tattoo it on themselves.
As someone who has had fans tattoo my lyrics on them, I can say I've passed this test.  These are the lines that people walk away from your show remembering.  They stand on their own.  They give people pause.
What are your tattoo lines?
6) You Only Play One Instrument
This is a tough one because I've seen brilliant singer songwriters who only play one instrument command a theater.  But they are pros.
Trey Anastasio (guitarist/singer/songwriter of Phish) embarked on a solo tour years ago.  He mentioned in an interview that someone once told him that people will get bored of just hearing the same sonic palate for two hours.  You need to give them some variance.
Trey learned a few songs on piano so he could trade off (even though there are few living guitar players better than him).  He wasn't very good at piano, but capable, and made his show that much more interesting.
First, master your main instrument.  Then experiment with bringing another instrument into the mix.  YOU don't have to play multiple instruments, but either play with a band or another musician who can alter the sound of your show enough to treat the audience's ears.
7) You Aren't Playing Covers
If you're playing in front of a crowd with mostly people who have never heard you before, it's nice to throw in a cover as a reward for sitting through a bunch of songs they've never heard before.
No matter how brilliant your songs are, it is overwhelming for someone to hear 10 of them back to back for the first time.  So break it up with a cover.  And make sure it's a cover your audience will know.  There's no sense in playing an obscure cover from the 80s by a band only 327 people in Australia know.  Play a song, in your style, that everyone in your crowd will enjoy.
Like this.
8) You Don't Perform
This seems like a no brainer, but you're PERFORMING on stage, so PERFORM!  Don't stand there like you hate life, hate performing, hate the audience and are completely dead inside.  If you truly do hate all these things then why are you performing?
Go record somewhere and never play out.  Or go write a novel.  Put on a damn show!  Yes, even though you're opening up parts of your soul to the audience, it's not enough!  I know that's tough to hear.  So, work on your banter, work on how you perform the songs.  You don't have to bounce around the stage, but give them something memorable.
Glen Hansard rips his guitar to shreds while belting (sometimes not very pretty) at the top of his lungs.  He puts so much passion into his performance that the audience can't help but fall into his energy.
Ben Folds throws things at his piano and pounds on the keys frequently popping strings mid show.
Ed Sheeran and Andrew Bird loop.
Ingrid Michaelson's banter is better than most, switches off between piano and ukulele and can transform the Hollywood Bowl into a living room and make everyone in the house feel like her best friend.
Ben Harper is equally strong playing a solo acoustic show as a full band rock experience.
Ani DiFranco tears up her guitar and leaves a pint of blood on stage for her solo shows.
Sara Bareilles and Jason Mraz are two of the strongest singers in the scene and both have equally entertaining stage personas.
Jamie Cullum stands on top of his grand piano before jumping down and flying up and down the keys leaving everyone's collective jaw on the floor.
Matt Nathanson has some of the most consistently hilarious banter out there.
The Tallest Man On Earth is a rapid finger picking phenom, has a voice like no other and connects to every word he sings every time.
+ 11 Reasons Why You're Failing At Open Mics
***
As a singer songwriter, I don't want people generalizing the entire genre as "boring" because I know it doesn't have to be.  So, please, help out the scene and bring the excitement back into the category.
Photo is by Rebecca Crab from Flickr.