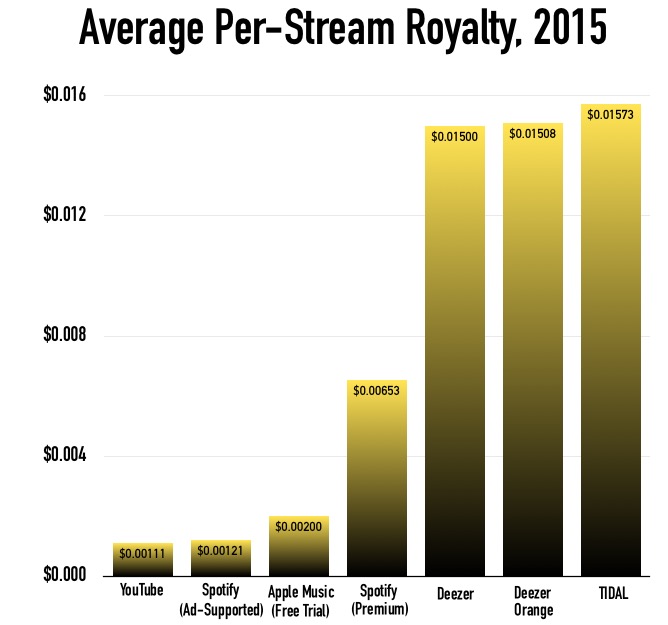 We're starting to get a sense for what different music platforms are paying.
The data is from the just-released 'Fair Music: Transparency and Payment Flows In the Music Industry' by Rethink Music, an initiative of BerkleeICE (Institute for Creative Entrepreneurship).  And it largely confirms estimates for YouTube and Spotify's free service, both of whom are notorious for lower payouts to rights owners (including labels, artists, and songwriters).
Apple's newly-launched paid service, Apple Music, is showing a flat $0.00200 based on an agreed-upon payment during its current free trial.  Initially, the platform was planning to pay artists nothing, according to contract details unearthed by Digital Music News.  But Apple agreed to pay royalties on trial streams after being publicly lambasted by Taylor Swift.
Things changed pretty quickly after that point: within about one day, Apple changed its tune, despite numerous complaints from independent labels and artists prior.
Meanwhile, Tidal is emerging as a surprisingly strong payer, thanks largely to its paid-only approach and limited free trials.  That could include higher-end payments for premium fidelity, a hallmark of Tidal's predecessor, WiMP.  Additionally, Tidal's approach towards streaming is more artist-friendly, with higher payouts and artist ownership designed to solve persistent compensation problems.
Unsurprisingly, Spotify's per-stream payments on paid streaming is far superior to its ad-supported payouts.  But oftentimes, it's difficult for artists to figure out the difference.  According to the royalty statements shared and reviewed by Digital Music News, per-stream payments are often lumped together, without distinctions between paid and free (perhaps intentionally).