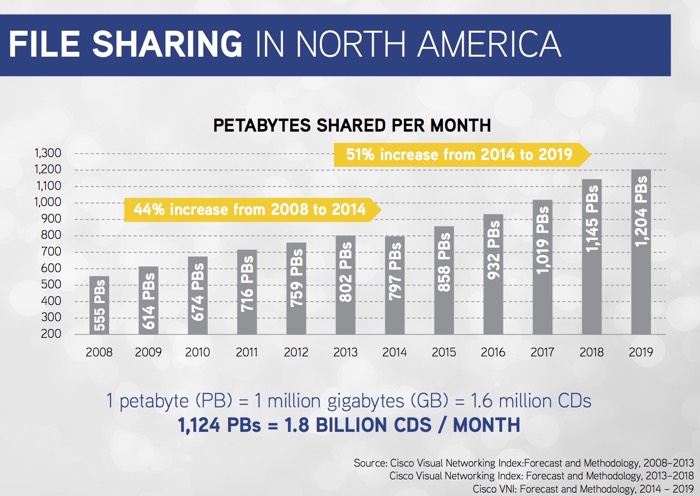 The following comes from Robert Steele, president and COO at DMN partner Rightscorp.
In speaking with people both inside and outside the entertainment industry over the last few years, I've been fascinated with what appears to be a general consensus that internet piracy isn't the problem it once was.  When I tell people that I help protect artists' rights on the internet and collect payments from people who are file-sharing music and movies without permission, people often say, "hasn't streaming eliminated piracy?" or "I thought they shut that down?" or "didn't they get sued?"
When I mention that file-sharing in North America has grown 44% from 2008 to 2014, I often get silence as the response, or "hmmm."
First, I think those that care about distribution of media without compensation on the internet have progressed from outrage to fatigue, then to resignation, and ultimately to acceptance and its cousin, denial.  The U.S. Copyright Office put out a report in February 2015 titled, Copyright and the Music Marketplace where regarding piracy, the editor stated, "Unlike in the Napster era, stakeholders now seem resigned to this marketplace condition and the perhaps irreversible impact it has had on the industry."1
Second, it may be that any news that looks even remotely hopeful sets the tone and does so regardless of its full accuracy. Billboard ran an article in 2013, "Business Matters: How Netflix Reduces Piracy," quoting Netflix's chief content officer as saying that "BitTorrent traffic drops as the Netflix traffic grows" when the service launches in a territory.  Netflix launched streaming in the United States in 2008 and Canada in 2010.
We applaud Netflix, but the fact remains that file-sharing in North America has grown in the US by 44% since 2008.
BitTorrent responded to this assertion by saying that their technology will "reduce BitTorrent traffic during times of peak Internet usage to give priority to other types of Internet activity – such as that utilized by Netflix. When people use apps like Netflix, then, yes, the BitTorrent traffic is reduced, but not because Netflix is replacing piracy, but because the protocol is designed to work that way."
Before we go much further, we should answer the inevitable "BitTorrent is not synonymous with piracy" chorus.  Netnames found that the majority of filesharing infringes on copyright from 78.1% for music to 92.9% for television.   In this discussion, we equate growth in filesharing traffic as growth in piracy.
Then there's spin, bias, and just incomplete reporting on both data and trends.
For example, Time Magazine reported "Revenue Up, Piracy Down: Has the Music Industry Finally Turned a Corner?" in 2013 citing an NPD study that said,
"Piracy, for instance, continued to decline in 2012, according to a survey by the NPD Group. About one in ten American Internet users downloaded music through a peer-to-peer network in 2012 — think BitTorrent or the now-defunct LimeWire — compared to one in five when the phenomenon peaked in 2005."  
Our understanding is that this NPD study was based on survey interviews with people who had file-shared in the past. The year-over-year decrease was determined based on recontacting people who had admitted to breaking the law the prior year and asking them if they were still breaking the law.
Despite its unorthodox approach, the NPD study has formed the bedrock of much of the prevailing wisdom regarding file-sharing when the fact remains that when measured by data volume, file-sharing in North America has increased 44% since 2008.
And what about the impact of streaming on illegal downloading?  The narrative we most often hear is "People are willing to pay if they can get what they want when they want it," which is actually a direct quote from Daniel Westman, researcher at the Swedish Law & Informatics Research Institute at Stockholm University. Nearby, a recent study from the University of Lund in Sweden has gotten a lot of press for stating that "the number of users who share files on a daily basis has dropped from 32.8 percent in 2012 to 29 percent in 2014."  The study credits streaming services such as Spotify and Netflix with this shift.  What you see less discussion on is that in 2014, consumer internet users in Sweden used an average of 363 petabytes per month, with 82 petabytes or 22% of that used for file-sharing.
On an annualized basis, this is the equivalent of 1.5 billion CDs worth of content file-shared in Sweden in 2014.
The Swedish case study, however, does raise some interesting questions.  Cisco is currently predicting that file-sharing will experience an 11% decrease in Sweden by 2019, in contrast to growing 51% in the US through 2019.  So while it appears that a case could be made that streaming will reduce file-sharing from 1.5 billion CDs (1 CD=650 Mb) a year to 1.3 billion CDs a year in Sweden over five years, why isn't there any decrease in the US?  If streaming and providing better, more efficient alternatives is the answer to piracy, why don't we see any decrease in the US where we have had the best streaming solutions for many years?
The 'streaming effect' isn't working in the US.  Rhapsody has been streaming the major labels' content in the United States since 2002, yet file-sharing has greatly increased since then. Spotify debuted in the US in 2011, yet file-sharing in the US has continued to rise.
Netflix debuted in the US in 2008, yet file-sharing of TV shows and films has also grown.
What we do know for sure is that even with 60 million Netflix users and 20 million paid Spotify users, there are still more than 100 million people using BitTorrent on any given day and that massive free consumption decreases the price that content owners can charge for content.  On their last earning call, Netflix CFO David Wells stated,
"Piracy is a governor in terms of our price in high piracy markets outside the US. We wouldn't want to come out with a high price, because there's a lot of piracy.  So we have to compete with that.  So there is a little bit of governor on our price outside the US."
I'll acknowledge an interesting anomaly in the upward trend, which is that file-sharing in North America appears to have decreased from 802 petabytes per month in 2013 to 797 petabytes per month in 2014.  But a closer look at internet usage statistics from Sandvine reveals that VPN use grew 17% from 2013 to 2014.  It's impossible to know exactly what people were using these VPNs for, but VPN use has more than doubled between 2011 and 2014.  We believe that the small decrease in petabytes per month from 2013 to 2014 is due less to a decrease in piracy and more to a shift to VPN usage.
But even with this decrease, Cisco still predicts a 51% increase in file-sharing in North America through 2019.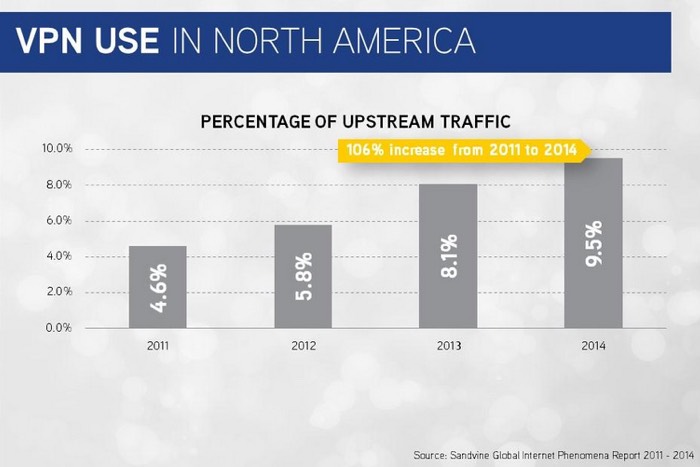 So why don't we hear more about the actual fact that file-sharing piracy is increasing in North America?
We believe that part of the confusion comes from the fact that even though worldwide file-sharing piracy has grown by 80% from 2008 to 2014, file-sharing piracy has actually decreased in Western Europe where a lot of the reporting and industry advocacy comes from.  But even after this decrease, the magnitude of file-sharing piracy in Western Europe is still staggering.  In 2014, 20% of all European internet traffic was file-sharing, and on an annualized basis, and a staggering 22 billion CDs worth of content was distributed without compensation in Western Europe.  Indeed, file-sharing piracy in Western Europe was still 48% greater than in North America in 2014, even after 4 years of decline.
Perhaps we simply need facts.  And in the United States, several current statistics really tell the story:
According to Nashville Songwriters Association International, the number of full-time songwriters in Nashville has dropped 80% since 2000. This was a new low point since data started tracking in 1991.
According to the Bureau of Labor Statistics, there were 39,260 people in the United States classified as "Musicians and Singers."  This is down 27% from 53,940 in 2002.
Additionally, after the recent Netflix earnings call discussed above, we now have concrete proof that piracy greatly reduces the pricing power of all sellers of digital content on the Internet.  We believe that this once and for all eliminates all of the tired rationalizations we have heard over the last decade about how copying isn't stealing, piracy helps artists, etc.  With the rise of Popcorn Time and Cactus Player, a similar file-sharing platform that delivers music via peer-to-peer without websites, we can see that the future of filesharing is unaffected by take-down notices and domain blocking. Our belief is that all content owners must recognize that until they have a scalable system that discourages hundreds of millions of internet users from giving away content for free on file sharing networks, that revenues and pricing power will continue to decrease.


There are two reasons for this.  First, technologies like Popcorn Time aren't affected by blocking domains.  The only way to reduce their effectiveness is to get seeders, i.e., file-sharers, to stop seeding.
Second, when everyone knows that your product is available for free on the internet with no consequences, they place less and less value on it, even if they
never

pirate.

That's why we formed Rightscorp.  In order to actually do something about 18% of all internet traffic being used to consume media without compensation, we believe that there must be a scalable system that is self-financing and empowers content owners to discourage the distribution of their content without their permission.  We also provide a free service to ISPs to give them accurate and real-time information on their subscribers that are distributing our clients' content repeatedly without permission.  We also provide a free service to send offers of settlement to internet subscribers that have been distributing content without permission, usually for $30 per infringement, which is shared with the content owner.  If they do not make the payments, we remind ISPs of their requirement under the law to have a policy for terminating service to subscribers who repeatedly infringe copyrights.  When people pay the settlement, however, they are removed from the list we send to ISPs.

So if you're a rights owner, I'd strongly encourage you to look at what's really going on, what the actual data is saying, and how that's affecting the health of your company.  Please visit us, or better yet, register your IP and see what real content defense really entails.
The more people join the fight, and act upon real data, the stronger the future will be for dedicated creators of content and culture.