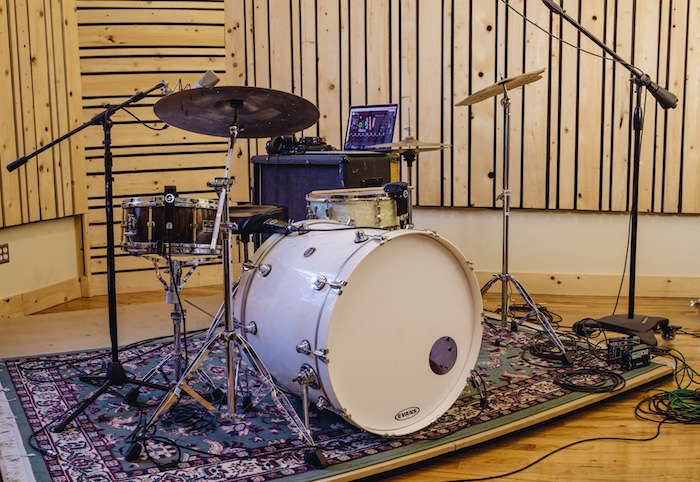 An increasing number of drummers are incorporating electronics into their live  setup. Braids and Wye Oak are two bands that do this well. Not only are their drummers playing their regular drumset, but they're also playing keyboards, pads, and other odds and ends to emulate percussive sounds that are recorded in the studio.
But what if these drummers didn't have to switch between their kit and electronics? What if they could play everything with the set they already have?
+No More MP3s: Native Instruments Wants DJs to Use Their New Audio Format
Well now they can.
Sensory Percussion is a new technology that uses sensors and computer software to allow drummers to play an infinite amount of electronic sounds using their own kit.
Sensors are clipped onto the drums. These sensors recognize when a drum is hit, and then that information is sent to a computer running Sensory Percussion software. Sounds are triggered either from inside the Sensory Percussion software, or from third party software such as Ableton.
Not only can the sensor tell when a drum is hit, it can tell how hard and which part of the drum is hit. Different areas of a drum can be set to trigger different sounds or effects. Drummers can hit between the set areas to blend multiple sounds or effects.
See the technology in action:

Sensory Percussion was developed by Tlacael and Tenoch Esparza, two brothers that are musicians. Tlacael is a professional drummer and has toured with Nicolas Jaar. He used an early form of Sensory Percussion on his second Nicolas Jaar tour, and says it helped him replicate the electronic sounds of the songs in a way that he couldn't before.

A Kickstarter for Sensory Percussion is live. As of tonight the campaign has raised over $61,000 of their $80,000 goal. They have 19 days on the campaign.

Sensory Percussion has already gained support from drummers Kiran Gandhi (M.I.A.), Nicholas Ley (The Flaming Lips), and Ian Chang (Son Lux).

Nina Ulloa covers breaking news, tech, and more: @nine_u

Photographs by Design Compendium