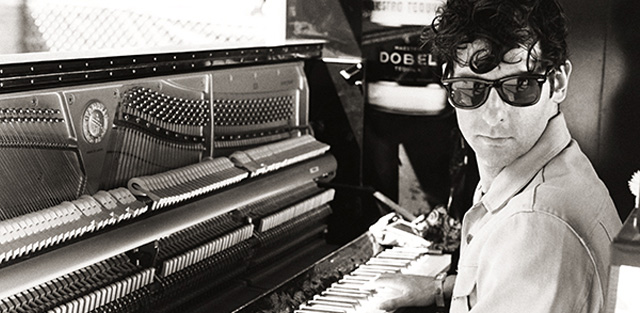 I first discovered Low Cut Connie at the Echo in East LA last year. I was brought by a manager friend of mine who had been following their career for a few years. I didn't know what to expect, but when front man Adam Weiner took the stage at his upright piano (that they tour with!) in his iconic white button up, black slacks, white socks and black penny loafers, I knew I was in for something special. Weiner embodied Jerry Lee Lewis' playing style and energy atop of an indie rock landscape. He put on a balls to the wall performance and left a pint of blood on the stage. A true rock and roll performer. They left such an impact on me that I wrote a review of the show, bought all their merch and sought out the club (a 20 minute Uber off 6th street) in Austin at SXSW this past year  – where they delivered a strong performance yet again.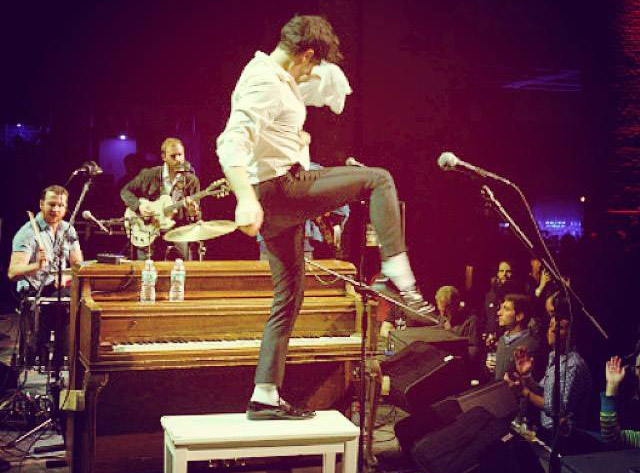 It's no surprise that The Voice contacted him to audition for the show. Virtually every working singer/songwriter I know has been asked to audition, privately, for the producers (myself included). Many have turned them down. Some before the audition. Some once they received the offensive contract.
But what happened to Adam Weiner was a bit different. I'll let him explain it better below, but let this be known to the general public who don't understand singing contest shows or the music industry in general. Not every working musician wants fleeting fame built on a foundation of TV (not music) lovers. Weiner and Low Cut Connie have a great thing going for them. They create fantastic music (that they own completely), tour consistently and put on one hell of a show. It's only a matter of time before they get the world wide recognition they deserve. And when that time comes, it will be on their terms. Sure, it takes a bit longer, but it's worth not being beholden to a television show that gives exactly no shits about the talent they use for ratings. Ask any contestant about the "$100,000 penalty clause" for discussing anything about the show that they aren't allowed to (like the horrendous contract, or audition process). It's a TV show. Remember that. NOT a career builder.
DMN: So, just to be clear, you got offered to be a contestant on the Voice without auditioning for the producers? What was their pitch?
Adam Weiner: One of the casting people contacted my booking agent, Stu Walker (The Agency Group), and said they would like me to audition for Seasons 10. I really thought it was a joke at first. I'm not exactly Timberlake Handsome, nor is my voice angelic or particularly acrobatic. I can sing, but Jennifer Hudson, I am not. After some emails back and forth between them, with Stu not showing a huge amount of haste or passion for the idea, she let him know that someone had dropped out of season 9 and that they wanted to fast-track me onto the current season that they were about to start shooting. Stu had her call me. I was on tour with Low Cut Connie, in the parking lot of a Whole Foods in Detroit drinking a smoothie. I spoke to her and she told me that I would not need to audition, that the producers had seen many clips of Low Cut Connie online and they "loved" me and had chosen me for the season. I just needed to get to La La Land in about 12 days time.
"In my opinion, the show does not benefit the careers of working artists, other than the judges themselves. " – Adam Weiner, Singer/Pianist/Songwriter, Low Cut Connie
DMN: Did they want to add you to the blind audition list (in front of the celebrity judges)?
AW: Had I moved forward with it, I would have been one of the auditioners on the show for the judges. Who knows if I would have been selected for a team or what the machinations behind being team-selected are. Maybe I would have bombed when faced with the pressure of performing for the backs of famous peoples' heads. But I had passed the actual audition process and would be part of the "cast" with a segment about my backstory, my home town and all my burning dreams and aspirations and frustrations and all the little people back on the farm pulling for me to make it.
DMN: Did you turn down The Voice because you'd have to cancel your gigs? Or are you morally against these kinds of shows?
AW: I am not at all morally against talent shows. I watch them when I run on the treadmill. They make me run faster and try to get my workout over with. I enjoy them. Guilty pleasures. I also love Millionaire Matchmaker when I'm in that frame of mind if that gives you any sort of point of reference. But I don't actually own a TV at home and I don't keep up with these shows enough to take a moral stance other than to say that I don't think they benefit working musicians and artists (other than the judges themselves) and I don't think they add anything useful or compelling to our culture.
It's candy and sometimes candy is luscious and dazzling, but that ain't me. I turned the show down for two reasons: In the small picture I would have had to cancel a lot of gigs and turn my life upside down and I didn't feel like doing that for this. And in the big picture, because I've worked too fuckin hard to wrap my work and career around a sexy dog and pony show that will force me to sign a malfeasant contract that could ruin my career. I do think that The Voice could be absolutely great for someone else wherever they are at in their career or personal journey. But not I.
Victor Fiorillo at Philly Mag pressed Weiner in his interview to explain why he thought it was a good idea to turn down performing in front of 10 million viewers each week. This was his response:
AW: Maybe it's beneficial to some Joe Schmo from Arkansas who's got nothing going on, but for us who work our balls off… Ultimately, I feel that I would be adding value to their show. They want to give the show more legitimacy, get some people who already have somewhat of a career going on. That's of benefit to them. There are a lot of people who would cut off their left testicle to be on that show, because it's their shot, but not me.
And keep in mind that none of the people who have won that show have had any real career after, and they sign these horrible contracts in terms of what they can record, how they can bill themselves. That's a mistake I may have made when I was 21, but not now that I'm 35. No sir.
The possibility of me getting the wrong kind of exposure and having to sit with Adam Levine… that's a real possibility. And funny enough, years ago, someone at a gig told me that I was the fucking ugly Adam Levine.
I think that me, the dude from Low Cut Connie with the voice that I have, the style of music I play, sitting there being forced to do a Selena Gomez song, I don't know who the hell wants to see that. I weighed it up. I really did. My gut was telling me no, and I went with my gut.
DMN: What does the rest of 2015 look like for Low Cut Connie?
AW: Extremely busy. Lots of shows. We're headlining at Third Man Records for the Americana Festival. Doing a live session for NPR / Sound Opinions. Playing with our friends in Tune-Yards, doing a session for World Cafe at the Philly Folk Fest and about 50 other shows through the US. I'm organizing the release of Hi Honey (Low Cut Connie's newest album) in the UK and Europe for November. Hopefully we can get over there next year. That's everything that comes to mind. I'm broke and busy and I don't have time to do The Voice. 
Go support Adam and the band at: LowCutConnie.com. And see them live.
Top photo is by Seth Hardiman and used with permission.