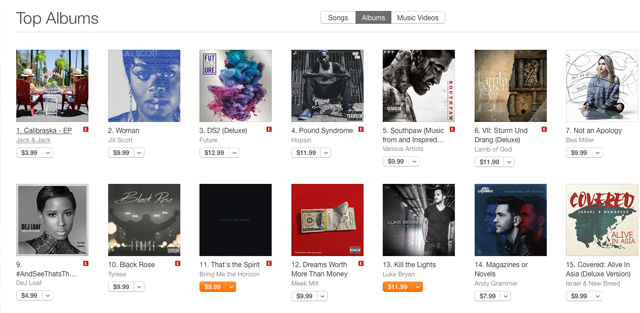 Remember when everyone said it couldn't be done? Remember when the old guard exclaimed "major labels are the best thing that happened to artists?" Remember when we all learned that it costs over $1 million to put out just one Rihanna song?
Well, the Viner/YouTuber duo Jack & Jack self-released (digitally distributed by DistroKid) their debut EP Calibraska today (for much less than $1 million… like WAY less) and it went straight to #1 on iTunes.  It's currently holding strong with 1,239 reviews (averaging 5 stars) as of 1pm Pacific. The #2 album (also released today), Jill Scott Woman (Atlantic) has 128 reviews and the #3 album DS2 Future (Epic) (released last Friday July 17th) currently has 1,659 reviews.
Exact weekly sales numbers won't be released until next Thursday.  But last week's top selling album was Tyrese's Black Rose (EMI), which sold just over 38,000 digital albums.
+Want To Know Who The Best Digital Distribution Company Is
As indicated by Jack & Jack's tweets (to their 1.4 million followers), as of 9:30am Pacific, there were nearly a half a world-wide million tweets using the hashtag #CalibraskaEP
Half a million tweets nearly! Just gettin started! #CalibraskaEP pic.twitter.com/wMW20QorRE

— Jack & Jack (@JackAndJackReal) July 24, 2015
Jack & Jack have a combined 14 million social media followers and to date have sold over a million songs from their 11 previous releases (all released as singles), with most of their songs  charting on various Billboard charts including the Hot 100, Hot R&B/Hip-Hop, Pop Digital, Top Twitter Tracks and Hot Rap.
"

When I started DistroKid, I knew it was possible, but didn't think it would happen so fast." Philip Kaplan, CEO/Founder, DistroKid
Jack & Jack will receive 100% of their royalties after iTunes takes their cut of 30%. DistroKid (like other independent distribution companies) does not take a commission and since they self released their album, no label takes a commission either.
+CEO War: INgrooves Blasts DistroKid. DistroKid Fires Back
**An earlier version of this article withheld the fact that iTunes will take their standard 30% commission. This has been corrected.