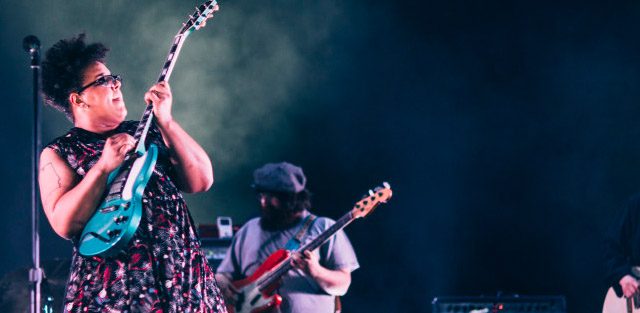 Besides having the best album of the year, performing with Paul McCartney at Lollapalooza and maintaining a non-stop (sold out) tour schedule, Brittany Howard, lead singer/guitarist of Alabama Shakes, took time today to help a fan learn one of her guitar riffs. Call it guitar lessons in the age of Instagram.
It all started 4 days ago when Kaitlyn Whiteside (@kait_whiteside), a 24 year old from Louisville, KY, Instagrammed a short video of herself playing half of the opening riff to "Future People" stating "Doing my best." She tagged Howard (@blackfootwhitefoot).
Doing my best @blackfootwhitefoot. #AlabamaShakes #guitar #FuturePeople #gibsonsg
And that was that. Or so she thought. Today, Howard posted a response video with a closeup on the neck of her guitar and finished the complicated lick for Whiteside gramming "@kait_whiteside here's the rest"
@kait_whiteside here's the rest   A video posted by Brittany H. (@blackfootwhitefoot) on
Whiteside regrammed Howard's post with "Um, The lead singer from Alabama Shakes responded to my random little Instgram vid. R.I.P. Me.???"
Musicians complain all the time about how they don't know how (or don't want) to "use social media," "engage the fans," uh "give back." This is a perfect example of how it doesn't take much effort to not only make a fan's day, but show ALL your fans that you're not above them. You appreciate them. You're in it with them. And you care about them, dammit. This video got the most comments of any post on Howard's Instagram (including the photo of her singing with Paul McCartney).
Every artist at any level can learn from this. You don't need to be a superstar to give back. Even if you have 10 fans, make one of their days. Word will spread. That being said, you don't need to be the creepy, over engaged Facebook responder. Sure Like comments, respond occasionally, Retweet, Instaheart, but there's a difference from giving back and giving up your life.
Why not run a contest: every fan who regrams, retweets, Shares or Likes (pick one) your latest video/photo/show poster/song you'll throw their name into a hat and pick a random winner who will win a personalized package (in the mail… yes, snail mail). People love getting mail.
Or what about showcasing a Fan of the Month? Pick a fan who has been very supportive/engaged and message them for a photo and info. Whatever social platform you have the most traction on, post a photo of this fan and a mini story of how/when/where they became a fan. They'll of course share it/tell everyone they know. But, above all, this is a nice gesture to show you care about your fans.
It doesn't take much to make a fan's day. Even a tiny gesture can go a long way. If Alabama Shakes wasn't Kaitlyn's favorite band before, I bet they are now. And will be for a very long time.
Photo from AlabamaShakes.com