Call it the most creative marketing ploy of the year. Or the plot of the next installment in the Saw movie franchise. Or maybe just call it effective.
About two months ago, kids started receiving unmarked, handwritten packages with no return address. In it contained a single cassette tape tagged with the hand written words "Just Press Play."
A bit freaked out, kids took to Tumblr, WordPress, Facebook, Twitter and Instagram to attempt to solve the mystery of A) will they die if they press play B) who sent these and C) how did they get their addresses.
On the packaging of the cassette, also handwritten, it explained that if you didn't have a cassette player you could visual Shazam the code. Hmm, that's not really the mark of a terrorist, but rather a major label. Many kids keyed into that and thought it at least safe to play the cassette without fear of a self destruction spy bomb setting off.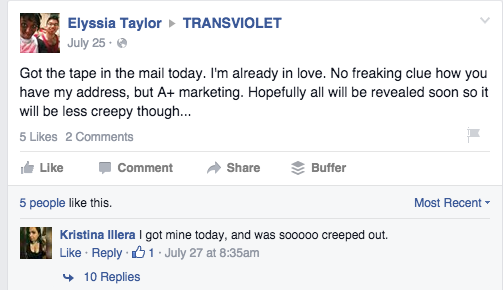 Most of these kids were pleasantly surprised. The song, "Girls Your Age," by the LA band Transviolet was called "moody, brooding little sister of Lana Del Rey" by Teen Vogue. And a comment on the SoundCloud of the song said "it's like halsey if halsey was good."
The meticulous campaign to launch the next Halsey started earlier this year. The Facebook Page was created on May 22nd, but they didn't really start posting until days before the July 16th release of "Girls Your Age." The same day Katy Perry tweeted out the Hype Machine link to her 72.5 million followers and of course the song immediately shot to #1 on the Hype Machine charts. A week later Harry Styles tweeted the lyrics to his 25.6 million followers.
This quartet of 3 dudes, Judah McCarthy, Michael Panek, Jon Garcia and one gal, Sarah McTaggart, kept their faces hidden on all social media platforms (and in the "Girls Your Age" music video) up until yesterday with the premier of their new song New Bohemia. Actually, they've kept pretty much everything about them hidden. It took some serious social media stalking to actually figure out the names of the band members. There's no website. No wikipedia. And no info on their Facebook page other than a phone number and an email address. If you call the phone number "Girls Your Age" starts playing. Hilarious. It seems they sent out 3×5 cards with this number written on them in addition to the cassettes. They have a gmail email address listed on Facebook – to make it seem like they're DIY like Viners and YouTubers. But, as much as I'd like to think this was all brilliantly conceived and executed by these four musicians, it's the mark of a major label. One that, in all fairness, should be given mad props for carrying out such a non-traditional release. Finally, a major label isn't just painting by the numbers a new band's launch. They're putting some real creative effort into it. And it's paying off. 
Transviolet, well more accurately, Epic Records, seems to have a calculated monthly battle plan for the rest of the year up until the point where they, naturally, take over the world.
They have a tour booked supporting Mikky Ekko for October and the EP will most likely be released September 29th (as one of the band members told his friend on his personal Facebook profile – I told you I was creepin!)
So, how did Epic get the addresses of all these confused music fans? It seems to be the general consensus from Facebook and blog comments that the one thing every victim, er, recipient had in common was that they were all members of the Fueled By Ramen street team. Which is a bit perplexing considering FBR is under Warner and Epic is under Sony. Either FBR's list was hacked by Epic, or they're helping the competition (for a hefty price I'm sure).
Whatever the case, the kids generally got over the initial creepiness factor of an anonymous package and have warmed to the band.
Expect to see much more from these new bohemians as they take over your airwaves very soon.