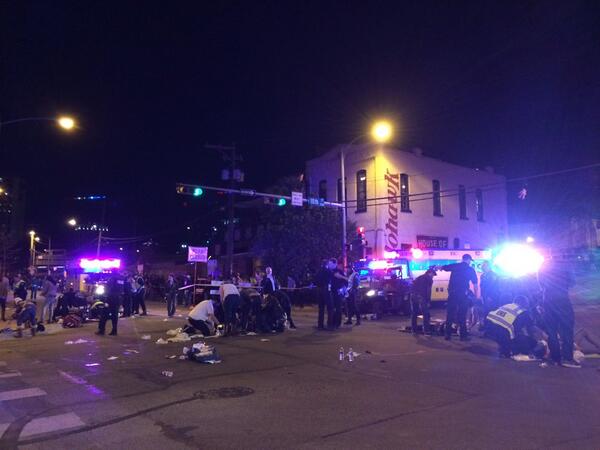 (Scene following the tragic mauling of more than 20 SXSW attendees; March 13th, 2014)
It was the lowest point ever of SXSW: on a crowded, hot, festive night of March 13th, 2014, a police chase veered into a blocked-off street, killing four and injuring more than 20.  Behind the wheel was a drunken Rashad Charjuan Owens, speeding to avoid the cops but ultimately creating a massacre.
Now, Owens has pled 'not guilty' in a filing with the Travis County District Court, while facing capital murder charges and more than 20 counts of aggravated assault with a motor vehicle.  Owens, at SXSW as an aspiring rapper, has been incarcerated since the incident on a bail of $5.5 million.
"Owens has been painted as an animal…"
The plea is part of an ongoing fallout that could spill into SXSW 2016.  Owens has been painted as an animal, though it's unclear why Austin police officers pursued Owens in a dangerous, high-speed chase in the middle of a massively-crowded festival.  The chase, which started with a police stop at a gas station, quickly spilled into a 'Dukes of Hazzard' style pursuit, with Owens and cops speeding against traffic on a one-way street.
Owens then made that fateful turn into a barricaded block.
The show went on, with SXSW conference organizers keeping the festivities alive without missing a beat.  But since that point, both conference organizers and police have been faced with serious questions about an event that brings billions of dollars, but an increasing number of safety problems.  After the incident, SXSW organizers were faced with wrongful death suits from victims' families; police defended their actions immediately after the tragedy, telling members of the media that Owens – and Owens alone – was responsible for the tragedy.