Apple Music might have 15 million users, according to one report, but only a portion of those people will remain after their free trials expire.  Spotify, on the other hand, is amassing free-access users at a furious pace: according to projections from company executives, the streaming platform will start closing on 100 million users by year end, with most ad-supported.
The numbers are coming from the horse's mouth.  In comments to International Business Times from New York this week, Spotify chief revenue office Jeff Levick projected "close to 100 million" users by year-end, which translates into a near-35 percent gain in just 6 months.  That was part of an aggressive courtship of advertising dollars, with a troupe of Spotify executives led by CEO Daniel Ek making major rounds at both the Advertising Week and IAB MIXX conferences.
90 percent of millennials stream music.
The pitch is this: Spotify is not only becoming colossal, but it's becoming colossal among that elusive demo: millennials.  Indeed, more than 90 percent of millennials are actively streaming music, according to a study released by Ericsson, and Spotify claims that average listening sessions surpass 2.5 hours.
from our partners…
Unclear if whether this is also music to the ears of labels like Universal Music Group, a company increasingly under pressure to make streaming make money.  Spotify's licenses with major labels UMG, Warner Music Group, and Sony Music Group are all expiring in a matter of days, and insiders are pointing to heavy pressure to curtail free amidst sagging subscription tallies.  According to those close to the negotiations, that could take the form of 'gated content,' or content limited to paying customers, a move that Spotify has strongly resisted in the past.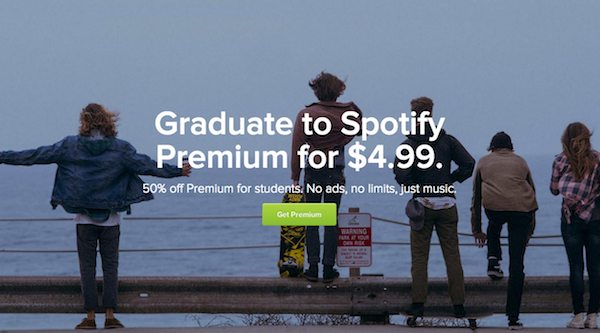 And, it's unclear how many of those 100 million will be active users or simply good, paying citizens.  At last count, Spotify has 20 million paying subscribers, or nearly 27 percent total users.  But the rest gets sketchy: only a percentage of those paying subscribers are actually paying the full, $9.99 monthly price, while another chunk are 'subscribers' through cut-rate plans and introductory deals of the $1-for-3-month variety.
Beyond that, slowing paid subscriber rolls suggest that the addressable market for paying streamers could be reaching its saturation point.
Image of Andre the Giant by John McKeon, licensed through Creative Commons Attribution 2.0 Generic (CC by 2.0).