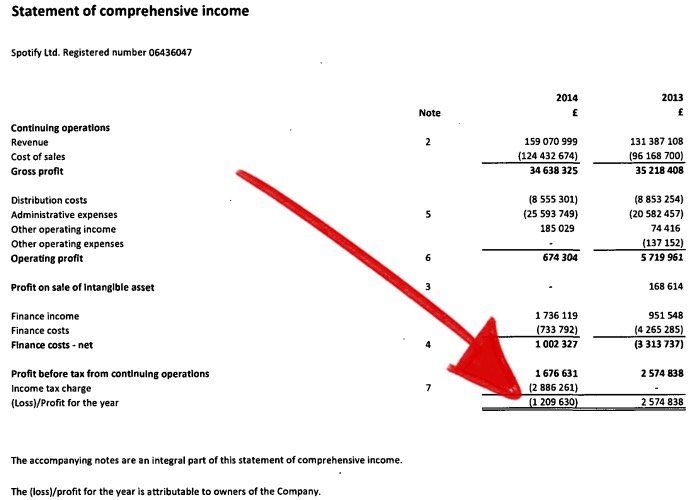 It was the shining beacon of light that Spotify loved to point to: a profitable, growing British division.  But Spotify's once-proud, once-profitable UK operation is now in the red, with potentially huge implications for the company and the broader streaming music industry.  According to financial filings obtained by the UK Companies House this (Wednesday) morning, the critical Spotify subsidiary lost £1.21 million ($1.87 million) in the previous year, despite substantial increases in both advertising and subscription revenue.
And, despite seemingly-healthy profits of £2.57 million ($3.97 million) in 2013.
The subscription gain, while a positive development, is the most worrying part.  According to the filing, Spotify's UK-based subscription revenue improved 29.6 percent to £119.2 million ($184.3 million), an enviable gain by any measure.  Advertising-based, or 'freemium' revenues, gained a more modest 8.6 percent to £92 million ($142.3 million), with a continued shift towards smartphones as a primary driver.
Looking at 2015 and into 2016, the pressing question is whether Spotify can ever return to profitability.  So far, the signs are troublesome: according to global financial details filed in Luxembourg earlier this year, Spotify's 2014 net losses topped a massive €162.3 million ($186.2 million), on revenues of €1.08 billion ($1.24 billion).