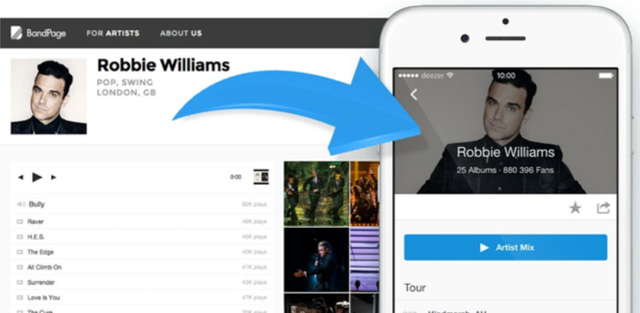 Another day, another gold relationship BandPage has struck. Over the past couple years, BandPage has teamed up with Shazam, Rdio, Microsoft Groove, SoundCloud, iHeartRadio and Live Nation (among others) to enable musicians a simplified way to send bio, photo and tour date information to a multitude of (gated) outlets. BandPage is the central hub for all the artist's information, and these music-based platforms pull all the necessary artist assets. As nice as it is for artists, managers and labels to just upload information once and get it sent everywhere automatically, this wasn't really helping them make money.
So, in addition to bios, photos, and tour dates, BandPage created "Offers." Offers include everything from VIP meet and greets, to CD box sets to tour shirts to backstage, pre-show ping-pong tournaments. But these offers required artists to promote them directly to their fans via their own website, mailing list or social media.
Music's biggest fans aren't hanging out on their favorite artists' websites as much these days and only a tiny swath of an artist's fan base is on their email list. And we all know how much Facebook likes giving musician's free access to their fans.
So BandPage took their cause to where fans are hanging out: streaming services and ticketing sites. Last year, BandPage became the exclusive merch provider for Spotify. Then they teamed up with StubHub (and their user base of 15 million monthly customers) to display (direct from the artist) VIP meet and greets right alongside their tickets. The data shows that fans are five times more likely to make a purchase when visiting a marketplace (like StubHub) than an artist's website.
+Artists Can Sell Meet and Greets, Merch On StubHub via BandPage
But things didn't really get interesting until this past June when BandPage and Rhapsody created a complicated algorithm that focused on how to sell to each artist's biggest fans. Rhapsody users who streamed a single artist a lot, would get sent push notifications about upcoming shows in their area (along with direct ticket links), merch offers and paid experiences.
BandPage's data indicates that fans are spending 10x more time on streaming services than on artist's websites, so this is where commerce needs to exist.
BandPage CEO, J Sider said about these sorts of push notifications, "The fan never gets anything that feels like spam, they will only see offers for their favorite bands. It's truly a 'win-win' where the fan gets what they want, which, in turn, drives more revenue for musicians,"

And now, BandPage has teamed up with Deezer to begin these same kinds of targeted notifications to their 6 million subscribers. They are starting with email campaigns and will move towards in-app push notifications for all BandPage artists beginning next year.
+Why BandPage Is Going To Be The Most Powerful Player In Music
BandPage currently has 500,000 musicians within their network. Any musician can signup for an account for free. BandPage now drives over 1 million fans to musician stores every month.
The first artist to test out this new system on Deezer is world-wide superstar, Robbie Williams. "As a management company, we are constantly looking for ways to reach our fans and, the fact is, our fans are now on streaming services like Deezer more consistently than anywhere else," says Benjamin Wells, Digital Manager of RobbieWilliams.com at ie:music. "With a single campaign on Deezer we were able to reach over 100,000 of Robbie's biggest fans in an incredibly targeted and relevant fashion. BandPage and Deezer's partnership is proving to be a solution that helps our artists continue to grow their careers financially and connect deeper with their biggest fans in a natural way."
Unlike BandsInTown where users bounce around from Twitter to the App Store (even if the app is installed) to the show page to a ticket link that may or may not bring you to the official ticketing site, BandPage's concert notifications will take users directly to the official ticketing site.  Fewer steps, fewer clicks, fewer headaches = more tickets sold. When discussing this with BandPage's Chief Marketing Officer, Doug Scott, yesterday he emphasized, "if they click on a ticket link, for the love of god send them to the ticket page!"
+BandsInTown's 15 Million Users Comes With Serious Oversights
BandPage is building up direct relationships with most ticketing providers to maintain accuracy.
Deezer's Chief Content and Product Officer, Alexander Holland said "Deezer is building a world class listening experience for both music lovers and artists across the globe. We are excited to launch this integration with BandPage in order to give music fans more relevant, engaging access to their favorite artists while helping artists grow their business."
People fatigue of email.  It's burdensome.  It's becoming not so fun.  Only artists' biggest fans are going to be actively engaged with their mailing list.  Facebook has squashed musician's reach down to about 3% (unless you pay).  You have to get lucky on Twitter if you're going to hit your fans (the engagement isn't quite as bad as Facebook, but it's much worse than it was four years ago).  Instagram, Snapchat and Periscope are hot now, but they don't allow you to link outside the platform.
The only place fans are becoming universally centralized is on streaming platforms.  YouTube has rolled out Cards allowing artists to link to authorized merch stores (like BandPage, BandCamp and iTunes).  And now the world's second largest (audio-only) streaming platform, Deezer, is giving artists a way to sell directly to their biggest fans.
What BandPage is starting to do in the streaming space (with Deezer and Rhapsody) is propelling the music industry into a data driven ecosystem that will increase artists' bottom lines.  We can only hope that Spotify, Apple Music, Rdio and Tidal join in.