Electric Jukebox shakes up music streaming industry
The Electric Jukebox – created by UK entrepreneur Rob Lewis – is not only a music streaming service, it's also a music appliance.  The device can stream music from a library of more than 30 million songs via Wi-Fi, turning a television and home entertainment system into a jukebox, simply by plugging it in to the back of the TV.
With the electric jukebox comes a remote control that works similar to a Wii controller – by pointing and pressing it allows the user to navigate the music service on their TV screen.  The remote also has a built-in microphone which allows users to search for their favorite artist, track or album.
Electric Jukebox  vs. Other Music services
Simplicity is key
The Electric Jukebox brings unlimited music to a less technologically proficient audience, without the need for monthly subscriptions.
Rob Lewis says, "I'm not after the Spotify customer. I'm after everyone else".
The portable device, which has a plug-and-play concept, is much simpler to set up than streaming music services like Spotify.  Mr. Lewis declares that this is the unique selling point that sets the Electric Jukebox apart.  The menu simply has three options: 'my music', 'discover', and 'search'.
The device doesn't require a smartphone or PC to work, unlike Spotify, Google's Play Music and Apple Music.  Essentially, it's hardware-based rather than software-based.  "Whilst some may be comfortable with Spotify and Apple Music and spending hours configuring these services on specialist streaming devices, the vast majority of consumers really want something that works instantly," Lewis said.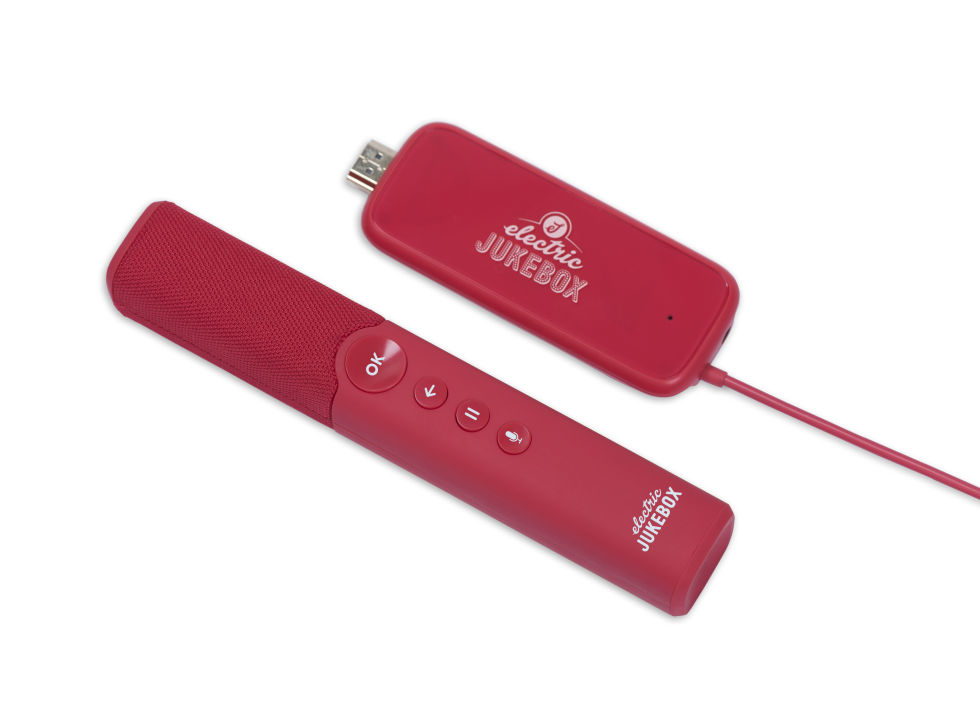 Competitive Catalogue?
The current catalogue of music features exclusive "mixtapes" from artists such as Robbie Williams, Sheryl Crow and Alesha Dixon, and actor Stephen Fry.  However, whilst this is all well and good, Rob Lewis was unable to confirm numbers at this time, with details of the catalogue being announced at a later date.  So some questions remain unknown, including whether the Electric Jukebox catalogue will be able to stand against competing streaming services like Spotify and Apple Music.
Hit or Miss?
The Jury's still out: Lewis states that the unique selling point is the simplicity that it provides, however the device still needs to be plugged into the back of the TV, and WiFi connection needs to be established by keying in details before you can access Music.  So, while the Jukebox's user interface is simple – we also need to consider whether it is in fact simpler to use – there are other services out there, like Fire TV, which some may find just as user-friendly and significantly cheaper at around £35.  When you look at it like that, the upfront cost of the Electric Jukebox can be off-putting.
The Jukebox does however have the upper hand on how it's sold, or does it?  It depends which way you look at it.  It is launched at a cost of  £179 ($229) and comes with a 12-month pass granting access to 30 million tracks, the same amount as Spotify and Apple Music.  So, the question is, are we going to see a surge in sales of Electric Jukeboxes over Christmas, or are we going to see them flogged in the New Year?