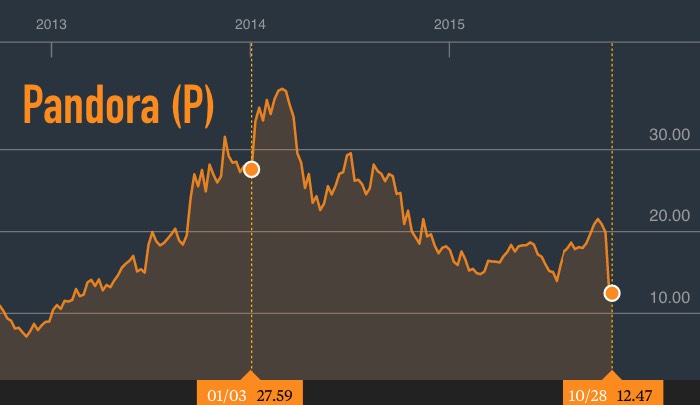 Wall Street has been battering Pandora over the past few days, thanks to massive quarterly losses of $85.9 million, a $90 million royalty hit, and a massive competitive threat from Apple Music and Beats 1.  In the past five days alone, Pandora's shares have dropped 35.25 percent, and a monstrous 54.8 percent since the start of 2014.
Which means that if you had invested $1 million in Pandora stock on January 3rd, 2014 (the first open trading day of that year), you'd now have $451,975 today.
That number gets even worse if you happened to purchase at Pandora's 2014-high of $37.42, reached on February 28th.  In that scenario, the foolhardy investor would now have $332,977 on an initial, $1 million investment.  And for those thinking of jumping ship in 2015, there's little consensus among analysts: according to Zacks Research, the most bullish projection sees Pandora rebounding to $28 within the next year, while the lower-end prediction is $10.