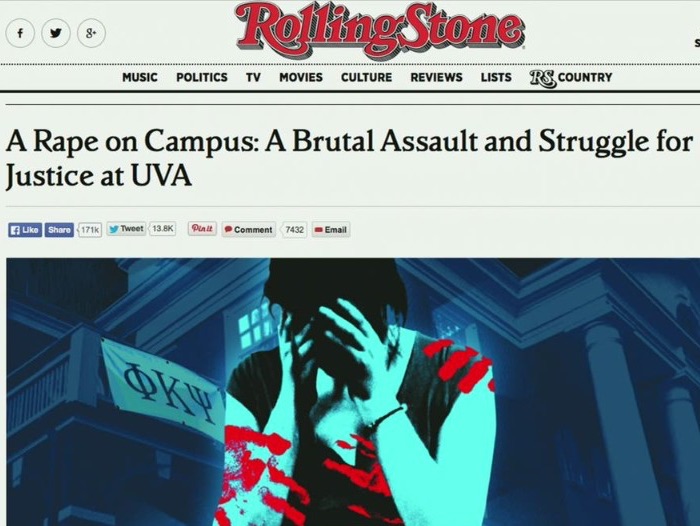 It was a gripping, gutsy story about the gang rape of a defenseless and drugged freshman at the University of Virginia.  The only problem is that it was totally false.
Now, Rolling Stone Magazine is facing another lawsuit related to that article, which was formally retracted after evidence clearly outed the story as fabricated.   University of Virginia fraternity Phi Kappa Psi has now filed for $25 million in defamation and other damages related to the story.  "The reputation that Phi Kappa Psi and its alumni spend decades building was destroyed overnight," the suit reads.
"The formerly respected fraternity is now known colloquially in the University of Virginia community as 'the rape frat.'"
In a nutshell, the Rolling Stone story alleged that a drunken freshman named 'Jackie' was led to a dark bedroom by Phi Kappa Psi fraternity members, slammed into a glass table that shattered, then gang-raped by seven individuals in the frat.  That well-woven tale was published in November of 2014, and led to protests, attacks, and harassment from enraged students and community members.
Charlottesville police found zero evidence to corroborate the attack, however, and serious questions soon surfaced about the report.  The Columbia School of Journalism published a scathing attack on the report, though Rolling Stone and the article author Sabrina Erdely doubled-down and stood by the report.
The $25 million suit complements individual lawsuits from UVA faculty and various fraternity members, with claimed damages well over $30 million.