Generous, Swedish-style employee perks are now coming to Spotify, despite serious-and-growing financial questions at the streaming giant.  According to a memo distributed by Spotify, all full-time employees will enjoy 6 months of completely paid parental leave, usable at any point during the first three years of a baby's life.
Both dads and moms can use the benefit, with re-integration time easily amounting to another month.  Staggered time is another option.  Here's a quick excerpt from the updated policy distributed by Spotify:
"Effective immediately:
All full-time Spotify employees will be offered up to six months' parental leave with 100% pay.
Parents will be able to take their leave up to the child's third birthday, with all Spotify employees who had children from the beginning of 2013 also eligible for the benefit.
Mothers and fathers are encouraged to take the full time off, with the added flexibility of splitting their leave into separate periods.
We also know that following a period of parental leave, the transition back to work can be tricky. So we're including a one month 'Welcome Back!' programme, allowing returning team members to ease back into their job with the ability to work from home, on a part time schedule and with flexible hours."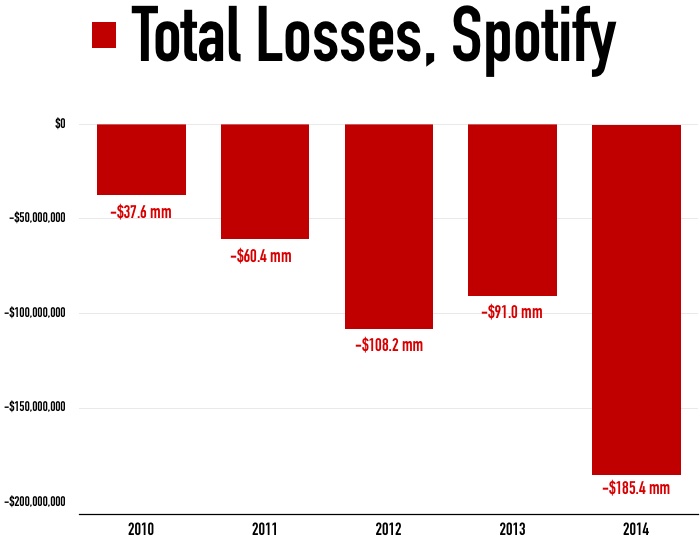 Parents may have to consider whether Spotify will still be there when they return.  The monster perk is undoubtedly great for employees (and their children), but perhaps premature for a company swimming in heavy losses.  According to publicly-filed documents, Spotify lost an impressive $185.4 million in 2014 alone, with profitability subsequently vanishing in its stronghold UK market.
All of that raises the question over whether grandiose perks are better suited for more established corporations, instead of struggling, super-funded tech plays.  By stark comparison, Apple — one of the largest and richest companies on the planet — offers expectant mothers four weeks before delivery and 14 weeks after, with expectant fathers and other non-birth parents offered a six-week leave.
At Microsoft, parents are given 12 weeks of fully-paid leave, with birth moms eligible for an additional 8 if elected.

Looking ahead, Spotify is expected to announce a lofty 100 million users, though upwards of 75 million are predicted to be ad-based, and money-losing, deadweight.  Meanwhile, smaller rival Rdio has plunged into bankruptcy, with a debt-load of $220 million and a bleed-rate of $2 million per month.  That prompted Pandora to promise $75 million for a post-bankruptcy 'deal,' though dire losses have already forced Pandora to commit $2.5 million to keep Rdio on life support for the next few weeks alone.
Top image by Quinn Dombrowski, licensed under Creative Commons Attribution 2.0 Generic (CC by 2.0).