Question #1: How do you typically listen to music?
(source: Atenga US-based consumer survey of streaming music users; 95% confidence +/- 2.5%)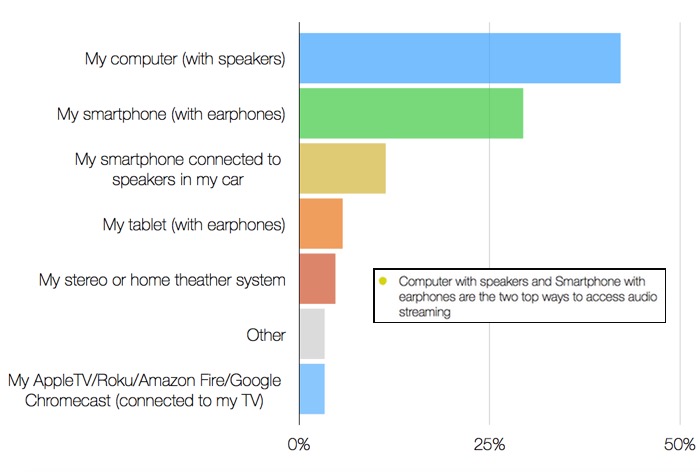 Question #2: What service do you most often use to stream music?
(source: Atenga; same survey)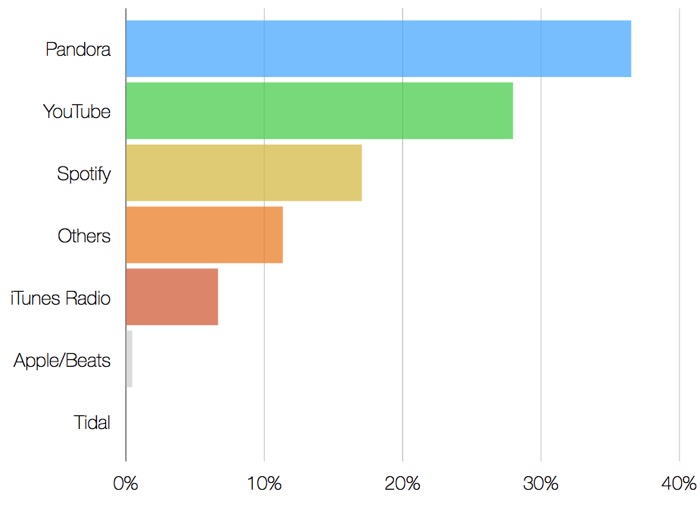 Question #3: How important is audio quality to you on your streaming service?
Streaming music listeners are largely unconcerned with audio quality, according to a US-based survey released by product research group Atenga.  Streaming audio is now a predominant method for accessing music, either via radio (conventional or online), or on-demand formats like YouTube and Spotify.
Streaming is becoming ubiquitous, though Atenga found that most streaming users are either (a) listening to music on their computer speakers, or (b) listening on their phones (oftentimes with earbuds), both methods that are substantially inferior to higher-end alternatives.
More importantly, the sources of most streaming are typically lower-resolution, with Pandora and YouTube commanding a vast percentage of streaming music experiences.  Other, more audiophile formats, including vinyl, HD-quality downloads, or HD-quality physical formats, are often played through higher-end stereo systems or superior headphones, though that represents a small minority of overall listening behavior.

When asked directly about their preferences for quality, nearly 40% admitted that they care more about selection and availability than quality.  The number is surprising considering that most self-expressed music fans will express a preference for higher-quality, though pitting convenience against quality is one way to pierce through that.
Overall, just 25% indicated that audio quality is the most important aspect of their listening experience.
The survey raises serious questions about high-fidelity streaming entrants, particularly from Tidal.  Spotify doesn't offer a higher-end quality tier, though Tidal was positioning a HD-level streaming service for roughly $20 a month.  That seemed to gain little traction, and Tidal shifted the emphasis towards its lower-quality, $10-a-month offering.
Atenga's survey involved 857 Americans, with an expressed confidence ratio of 95% (+/- 2.5%).