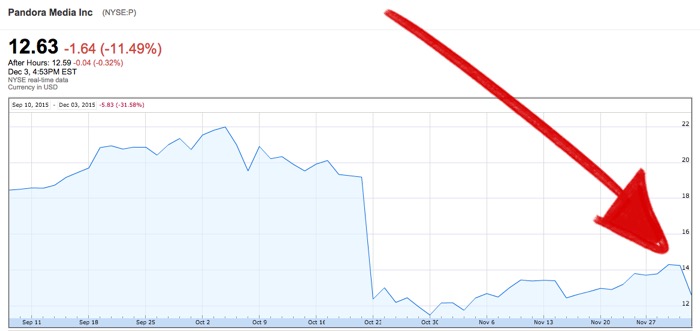 Updated, Dec. 3 2:15 pm PT: Shares of Pandora (P) have now slumped further, dropping 11.49 percent in distressed Thursday trading.
Wall Street is now punishing Pandora again, with shares dropping another 10% amidst growing financial concerns.  On Wednesday, Pandora announced that it would be pursuing $300 million in convertible debt after completely nearly half-a-billion in acquisitions.
The sell-off largely erases Pandora's fragile recovery in November following a late-October free-fall.  Ahead of Halloween, investors tanked the stock 36% following quarterly losses of nearly $90 million.  Meanwhile, Pandora is choking its listeners with heavy advertising to raise cash, a move that could affect active listener levels.