Last month, US District Court judge Liam O'Grady dropped the bomb on Cox Communications by stripping the ISP of critical DMCA protections.  This week, he's laying the groundwork for a potentially disastrous level of liability and damages, not just for Cox, but the entire class of US-based ISPs.
According to an extensive, 71-page court decision now issued, Cox Communications has not only been stripped of its Digital Millennium Copyright Act (DMCA) safe harbor, they are also now subject to legal action from potentially thousands of content owners (full decision here).  This could represent the beginning of a pile-on, with various underwriters at Lloyds of London already attempting to remove their liability protection insurance based on Cox's bad behavior.
The reason is that Cox was not only aware of egregious, 'repeat infringers,' they knowingly constructed policies to keep them on board as active, high-paying broadband customers.  "Cox employees followed an unwritten policy put in place by senior members of Cox's abuse group, by which accounts used to repeatedly infringe copyrights would be nominally terminated, only to be reactivated upon request," O'Grady noted.
"Once these accounts were reactivated, customers were given clean slates, meaning the next notice of infringement Cox received linked to those accounts would be considered the first in Cox's graduate response procedure."
"DMCA = reactivate"
Indeed, dirty emails between Cox executives now reveal that monstrous amounts of piracy were not only tolerated, they were facilitated by mild wrist-slaps.  The following smoking gun, for example, was emailed from a Cox Communications executive overseeing compliance:
"After termination of DMCA, if you do suspend someone for another DMCA violation, you are not wrong.  However, if the customer has a cox.net email we would like to start the warning cycle over, hold for more, etc.  A clean slate if you will.  This way, we can collect a few extra weeks of payments for their account. ;-)"
Other correspondence reaffirmed the attitude as systemic within the company.  When asked about whether a repeat infringer should be reconnected, the executive responded with this: "It is fine. We need the customers."
Other dirty snippets included "DMCA = reactivate," followed by "You can make him wait a day or so if you want. ;-)."
In another episode, a senior executive at Cox Communications argued for maintaining the account of a high-paying, clearly-repeating infringer.  "This customer will likely fail again, but let's give him one more change [sic]," the email stated. "[H]e pays 317.63 a month."
"Download 100 tunes in 3 seconds, an HD movie in under a minute and more."
That blatant level of disregard for copyright was company-wide, according to O'Grady's assessment.  And it now sets the stage for a very difficult trial against plaintiffs BMG Rights Management and Round Hill Music, both publishers that employed infringement detection and notification service Rightscorp to alert Cox to hundreds of thousands of violations.
Those alerts from Rightscorp, a DMN partner, were routinely ignored by Cox.  As a result, Cox is not only subject to massive infringement liability from BMG and Round Hill, they are also vulnerable to lawsuits from potentially every other rights owner affected by Cox's illegal behavior.

The unfavorable judgment comes at an inopportune time for Cox.  On Thursday, the company officially announced its rollout of 'Gigablast,' an ultra-fast, gigabit service that delivers more than 1,000 megabits of data per second.  Of course, that comes at a premium: Gigablast plans start at a hefty $99.99 per month.  "Cox has invested $1.33 billion in our network in Virginia in the last ten years to meet the growing demands of our customers," enthused Cox Virginia Senior Vice President and Region Manager J.D. Myers, II.
"We are committed to keeping our residential and businesses customers in Northern Virginia connected to the things they care about most, today and in the years to come."
But despite intensified court scrutiny on Cox's bad behavior over copyrights, Gigablast seems to be courting the high-paying, downloading infringer.  Across both video and audio, most of the legitimate market is shifting away from downloads and more towards streaming, with players like Spotify, Pandora, and Netflix grabbing a bigger chunk of the action.  All of that creates less need for download-intensive bandwidth, yet that's exactly what Cox is pitching to prospective clients.  "Cox is unleashing Internet so powerful it will change how you connect with everything.  It's the technology of tomorrow at 100x the speed of today," a Gigabit promotion proclaims.
"Download 100 tunes in 3 seconds, an HD movie in under a minute and more."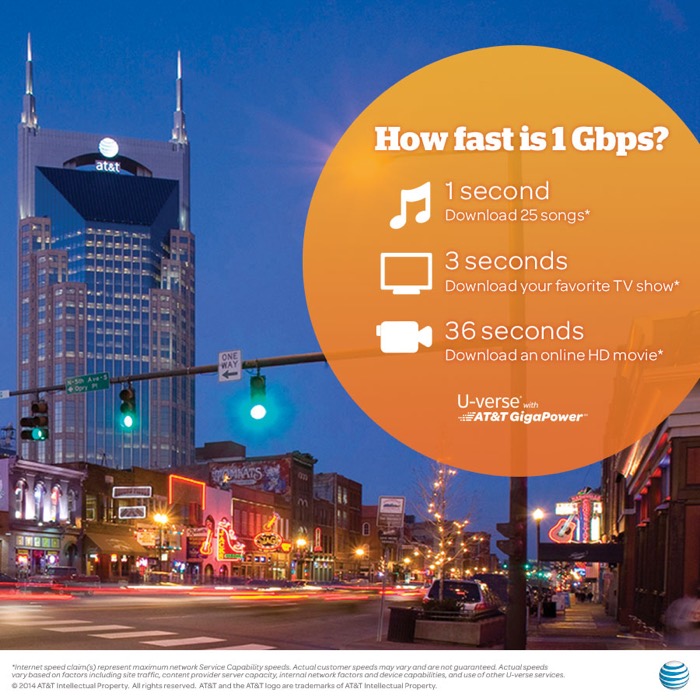 This isn't an isolated issue, with other mega-ISPs like AT&T subtly courting infringing customers on the benefits of ultra-fast broadband speeds.  Last year, AT&T initiated an aggressive rollout of its fiber-based U-verse with 'GigaPower' connections, with roughly 100 major metropolitan areas on the short list.  AT&T's advertising campaign touted blazingly-fast download speeds: 1 second for 25 songs, 3 seconds to 'Download your favorite TV show,' and 36 seconds to 'Download an online HD movie,' all at a time when legal, paid downloads are decreasing in favor of streaming platforms like Netflix, HBO Go, Pandora, and YouTube.
All of that suggests a strong customer group for download-intensive piracy, which typically involves heavy BitTorrent-based downloading (and seeding to other torrenters).  Indeed, despite endless statements to the contrary from streaming-focused companies like Spotify and SoundCloud, download-based torrenting and piracy remains massive (and arguably, increasing).  "What we do know for sure is that even with 60 million Netflix users and 20 million paid Spotify users, there are still more than 100 million people using BitTorrent on any given day and that massive free consumption decreases the price that content owners can charge for content," explained Rightscorp president and COO Robert Steele in an essay published in July.
Price depression is an ongoing reality for content owners large and small, though fighting it doesn't carry the same stigma as before.  Rightscorp isn't the only company policing on behalf of content owners; others like ToppleTrack now help clients manage the never-ending chore of identifying illegal downloads and issuing DMCA takedown notices.
But the effects of content piracy have been drastic.  Ironically, one of AT&T's 'GigaPower' ads was set against the backdrop of Nashville, a musical city devastated by the erosion of paid content.  According to figures from the Nashville Songwriters Association International, Nashville has lost 80 percent of its full-time songwriter base since 2000, with a total collapse in the creative middle-class resulting.  The roots of that sad story start with content piracy, and as Mr. Steele suggests, depressed content pricing and lowered royalties are the results of 'competing with free'.
"At the moment it's rare for ISPs to disconnect pirating users and this case has the potential to alter the landscape."
The question now is how much Cox will end up paying for that mess, and how many content owners will now pile-on.  But aside from compensation that could stretch into the tens of billions of dollars, Cox Communications could be forced to dramatically change its policies as they relate to piracy, including permanent measures to deal with repeat infringers.
Other ISPs, including the likes of Comcast, Verizon, and Time Warner, could face similar sanctions powered by the recent precedent, with a completely different landscape for piracy control and content valuation resulting.  Indeed, experts on the matter point to equally sloppy or deliberately passive policies among other major ISPs, a group that is undoubtedly watching this trial very, very carefully.  "At the moment it's rare for ISPs to disconnect pirating users and this case has the potential to alter the landscape," noted Torrentfreak.
BMG Rights Management (US) LLC et al v. Cox Enterprises, Inc. et al has now gone to trial.
Image by davidkn1, licensed under Creative Commons Attribution 2.0 Generic (CC by 2.0).