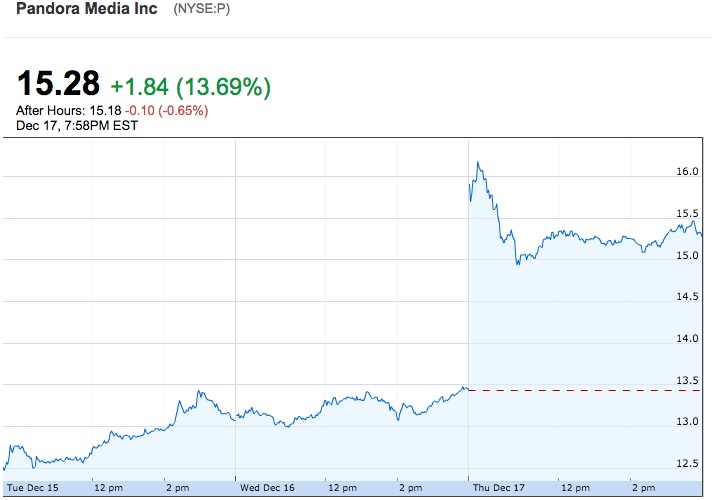 Pandora's royalty obligations just increased by $100 million in 2016, and nearly half-a-billion dollars over the next four years.  So why is Wall Street celebrating?
The answer is simple: more certainty, and less uncertainty.  That's a critical psychological guide where the bulls and bears roam, with investors at least better able to project Pandora's coming fiscal obligations through 2019.  Additionally, the Copyright Royalty Board's rate hike towards 17 cents per 100 streams is being viewed with relief given the worst-case scenarios.
Indeed, recording industry advocates have been pushing for rates deep into the 20-cent range (and are still pushing for those increases).  The reason is that Pandora's current rates are largely viewed as an early-stage discount, designed to fertilize developing technologies.  These days, Pandora is well past puppy stage, with groups like SoundExchange arguing that its time to pay full-grown wages.
Now, the question is where Wall Street steers next.  In after-hours trading, Pandora was edging downward, with deeper fundamentals still curbing investor enthusiasm.  On the year, shares of Pandora remain down 21.4 percent over the past three months, and down 14.3 percent on the year.