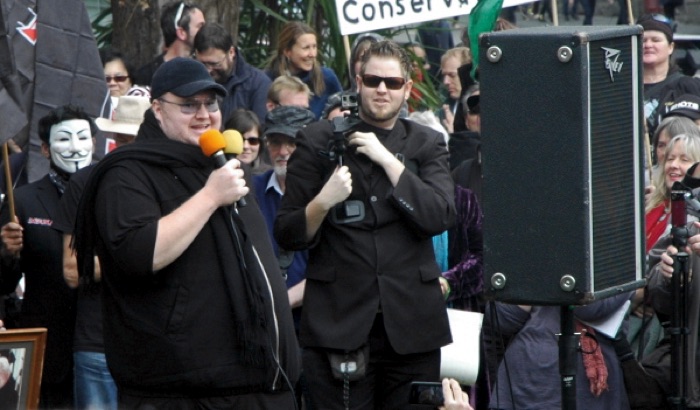 It's the kind of Christmas present only the FBI could give.  According to a court ruling issued in New Zealand early Wednesday, dismantled internet millionaire Kim Dotcom can be extradited to the United States in his ongoing Megaupload defense trial.
Dotcom, whose ultra-flashy lifestyle at Megaupload was abruptly terminated by a massive FBI-led raid four years ago, has been locked in a high-stakes legal defense ever since.  Now, the Hollywood-driven case against Dotcom will shift towards a less friendly venue, with Kiwi judge Nevin Dawson ruling that the US Government squarely satisfied extradition requirements.
Dotcom, whose original name is Kim Schmidt, faces extradition alongside cohorts Mathias Ortmann, Bram van der Kolk, and Finn Batato.  All will face the music on racketeering, money laundering, copyright infringement charges, among others.  Despite questionable due process, Dotcom was brutally stripped of his Megaupload empire by a show of force the resembled the Bin Laden raid.
Overall, Hollywood mega-studios allege that Dotcom caused more than $500 million in copyright damages to a slew of different media industries, including music, film, television, books, and games.
The question now is whether Dotcom will ultimately pack his bags.  In a pre-court tweet, an ever-defiant Dotcom remained calm and assured his followers, "Don't worry". Meanwhile, Dotcom's attorney Ira Rothken vowed to appeal the ruling to New Zealand's High Court if necessary.