It's simple.  It's cheap.  And it's selling like mad.  According to Amazon, the Jensen JTA-230 3 Speed Stereo Turntable with Built-in Speakers was the best-selling home audio product over the holidays, easily trumping more expensive stereo systems.
That includes the Yamaha RX-V677 7.2-channel Wi-Fi Network AV Receiver, which placed second in the holiday ranking.  The RX-V677 is a strong-selling, sophisticated receiver that includes support for Apple AirPlay for seamless iOS audio compatibility, not to mention Mac and Windows PC wireless support.  That's been a hit for Yamaha, though the RX-V677, discounted at $370, is out-of-reach for most music fans.
Which introduces the obvious question: who needs an expensive, high-end digital stereo system when you can have a belt-driven, old school turntable for $50?  The Jensen is an all-in-one, budget-conscious solution, with three-speed support (33, 45, 78) for any old-school vinyl playback need.  It even has a the speaker built-in, for plug-and-play instant gratification.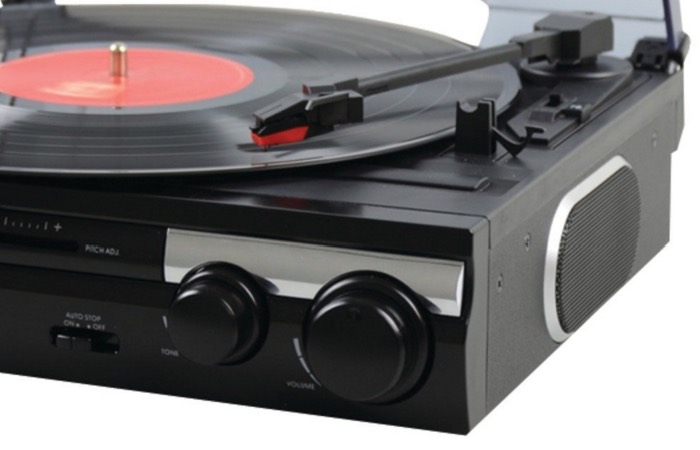 For those looking for some digital accoutrements, the JTA-230 also has a USB and aux port for attaching devices or more speakers.  There's also a high-end, sophisticated WiFi-enabled multi-channel EQ — just kidding!  The JTA has none of that, though it does have a volume knob.  Indeed, simplicity is the secret of this success story, and so is the price: for those looking for post-Christmas bargain, the Jensen is now $48.99 on Amazon.
The surprise success story coincides with another banner year for vinyl, with cheaper turntables filling a massive void.  According to just-released stats, sales of LPs jumped another 52 percent in the US alone, with a similar story emerging across the pond.   But a lot of those sales are for LPs that are never played, because a large percentage of buyers don't own turntables (and typically can't afford them).