Question: In a typical year, about how much money do you spend on the following?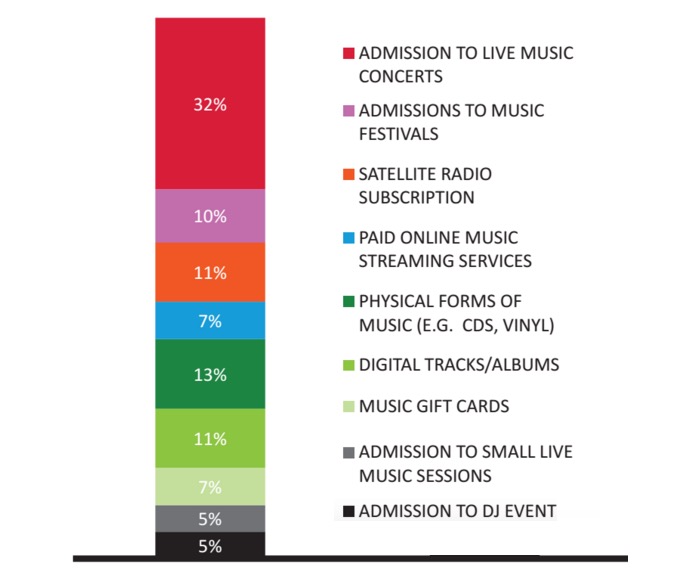 Source: Nielsen Music 360 US, 2015.
Concert tours used to support album releases.  Now, there may not even be an album to sell.
According to just-released data from Nielsen, more than half of every dollar spent on music in the US went to live events.  The survey, conducted last year, showed a massive 52% of music-related consumer spending involved some sort of live event, with festivals commanding a 10% piece.  That said, smaller music sessions and DJ-driven events also claimed 10%, part of a broader shift away from big, single- or double-superstar artist bills.
Overall, Nielsen found the average American music consumer spent $152 over the course of a year.
All of that spells big money for a number of companies focused on live events, including heavyweights like Live Nation and AEG Live.  Others like Magnifi, Bandsintown, Songkick, and Jakprints are well-positioned against the trend, with analytics playing a far bigger role.  Just recently, Live Nation acquired data-focused BigChampagne with seriously regrettable results, though despite the quickly-shuttered 'Live Nation Labs,' data is definitely part of live music's future.
Glaringly absent from the survey were items like music merchandise, frequently purchased alongside expensive concessions and parking at gigs.  Given the number of high-dollar add-ons at shows, it's likely that live music spending is actually higher.  Separately, smaller, independent artists are gaining greater awareness of how to sell merch at gigs, thanks to startups like AtVenu.
Also not counted are smaller, independently-contracted gigs through companies like GigSalad, a growing source of artist income.
Among younger buyers, some major differences appear between tweens and Millennials, largely because the latter group has more disposable cash and far more freedom.  That would explain far higher live event attendance among Millennials, not to mention bigger overall spending on music.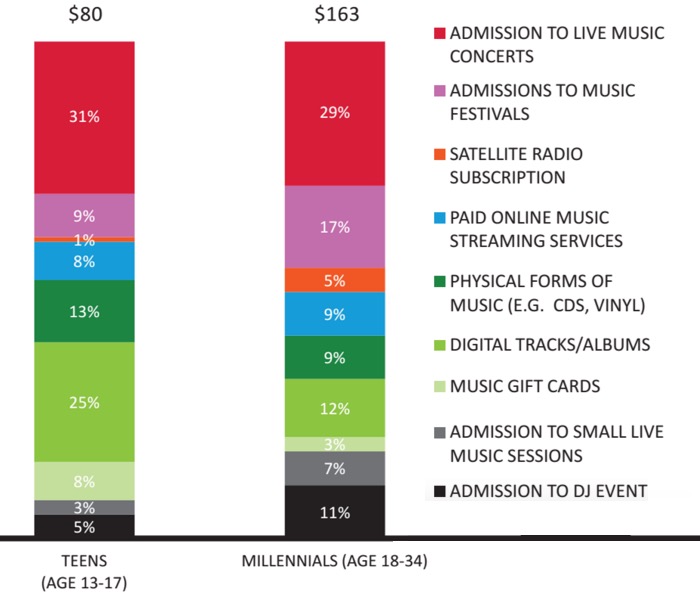 Looking ahead, live concerts are likely to command an even larger chunk in 2016.  Currently, 'digital tracks and albums' claimed 11 percent of total spending, though paid downloads are sinking fast.  According to separate data released by Nielsen Music, paid downloads from outlets like iTunes and Amazon slumped 12.5 percent last year, and 23.4 percent since 2013.
Other non-live categories are also sinking fast, particularly physical formats, thanks to continued bleeding around the CD.  Indeed, vinyl is the celebrated success story, but total vinyl sales remain a small percentage of the hefty billions once generated by shiny discs.
And that brings us to one of the biggest advantages of live gigs: scarcity.  In the end, a concert can't be instantly copied and duplicated, and neither can the social, in-person aspects that come with it.