Sia Furler is one of those artists with a heartwarming success story.  You can't help but root for her!  But Sia's 'overnight success' actually involved more than two decades of struggle, and dedicated fans have known about her long before she broke into the mainstream.  You see, Sia (pronounced like 'see ya' later) has been toughing it out since the 90s from her native Adelaide, Australia.
Now, Sia is a worldwide sensation, and one of the biggest artists on the musical map today.  In fact, her top single, the super-catchy 'Chandelier,' has more than 1.1 billion views on YouTube, one of just a handful of music videos to ever achieve this incredible feat.  Her next-biggest vid, 'Elastic Heart' featuring Shia LaBeouf, just crossed 500 million views.
Which means that Sia's top two YouTube videos alone have more than 1.5 billion views, something very few artists will ever achieve in their lifetimes.  Now, after all that hard work, it's time to cash in.
So why is Sia sacrificing millions of dollars by directing fans from YouTube to one of the lowest revenue-producing platforms, Spotify?
Yes, Spotify is definitely among the worst when it comes to paying artists.  If you're lucky, you might get half-a-penny per stream (but usually less according to actual royalty statements published on DMN).  But if you're locked into a label deal (major or indie), you run the risk of NEVER getting paid.  Because if Lady Gaga couldn't even get paid by Spotify, chances are you're going to have problems as well.
+ Digital Music News, September 25th, 2015: "Universal Music Stole Streaming Royalties from Lady Gaga, Ex-Manager Says"

Actually, there are platforms that pay even worse than Spotify (assuming Spotify pays).  That list includes YouTube, which is barely better than that other low-paying 'platform,' BitTorrent piracy.  SoundCloud is probably somewhere in-between.  But if YouTube is abysmal when it comes to royalty payments, at least YouTube is creating more than 1.5 billion sales opportunities for this artist.
So why is Sia squandering every single one of those opportunities, and capturing only a fraction of the real revenue potential?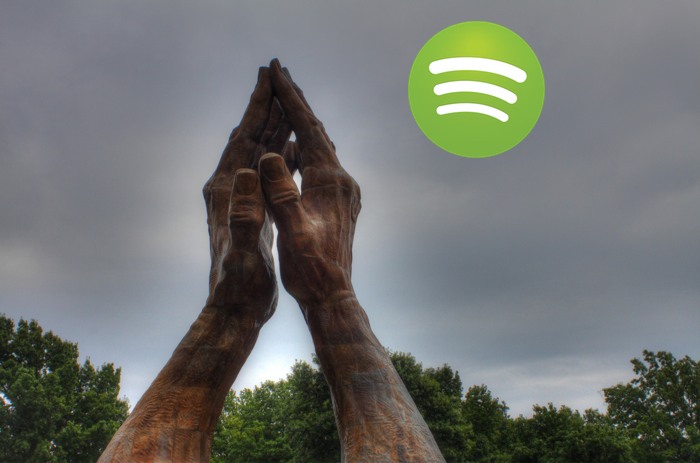 What could Sia be doing differently? Here are some better-paying formats and opportunities that need to be prioritized, from best-paying to worst:
(1) In-person 'Experiences': Tickets to shows, high-priced appearances, etc.
(2) Merchandise.
(3) Physical formats: Vinyl and CDs.
(4) Downloads: (a) direct downloads (powered by yourself, Bandcamp, CD Baby, etc.), then (b) stores like iTunes and Amazon.
…and don't forget:
(5) Wildcards: Crowdfunding campaigns, diversified products, etc.
(6) Sponsorship opportunities:  If I'm a Nike executive looking for a brand ambassador, who should I contact to start that discussion?  There's ample room to place that information, even if it's just an agency name.
Now, let's move on to the crappiest formats that contribute very little monetarily to the artist, starting with the worst.  At best, these formats are generating exposure for better-paying revenue opportunities, like live shows and vinyl.  At worst, these formats are draining fans away from those higher-paying formats (which is why you see big artists like Adele and Taylor Swift refusing to participate in them, because these artists already have the exposure they need):
(1) Piracy: BitTorrent, Grooveshark clones, etc.
(2) Free on-demand streaming: SoundCloud
(3) Ad-supported on-demand streaming: YouTube/VEVO
(4) Mix of ad-supported and paid streaming: Spotify, Deezer
(5) Ad-supported, internet radio: Pandora, iHeartRadio
(6) Paid-only streaming: Apple Music, Rhapsody, TIDAL
But this gets even worse.  Sadly, Sia is not only pointing fans to Spotify, but re-circulating traffic back into YouTube (just look below the 'Chandelier' video).  Effectively, this artist is helping to promote large amounts of revenue and growth for these tech giants (and their executives and investors), while gaining very little for herself.
That's absolutely not the attitude of another YouTube billion-plus artist, Adele, who is constantly prioritizing platforms that pay better.
So, let's review: if you're lucky enough to be getting tons of attention on a streaming platform like YouTube, work very, very hard to migrate those fans to better-paying platforms and experiences.
And please do NOT recirculate those fans to platforms that pay horribly, especially when you have fans that are more than willing to give you real money.