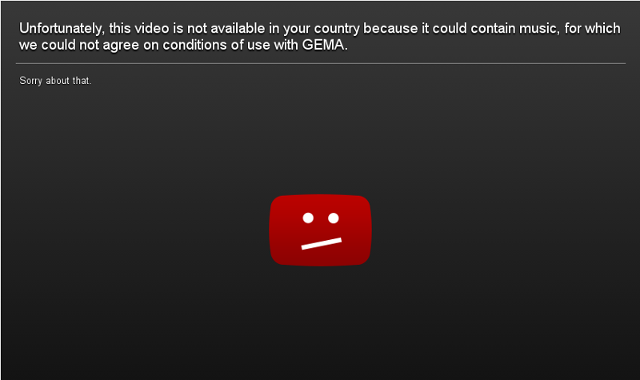 According to a recent reports, the Higher Regional Court Munich (OLG) decided yesterday (Jan 28th) that "YouTube and its service cannot be held accountable for any copyright infringements."
The report noted the decision of the judges, who concluded that the "sole responsibility should be held with the individual uploaders".  It also noted that "when works protected by copyright are used on YouTube, the company cannot be held financially accountable within the current legal system."
Additionally, GEMA pushed to categorize the video giant as a music service, instead of an agnostic technology and content platform.  Accordingly, GEMA proposed a per-video payment of 0.375 euro cents (approximately $0.004), a figure that was rebuffed.
This is the latest battle in a long war between the entities.  In July of last year, a court in Germany upheld a ruling which stated that "YouTube and other similar sites are only accountable for blocking videos that infringe copyright, if those videos have been brought to the attention of the service" .  The report also outlined that GEMA, the German collecting society, "originally filed a lawsuit which resulted in a ruling that held YouTube liable for user-uploaded copyright-infringing music, after it had been informed of the infringement."
GEMA oversees the payment of musical authors for the use of the works protected by copyright via YouTube's platform, and was fiercely fighting for greater liability.  "Today's decision is most regrettable," said Dr. Tobias Holzmüller, general counsel at GEMA.  "The court has obviously followed YouTube's argumentation that it is only the uploaders who are responsible for the contents that are retrievable via the service.  We consider this to be wrong."
"YouTube should, just like a music service, obtain licenses and not pass the responsibility on to the uploaders."
According to GEMA, the decision clearly impacts artist and creator revenues.  "Furthermore, the decision is not justified from an economic perspective, as it continues to enable YouTube to generate high advertising revenues without passing them on to musical authors," Holzmüller noted.
Thomas Theune, director of broadcasting and online at GEMA, added: "In our opinion, YouTube exploits works retrievable via the service.  This type of exploitation is subject to license fee payments.  YouTube is not only a technical service provider, it actually conducts itself like a music service.  As a consequence, they should, just like a music service, obtain licences and not pass the responsibility on to the uploaders."
According to the report "the OLG decision is not yet legally binding, and the right to appeal was expressly granted, and will probably be used".
This notion was backed by Holzmüller, who declared "We shall study the reasons for the decision and then probably launch an appeal."