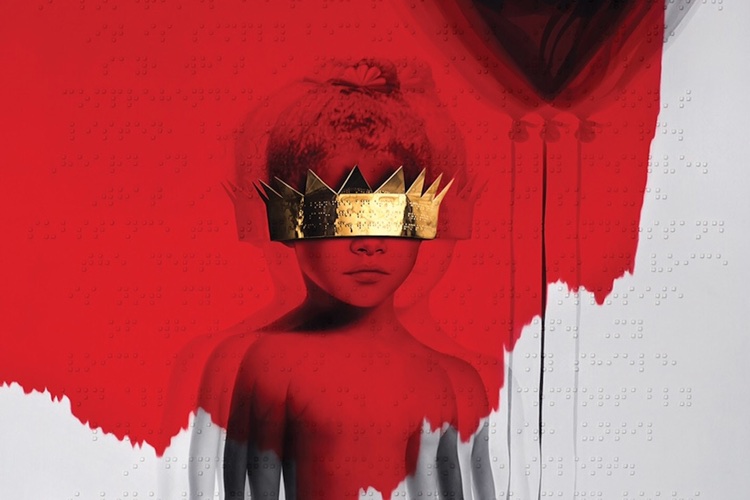 Billboard now says Rihanna's 'ANTI' has sold roughly 175,000 copies in its second week, on top of a laughably-undercounted 460 during the week prior.  The number comes despite confirmed sales of at least 1.2 million albums, plus a Platinum certification from the Recording Industry Association of America (RIAA).
The huge disparity continues to spotlight extreme splits within the music industry, with continued disagreements over how to incorporate streaming and non-traditional sales into modern-day rankings.  Rihanna, one of the industry's brightest spots this decade, has been caught in the middle.
In a morning report published by Billboard writer Keith Caulfield, the publication sourced the 175,000 figure to 'industry forecasters,' which is code for album-counting authority Nielsen.  Just last week, Nielsen counted 'fewer than 1,000' album sales during the album's debut week, while an industry source to the New York Times read the number '460' from a Nielsen Soundscan report.
Meanwhile, TIDAL offered a figure of 484,833 album downloads, a number that has undoubtedly ramped up since first disclosed last Friday.  Those aren't 'permanent downloads,' so they probably don't count.  Perhaps more confusingly, Billboard (and Nielsen) continue to refuse a million-album purchase by Samsung, part of a first-week exclusive designed to spark smartphone sales.
All of which means that Billboard and its official data source, Nielsen, are counting fewer than 15 percent of actual album sales after two weeks.
Jay Z, who similarly sold one million copies of 'Magna Carta Holy Grail' to Samsung but was refused chart recognition, has called Billboard 'irrelevant' and 'threatened'.
Meanwhile, the Recording Industry Association of America (RIAA) maintains it Platinum certification of the album, which designates album sales (or 'album sales equivalents') of more than one million copies in the US.  In fact, that certification could be careening towards Double Platinum, as data from mega-outlets like iTunes, Amazon, physical retailers, and streaming platforms like Spotify remain unknown.
As part of its new counting methodology, the RIAA now factors streaming in its Platinum and Gold certifications.  Specifically, 1,500 streams equal one album.  Billboard, and Nielsen, offer their own counting alchemy with 'multi-metric consumption,' a formula that combines 'traditional album sales, track equivalent albums (TEA) and streaming equivalent albums (SEA)'.
Despite the extremely low count, ANTI is still slated to hit #1 on the Billboard charts, up from #27 in its debut week.