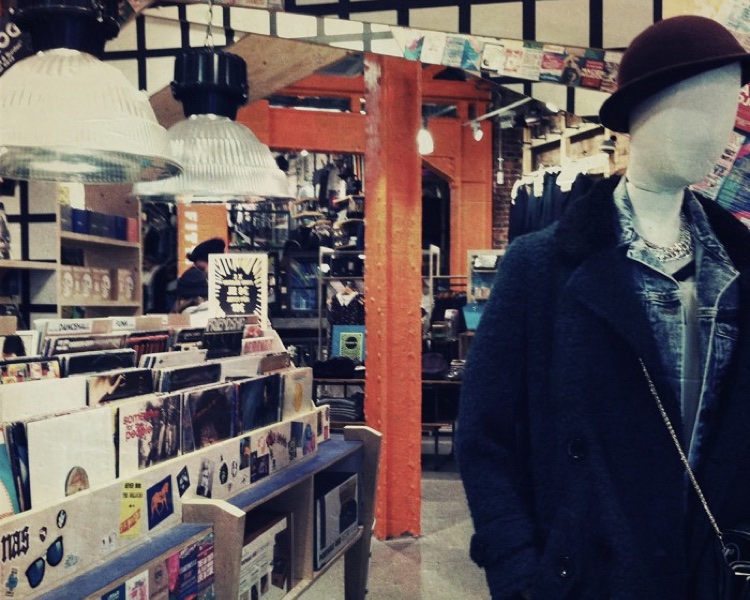 Music retailers have been decimated over the past decade, for obvious reasons.  But the music industry is now starting to see an encouraging resurgence in music-focused retailing, thanks largely to vinyl.  That includes massive vinyl sections at mega-retailers like Urban Outfitters and Barnes & Noble, not to mention boutique stores like the just-opened, vinyl-only Stax of Wax.
All of those stores are helping to sell the highest-paying format that currently exists, and encouraging music-loving fans to contribute more money to artists, labels, and publishers.  So, why do those retailers still have to pay to play music, specifically to performance rights organizations (PROs), if they're also selling it?
In the US, there are exemptions around this, especially for dedicated music retailers.  But this gets really tricky for diversified stores like Urban Outfitters (pictured above), a group that enjoys only limited waivers (if any).  According to intellectual property attorney Rich Stim, exemptions include situations in which "the sole purpose of the performance is to promote the retail sale of copies or phonorecords of the work" and the music is played "within the immediate area where the sale is occurring."
The question is now front-and-center in the UK, where the Entertainment Retail Association (ERA) is hitting back against requirements that music retailers pay, especially with PRO rates threatening to increase.
The following is an open letter published by K. Baley, CEO of the ERA…
"It has long been a bone of contention with music retailers that they have to pay for the privilege of playing in-store the music they sell – through the PRS and PPL licences all business premises which play music are obliged to have.
To be clear, they do not question the principle of public performance licensing. No one doubts the justification for DIY stores or bingo halls or bars or crematoria to recompense rights-owners for the use of their work.
No one needs to persuade music retailers that music has a value. What they do question is the idea that they have to pay to play music when the main reason they do so is to sell music.
This is very different, for instance, to commercial radio stations who play music to sell advertising or bars who play music to sell alcohol.  Music retailers use music predominantly to sell music.  And naturally any sales they generate typically benefit rights owners far more than they do the retailer.
Against this background and a physical music market which remains challenged, the steady increases in the fees demanded by PRS and PPL from music retailers is causing increasing concern in retail circles.
Many ERA members have reported fees which have risen at more than double the rate of inflation over the past decade.  The level of licence fees charged to the bigger chains and supermarkets in particular seem excessive, and in many cases these fees can completely wipe out any retail profit on music sales.
ERA's representations on this matter have not so far resulted in a lot of progress.  One senior PRS executive suggested that perhaps retailers can regard licence fees as part of their "corporate and social responsibility" messaging!
So you can imagine that our hopes rose when we received the letter above last week revealing the news that PRS For Music and PPL are to form a new joint venture which will provide one-stop licensing for music users.  It is a long-overdue move which should allow the two organisations to cut costs and streamline processes.
It is clearly wasteful to have two entirely separate organisations collecting money from the same companies and so the cost savings should be substantial.
Naturally we therefore assumed that much of these cost reductions would be passed on to licensees.  Unfortunately not.  A PRS and PPL spokesman was swift to quash any such suggestion.
Any cost savings we must assume therefore will be kept by the PRS and PPL.
Which rather cuts to the heart of the whole issue.  In competitive markets, when cost savings become available they are invariably passed on to consumers (ERA members do it all the time).  But PRS and PPL do not of course operate in competitive markets.
They are effectively monopolies.
A meeting of ERA members last week demonstrated that this issue provokes strong emotions.  With selling music only a marginally profitable activity for many, there is concern that the rising cost of PRS and PPL licences could even make playing music in store unviable for some players.
It would be a shame if the announcement of what by any measure is a progressive move – the coming together of PRS and PPL to bring new efficiency to public performance licensing – were to become a catalyst for some major retailers to give up on music entirely."