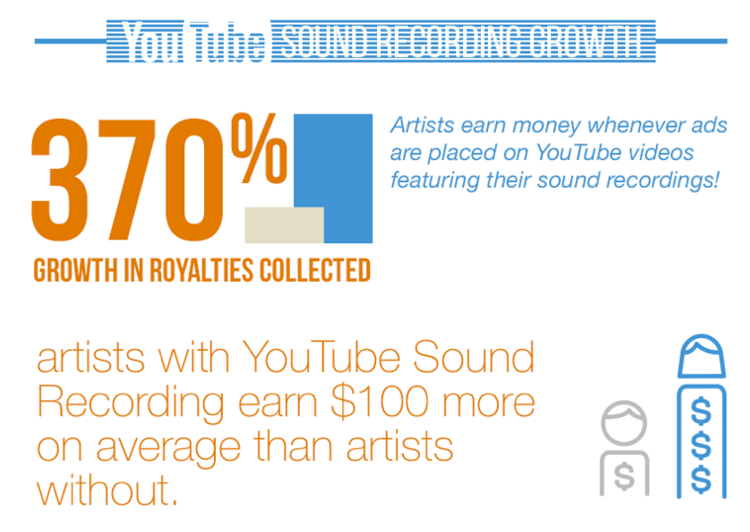 YouTube is often criticized for lower royalty levels, but those royalties are growing very, very fast.  That is, 370% year-on-year, according to just-release data from Tunecore.
YouTube is already the world's largest online video platform with over a billion users, which is almost a third of all people on the internet.  The company's video advertising revenue has been increasing year on year, and according to a report by Bloomberg last year, the company "estimates a gross revenue of $12.8 billion by 2017, and was valued at $70 billion on its own".
YouTube touts its reputation for empowering artists to grow their careers, distributing their original music content across a global network and earning revenue for artists.  That explains their latest acquisition of Bandpage, though the video giant has been heavily criticized for delivering royalties below Spotify, Apple Music, and other streaming music rivals.
That said, Bandpage is a company that aims to help musicians to increase their revenue across innumerable channels.  In that light, the acquisition could help YouTube expand and grow further, as artists are always looking for ways to earn money in the digital industry.
On YouTube, artists earn revenue whenever an advert is placed on their video, at least for claimed channels (that part is important).  Those per-streams are paltry, though they're also booming: according to Tunecore, member artists enjoyed a 370% increase in royalties on the platform in 2015.
The recent addition of YouTube Red — an ad-free streaming service which costs users $10 a month — has also helped the platform grow revenue per user.  YouTube Red premiered its first four exclusive video shows last week, part of a broader bid to compete with Netflix and Amazon.
And when it comes to size, YouTube is an absolute global giant, and a platform that is only getting bigger.