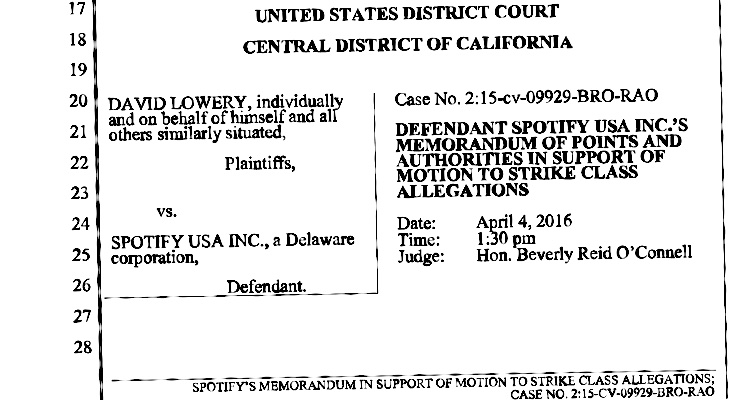 After being confronted with an onslaught of class action lawsuits from angry songwriters, Spotify's lawyers are now battling the mutiny in court, and seeking to crush it entirely.  In court filings from the US District Court for the Southern District of California filed by Spotify law firm Mayer Brown LLC, the streaming giant is arguing that copyright claims can't technically be consolidated into a class action.
The presiding judge is being asked to toss out the case entirely.  "This case is a fatally flawed candidate for class treatment, and the Court should strike the class action allegations," the filing declared, while questioning whether enough commonality exists between separate songwriter claims.  "The alleged 'common questions' are not in fact common; they will yield individualized and fact-intensive answers not just for each putative class member, but for every possible musical composition at issue."
The class action was first generated by artist rights combatant David Lowery, who alleged that Spotify was missing critical mechanical licensing payouts on a massive number of artists.  Lowery's action, which also involves his own copyrights, was estimated at $150 million, with a similar, follow-up action reaching the $200 million-mark.
"Neither test is met here."
The question Mayer Brown is raising isn't whether Spotify is paying copyrights properly, but whether a class action is the best venue for litigating that issue.  Of course, fighting individual cases from scrappy, under-funded artists and labels is far easier than a big, bulky class action, especially given the complexities and finances required to launch a serious lawsuit against a big company.  "To certify a damages class action under Rule 23(b)(3), a plaintiff must show both that common issues predominate over individual ones and that the class device is a superior method of adjudicating the claims at issue," the filing continues. "Neither test is met here."
US Copyright Law is incredibly and needlessly complex, and Spotify defenders have pointed to an insanely complicated nest of requirements.  That suggests that Spotify's failure to pay artists like Lowery on a specific license could be unintentional or a defensible decision, though so far, Spotify doesn't appear to be taking action to mediate the matter with songwriters.
Ironically, Spotify seems arguing against the songwriter class action by pointing to the level of complexity that led to the suit itself.  As part of its blowback against the class action, Mayer Brown's attorneys have simply stated that every potential copyright claims carries too many unique complications to mass into a big group.  Those non-replicating complexities include (taken from the filing):
determining the ownership of the asserted mechanical rights;
the validity of the copyright registration;
whether Spotify had an express or implied license to reproduce and/or distribute the work;
whether and how the work was reproduced and/or distributed by Spotify;
whether, if there were an infringement, that infringement was willful; and
what damages, if any, are appropriate.
Lowery, as well as other litigants, have not yet responded to Spotify's move to strike.
Join the DMN info-brigade!  Send any tips to [email protected], or (310) 928-1498 (complete confidentiality protected).