c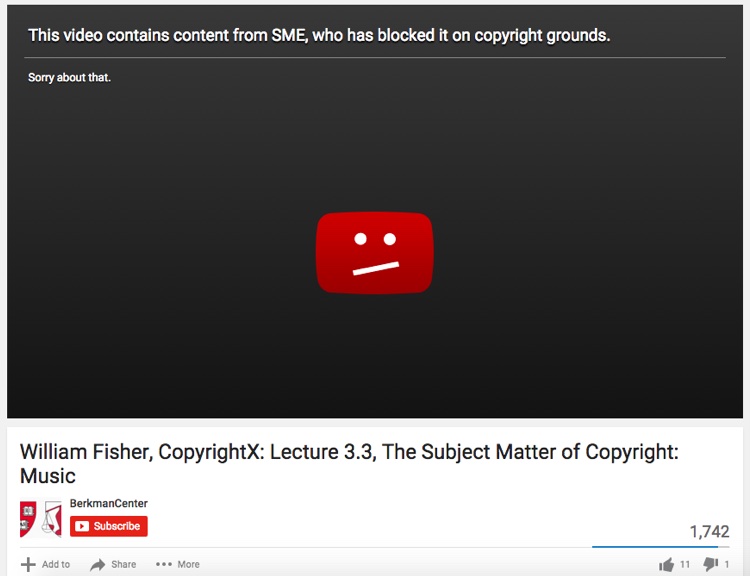 YouTube invented ContentID to give content owners a quick, effective method to police their copyrights.  But is this too blunt of an instrument?
We bring you to the leafy cloisters of Harvard Law School, where a YouTube-posted discussion on music copyright has been ripped down by major label Sony Music Entertainment.  The teardown isn't based on disagreements over the nuances of copyright policy, rather the right to present certain Sony-controlled songs within that presentation.  Specifically, at least one of several versions of "Little Wing," originally performed by Jimi Hendrix but covered innumerable times.
Those clips form a critical exhibit about compulsory licenses, essentially blanket licenses that allow artists to record covers of a copyrighted song.  Which is just one part of this complicated copyright universe:
Simple misunderstanding, right?  Wrong: the teardown is nearly a week old, which suggests that Sony Music doesn't view the truncated songs as fair use.  Instead, Sony may be asserting that the clips should be separately licensed, despite clearly satisfying qualifications of fair use and not copyright violation.
Indeed, it's this exact type of heavy-handedness that gives copyright owners a seriously bad name, and obscures the more serious issues around actual copyright theft.  It also burnishes the bullying image that has ultimately transformed music fans into self-justifying pirates.
Then, there's the rich irony that makes labels like Sony look absurd, and gives plenty of ammunition to opponents.  "Considering how frequently we hear the RIAA and other copyright system supporters (especially within the recording industry) arguing that what the world really needs is better education on copyright issues so that the public better understands it, it seems particularly stupid to issue a takedown over a free lecture explaining music copyright," blasted Techdirt's Mike Masnick, who covers the issue here (bolding is Masnick's).
"But, of course, no one ever suggested that the recording industry is particularly intelligent in how it goes about fighting its peculiar war."
The presentation itself, licensed under Creative Commons, can be downloaded here.