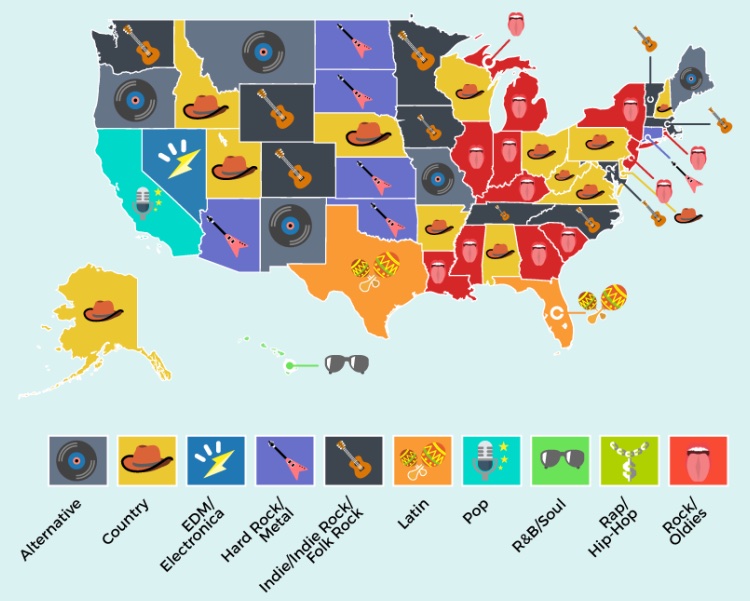 What's America's favorite music genre?
That's an extremely difficult question to answer, with several different styles resonating strongly on the touring circuit.  According to a just-released 2015 ranking by busbud, Country music topped the genre list for 13 different states, based on touring activity.
Every major tour from 2015 was factored into the analysis, then mapped that against shows in every state.
Country didn't dominate the South as expected.  The music genre topped the ranking in Alabama and Arkansas, but also Hawaii, Idaho, Utah, Ohio, Pennsylvania, and Alaska, among many others.  Top-touring country artists included Luke Bryan, Jason Aldean, Shania Twain, Garth Brooks, Kenny Chesney, and Tim McGraw, among many others.
Close behind was Classic Rock/Oldies, with mainstays like the Rolling Stones, the Who, Foreigner, U2, Rush, ZZ Top, and America keeping the flame alive.  In total, Classic Rock and Oldie as a category dominated 11 different states, all surprisingly east of the Mississippi River.
In third place come the mellower sounds of Indie, a catch-all, somewhat vague category that traverses rock, folk, jam, and even electronica-infused bands.  Overall, Indie topped the rankings in 10 different states, with groups like Mumford & Sons, Sleater Kinney, the Avett Brothers, and James Taylor among the top-attended artists.
EDM actually only topped one state: Nevada.  That's thanks largely to EDC, or Electric Daisy Carnival and a non-stop schedule of Vegas pool parties and DJ shows.  Indeed, EDM has reshaped Vegas, and in turn, Vegas has played a major hand in EDM's explosive growth.
Among the surprises?
Pop, which ranked number one in California but none of the other states; and R&B/Soul, which only topped Hawaii.  Latin music, meanwhile, topped two mega-states: Texas and Florida.
Metal ranked highly in a number of 'middle America' states like Kansas and the Dakotas.  Rap/Hip-Hop didn't make the rankings.
And who's the most popular artist in each state?  If the number of shows is any measure, here's the breakdown.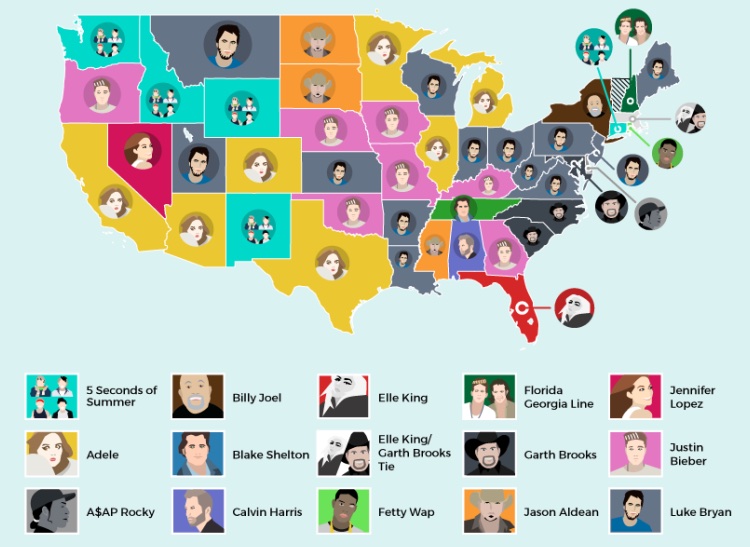 We'll have a lot more geographical and touring data ahead!