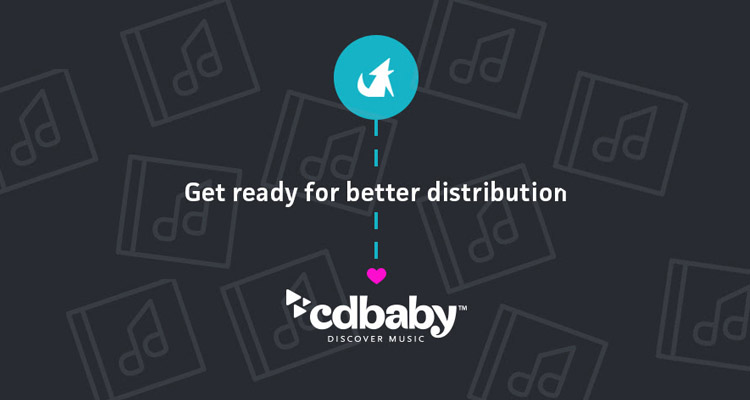 Loudr announced today that they will be handing over the distribution arm of the company to CD Baby.  Since inception, Loudr has been focusing heavily on helping independent artists license their cover songs to legally distribute them.  They have been CD Baby's preferred licensing partner in this space for the better part of the year.
Loudr, led by CEO Chris Crawford, has gone through many incarnations as a distribution and licensing company since inception. Started as A Cappella records with business partner Ryland Hale in 2009, it was formed initially to help Crawford distribute his own A Cappella group. It has since swelled to support over 12,000 artists' distribution and licensing needs.
However, Loudr has struggled to keep up with the rest of the distribution pack.  Currently, the company only services 6 outlets, as opposed to 100+ that others like CD Baby, Tunecore and DistroKid boast.  The main advantage Loudr held over the others was no initiation fee.  Nearly every other major service on the market has one.  Loudr took a higher commission to make up for it though (15% for originals and 30% for covers).
In an email to existing customers, co-founder Jesse Biddington wrote,
"Working in these two very different business areas has been challenging, and we've often felt that we could do more for music by focusing on the things that truly set us apart."
Cheaper and more inclusive than its main competitor, Harry Fox Agency's Songfile, Loudr's licensing does reign supreme. Loudr currently powers cover licensing for independent digital distribution companies DistroKid and CD Baby in the US, along with a handful of European companies including Kontor New Media.  It also has a stand alone service enabling any artist to hire Loudr to clear licenses for their cover songs in a timely manner with a few clicks.  Loudr boasts that it can clear most licenses within a week (oftentimes, the same day).
+Watch Out Harry Fox, Loudr Is Coming For Your 
Crawford discussed on the phone with me this afternoon the transition, and why they chose CD Baby.  "We wanted to make sure (the transition) was done right with people we trust and especially people with an outstanding support reputation," he explained. "We've gotten close with a number of distributors, but as we went deeper it became very clear that the one that made the most sense with the cultural alignment – and we felt really had made support the priority – was CD Baby."
As opposed to Tunecore/Believe Digital's disastrous Zimbalam transition, in which they forced all Zimbalam UK customers to remove their catalogs and redistribute them with Tunecore, in effect losing all ratings, reviews, plays and rankings (not to mention Tunecore's annual fee which Zimbalam didn't have), Loudr's current customers will see a seamless transition to CD Baby. There will be no takedowns and Crawford assured me unequivocally, there will be no additional fees for Loudr customers in this transition.
"The reason we're doing this transition slowly is to make sure that every step of the way we're getting it right. We've seen with others, it's so easy to mess this up.  We want something that will ultimately work really well for the longterm sustainability of all this great content." – Chris Crawford, Loudr CEO
As of now, current Loudr customers will see no change.  They can still log into their Music Manager on Loudr Alpha and will receive the same reports.  Any new artist distributing through Loudr will have the same experience as before.  The only immediate change is that CD Baby is taking over support.  Current Loudr customers will not automatically be opted in or distributed to CD Baby's network.
Crawford said, "we're using the same pipes" and "the economic term remains the same."  Meaning, Loudr customers will still be spared an initiation fee, but will still see the 15/30% commission.  Down the line, however, Loudr will shut down their Music Manager artist interface and artists will need to transition over to CD Baby.  But this will come later.
"As we continued to grow it became very apparent we had two separate businesses. The more we were doing licensing and administration for other distributors and digital platforms the more it became apparent, to really make industry change in this world we need to give it everything we got." – Chris Crawford
In an email today from CD Baby CEO Tracy Maddux to Loudr customers, he explained, "While CD Baby has acquired Loudr's existing distribution platform, for the foreseeable future you can continue to use Loudr and its dashboard as you always have.  In the future we hope to provide you with more distribution options, quicker reporting, and faster delivery of your new music to our partners."
Loudr distribution has over 12,000 independent artists including some of YouTube's biggest stars like Peter Hollens, Lindsey Stirling, Taryn Southern, Pomplamoose, Jacob Whitesides, Tyler Ward and Mike Tompkins.  "We deeply respect and appreciate that you, our artists, have always stuck by us, but we also know that our distribution platform could benefit from improvements," Biddington said.