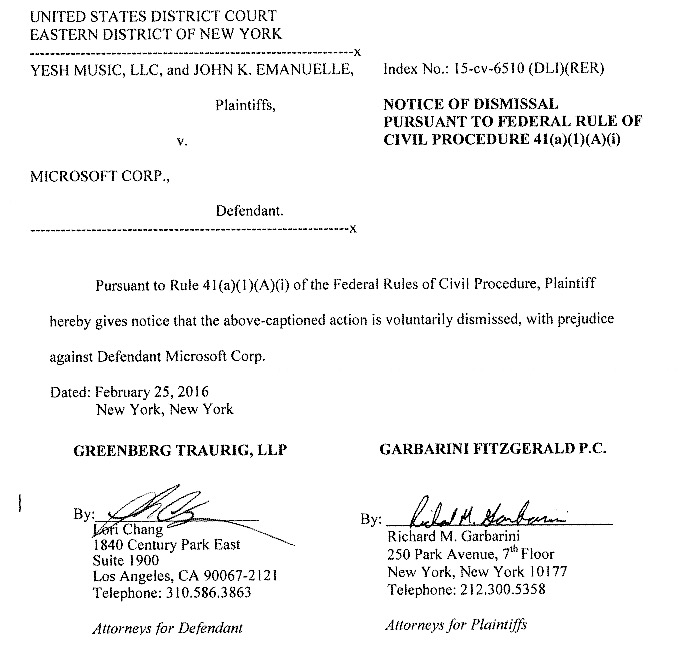 Tidal blew off Yesh Music's lawsuit with a dismissive statement. Maybe they should be taking it more seriously.
The Yesh Music lawsuit against Microsoft focused on Xbox Music, recently rebranded as Groove Music.  That service is bundled with every single Windows operating system, not to mention Xbox home entertainment consoles.  Groove is additionally available across Android and iOS, not to mention earlier Windows and Xbox versions, making it a far bigger target than Tidal.
The Microsoft case, which has now been settled out-of-court for undisclosed terms, narrowly focused on mechanical licenses.  That is a specific type of publishing royalty that seems to be getting overlooked by nearly every streaming service, but could now cause hundreds of millions, even billions, in collective liabilities.
"The MICROSOFT Service allows the user to pick which song the user wants to hear, and is therefore an interactive service pursuant to 17 U.S.C. § 114(j)(7) of the Copyright Act," the initial complaint reads (full copy embedded below).  "As such, MICROSOFT was obligated to obtain licenses for both the sound recordings ("Master Recording License") and compositions ("Mechanical License") for every song it offers on its service."
Importantly, Yesh noted that its digital distributor Tunecore only licenses the recording portion of a song, not the whole enchilada.  "The license for the physical sound recordings here — Master Recording License — was granted to MICROSOFT through TuneCore," the complaint continued.  "TuneCore functions like a music label, allowing artists to submit the master recordings through TuneCore to various "Digital Stores" for review.   
"At no time did TuneCore hold itself out as conveying a mechanical license for the compositions submitted on behalf of Plaintiff.  Further, it is axiomatic that a mechanical license to record and distribute the songs must be obtained in order to lawfully make the recordings available for temporary stream or permanent download."
The Yesh lawsuit is part of a growing surge of lawsuits surrounding the alleged non-payment of mechanicals.  That includes a $150 million class action lawsuit against Spotify initiated by David Lowery in late 2015, and subsequent, $200 million class action copycat lodged in January.  
Yesh is the publishing entity for The American Dollar, with percussionist and keyboardist John Emanuele initiating the mass-action in New York federal court.  The action against Tidal was specifically filed against Aspiro AB, S. Carter Enterprises and Black Panther Bidco, with Tidal bluntly calling the case frivolous and an abuse of the legal system.  "This is the first we have heard of this dispute and Yesh Music, LLC should be engaging Harry Fox Agency if they believe they are owed the royalties claimed," the company stated.
"They especially should not be naming S Carter Enterprises, LLC, which has nothing to do with Tidal. This claim serves as nothing other than a perfect example of why America needs Tort reform."
Meanwhile, Emanuele is on a warpath, with Microsoft potentially a bloody scalp to bring into battle.  On March 1st, a Yesh filing against Google came to light, with Google Play and YouTube potentially liable for massive copyright damages.  The Google complaint seeks class action status.
Cover image by Tim Evanson, licensed under Creative Commons Attribution-ShareAlike 2.0 Generic (CC BY-SA 2.0).